You are here: Home --> Forum Home --> Recent posts by t_catt11


Topic: July 6th 2008
Subject: woot!

---
Congrats!

Posted on 2008-07-08 at 13:30:43.


Topic: New T-shirt design announcements
Subject: Chain Mail Bikini
---


My Outher Outfit is a Chain Mail Bikini

Price: $20.00


Let others know of your choice of adventuring garb with this cool ladies tee.

Posted on 2008-07-03 at 19:51:25.


Topic: Continuing Where We Last Left Off Q&A
Subject: ack!
---
One post, coming up.

Posted on 2008-07-02 at 13:37:26.


Topic: Star Trek: Operation:Persephone - Q&A
Subject: ...
---
Wow.


Posted on 2008-07-01 at 14:17:29.


Topic: bragging on my child...
Subject: an update
---
Caleb did make the All star team this year. We are currently in first place at subdistrict (top two teams advance), but only because of tiebreakers. All four teams are 1-1; the winners of tongiht's games advance, and the losers go home.

We won our first game easily - a 10-2 victory over Pleasant Grove.

On Saturday night, we played McCalla - the park that my son used to play for. Caleb was designated the starting pitcher for our team.

I can unequivocably say that he pitched the best game of his life. McCalla is known as a "powerhouse" team, with a great hitting lineup. However, we were not counting on their pitching.

Caleb gave up two unearned runs early, thanks to a couple of fielding errors by our team. We could not get to their pitcher, and trailed most of the game 2-1.

In the top of the sixth (the last regulation inning for this age group), we managed to tie the game with two out, then scored two more to take the lead. Caleb had pitched all five innings, the most in his life, and had held them to those two unearned runs.

The coach sent him back out in the sixth, which worried me a bit. On one hand, they hadn't been able to hit him, and it would be a shame to replace him and lose. On the other, I worried that he'd be tired.

The first batter for their team hit a home run over the center field fence... the first such that Caleb has ever given up. Our center fielder did everything he could, scaling the fence and leaping for the ball... he missed it by perhaps a foot. At our home park (fence 189 feet from home plate, six foot tall fence), it would have been an out. At this tournament (fence 180 feet from home, 4 feet tall), it was a home run.

Caleb settled down at struck out the next batter, then induced a ground out. Two away. All we need is one out!

Next batter walked. Guy after him hit a grounder up the middle. Caleb dove for it and deflected it, second baseman recovered, threw to first - missed the out by one step. If only.

Next kid comes up. Big, rangy kid. Caleb had struck him out earlier. the count gets to 1 ball, two strikes. All we need is one more.

Coach calls for a high fastball - same pitch the kid swung at and missed earlier in the game. Caleb delivers a pitch at chin level, exactly where it is supposed to be.

Home run over the right field fence. Game over. We lose, 6-4.


A tough, tough way to lose. Still, I could not have been more proud of him. He stayed composed in a high pressure situation and did very well. Did his job, the batter just did his, as well. Give me the same batter, the same pitch, and most of the time, you get a strikeout or a popup.

Caleb's final numbers:

6 runs (4 earned), 6 hits, 5K, 3BB, 68 total pitches.

That's an ace performance at this level, especially considering the level of competition... just a little short this time.



Posted on 2008-06-30 at 19:18:06.
Edited on 2008-06-30 at 19:19:58 by t_catt11


Topic: The Guiding Light Q&A
Subject: reminder...
---
...I posted to the game thread before the weekend. Now, it's your turn!
Posted on 2008-06-30 at 13:46:50.

Topic: Silverwolf enters!
Subject: well, then
---
Let me be the first to welcome you.

Uh, welcome to the Inn.
Posted on 2008-06-27 at 21:24:22.

Topic: yet another movie thread...
Subject: action movie
---
Another recent Netflix view was Shooter, starring Mark Wahlberg (Marky Mark is a much better actor than he ever was a rapper).

Here's the basic premise: an elite ex-marine sniper is recruited by the US government to help prevent an assasination attempt on the president. He is asked to scope out the area and share how he'd plan such an attempt so that they (the CIA?) can prevent it.

Only, he is betrayed and the attempt goes down anyway - and he is framed for it. Obviously, he doesn't like said framing, and wants to set things straight.

Okay, to enjoy this movie, you need to leave a good chunk of your disbelief at the door, but it is a very satisfying popcorn-action flick. The acting isn't bad at all, and the story is well enough told to keep you interested. There are a couple of loose ends and a couple of credibility-stretching moments and/or stunts, but all in all, this was a worthwhile use of two hours. While not quite up there with, say the various Jason Bourne movies, this is one of the better action films that I've seen in some time.



Posted on 2008-06-27 at 14:41:38.


Topic: The Guiding Light
Subject: it's go time?
---
13th Pfier (Valday), 452 E.R.
leaving the lighthouse

With the plan of attack decided, the party members prepare themselves. Varuna and Tal'Anor pray to their deities, Valendra reviews her spells, and En'Aranthea sees to her blade.

DM's note: what do you plan to do with the captured pirate? I am assuming that you do not intend to take him on the raid. This needs to be clarified!

By this time, darkness has fallen. However, the beach area is far from completely dark - the pirates have lit their cauldron on top of the wooden tower, and it shines like a beacon in the darkness, leading the way to the pirate camp.

The party uses the cover of darkness to carefully make their way across the peninsula to the beach itself. As they approach, smaller fires - a cooking fire, and several torches mounted on stakes in front of the shelters - become apparent. Three or four of the torches have burned out, suggesting that the shelter occupants may have already retired for the evening. Four men sit around the fire, eating, drinking, and laughing. One guard stands off to the side, but his crossbow sits on the ground next to him, and he drinks from a mug.

Very sharp eyes - like those of a sylvari - are able to make out the form of one man high atop the wooden tower, though with the fire blazing so close to him and spoiling any night vision, it is nigh-impossible that he would be able to make out any figures on the ground from so far away.



Posted on 2008-06-26 at 17:57:27.
Edited on 2008-06-26 at 18:21:32 by t_catt11


Topic: shilling for poetry votes
Subject: Emily
---
...is twelve.

Heh, thanks for the link, Bobbo.

Posted on 2008-06-25 at 20:19:14.


Topic: shilling for poetry votes
Subject: yeah
---
I think it's a "vote each day" deal.

Thanks!

Posted on 2008-06-25 at 18:04:23.


Topic: shilling for poetry votes
Subject: shilling for poetry votes
---
As you may recall, I came on here bragging that my daughter's poem had been chosen for publication in an upcoming book from poetry.com.


Anyway, she has now sent me a link, asking me to rate it. Apparently, they do some sort of contests or such at the site?

check it out, if you don't mind. Dark and Light

If you like it, please rate it accordingly. If not, don't you dare vote it down, or I'll ban you!


Kidding!

thanks for your support.

Posted on 2008-06-25 at 16:18:22.
Edited on 2008-06-25 at 16:19:04 by t_catt11


Topic: A Cold Day in Hell Q&A
Subject: understandable...
---
...I just wish they'd post.
Posted on 2008-06-25 at 14:03:23.

Topic: A Cold Day in Hell Q&A
Subject: health update
---
a quick update on all team members...

CPL Hatherford: MIA. Status unknown.
CPL Hart: MIA. Status unknown.

LT Kernan: minimal cold damage.
WO Blake: minimal cold damaage, minimal combat damage.

SGT Lee: Unconscious, dying from internal injuries (also minimal cold damage)
PFC Pearson: Critically wounded from combat damage (also mild cold damage)
SSG Kane: mild cold damage.
CPL Johannsen: Critically wounded from combat damage (also mild cold damage).

Johannsen and Pearson can move and function, but not at full speed, and they are badly wounded. Lee will die without immediate medical attention.




Posted on 2008-06-23 at 20:21:24.


Topic: A Cold Day in Hell
Subject: shoot 'em up!
---
May 9th, 2025 - 0238
Cave (Observatory?), Antarctic Research Facility 36, Antarctica

The monstrosity rushes, howling, at the fire team. Without thought, the rangers respond as their training dictates. However, no training is able to fully prepare them for the physical effects that this unearthly stench has on their bodies.

Kane manages to choke back the nausea, but loses his bead on the creature, and the barrage from his SAW misses wildly. Lee is unable to hold back, and despite his will, finds himself throwing up uncontrollably. Johannsen fares the best of the team so far, and strikes cleanly with her entire burst.

And the monster keeps coming.

Pearson is the only one not apparently affected by the stench, and he fires off his own burst, but the creature is too fast, and closes to melee range as his shots sail wide. It is a frightening thing to behold as the monster picks up Sergeant Lee and smashes him into the dirt floor of the cave.

Lee regains his feet, and swallowing back the nausea, draws his sword and slashes a red line across the beast's torso.

Still, it comes.

And it is angry.

The monstrosity grabs up Sergeant Lee and slams him into the ground again, twice. This time, the ranger does not get up.

Pearson's aim is much truer this time - every round of his burst strikes home, causing the creature to howl in agony. Johansen and Kane miss.

Kane's next barrage strikes true, however. Several rounds strike the creature, who staggers...

...and grabs Pearson. Shockingly, the creature picks the big ranger up over his head and slams the man into the cave wall with a sickening thud. Pearson moans, but is unable to stand. Stunned, Johannsen misses badly.

The creature takes advantage of this, and grabs the medic next. Like the other rangers before her, the corporal is slammed against the ground, and is unable to regain her feet. Kane is unable to get a clear shot.

The big man falls back, firing, attempting to keep distance between himself and the creature. Meanwhile, Pearson has regained his wits, and is able to bring his rifle to bear. His rifle spits lead, and the monstrosity finally falls to the ground.

DM's notes: Lee is unconscious and dying. Johannsen and Pearson are badly hurt, but able to move. See the Q&A thread for details.






Posted on 2008-06-23 at 20:15:57.
Edited on 2008-06-23 at 20:27:28 by t_catt11


Topic: Olan's baby photobucket
Subject: the zoo!
---
Forgive me, several pictures here. Difficult to choose!

We went to the zoo this weekend, and Noah played in the fountains they have in the children's zoo area. This was his first time to get in the water, and I expected him to be a little lerry of it. Not so!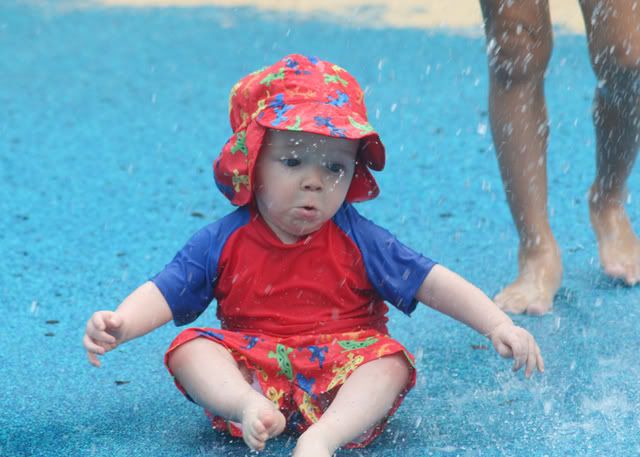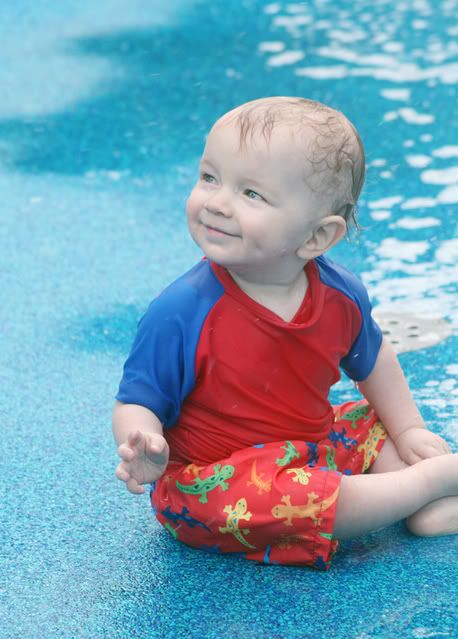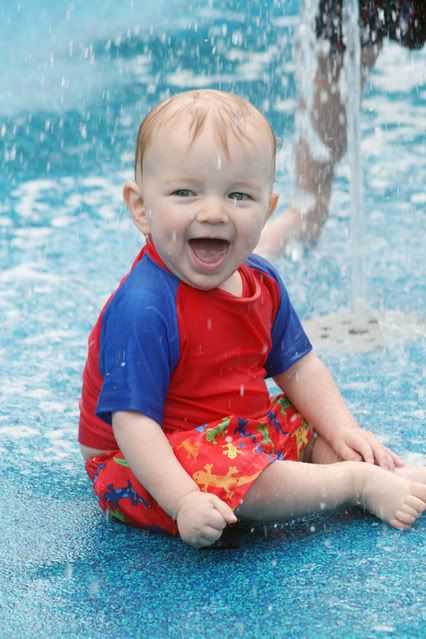 Also, we rode the carosel.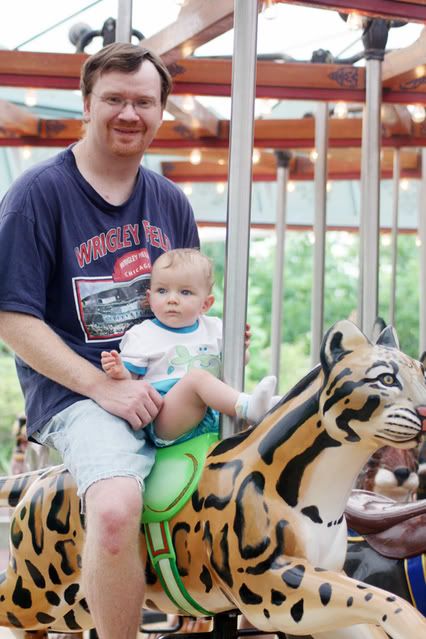 Posted on 2008-06-23 at 19:25:19.
Edited on 2008-06-23 at 19:27:45 by t_catt11

Topic: yet another movie thread...
Subject: too bad
---
I had read where M. Night had called the Happeneing the "best B horror movie ever made", and worried at that sort of label.

Lady in the Water was AWFUL, so I was already a bit leery. Thanks for the heads up.

Posted on 2008-06-23 at 18:55:22.


Topic: Post Your RDI Shirt Pictures
Subject: woot!
---
Awesomeness!

I need a giant soft d20.

Posted on 2008-06-23 at 15:33:14.


Topic: yet another movie thread...
Subject: another "romantic comedy"
---
Watched Good Luck Chuck this weekend. Netflix sent us the unrated version... er, let's just say, you don't want to watch this movie with your mother.
Don't even think of watching this while your kids are awake.

The basic premise is that this guy has a curse/charm on him that any woman who sleeps with him will end up meeting her soulmate next. Thanks to an old girlfriend (whose wedding Chuck attends), this fact becomes common knowledge, and spreads like wildfire, since it is apparently true (and apparently, half the city's single female population wants to get married NOW).

The acting in this movie was decent, the dialogue was wickedly funny (Chuck's goofy buddy was hilarious in just about every scene... you'll never think of grapefruit the same way after this movie). The movie does suffer from romantic comedy formulitis; when Chuck and his love interest have their required big conflict, it feels artificial. We knew from the commercials that he'd fall in love with this girl and worry about sleeping with her (due to his curse). Only, not only does he worry, but after they have been together, this smart, witty guy goes absolutely 110% over-the-top-stalker-crazy. Overdone, in my opinion.

However, the movie as a whole was quite funny... often in a very "wrong", screwball kind of way. Beware, the language in this movie gets quite filthy at times, and sex is a common, repetitive theme.

Oh, yes, and the nudity. I'm sure it was more prevalent since we had the unrated version, but I was stunned by the sheer volume of nudity in this film. There are probably thirty topless women in this movie; many of Chuck's trysts are documented for us. There is one montage shot that includes positions that are probably too extreme for the Karma Sutra.

Oh, yes... and if you want to really be scarred for life, watch the credits. There's a nice little scene there involving some really dark humor that I am stunned a major movie studio had the guts to include. If you're like me, you'll watch that scene, unable to look away (as if watching a train wreck), all the while wishing that you had turned it off before that point.


Final report: not a bad movie, but not for the prudish, easily offended, or easily embarrased.



Posted on 2008-06-23 at 14:14:41.


Topic: Looking for Interest in New Online RPG
Subject: two cents
---
I don't believe that I will be joining any new games.... and for that matter, Alacrity might well have me blacklisted due to flakiness, so this post may be moot.
That being said, here are my two bits.

These are all good ideas, and I'm certain that Al would do them all justice. But the man asked for opinions as to what you'd find appealing. Lost and Profound strikes me as a unique, thought-provoking concept. Right down my alley, no doubt.

But I have to say, the Subway concept takes the cake for me. I love the post-apocalypse genre, anyway (curse you, Fallout!), and any new take on it is very much welcomed. Mutants?
Dude, you already had me, now you're just making me blush!



Posted on 2008-06-20 at 14:17:52.
Edited on 2008-06-20 at 15:18:34 by t_catt11


Topic: An Idea for Webdesign At the Inn
Subject: children?
---
Bah, I have three of those already. I could go for some cookies, though.

Mmmmmm, cookies...

Seriously, though, this is a good idea, and one I'll get to at some point. Sorry, but right now, I'm behind on work that Iget paid for, so until I get a little caught up, I can't really justify writing code that I don't get paid for.
Posted on 2008-06-18 at 14:08:00.

Topic: Post Your RDI Shirt Pictures
Subject: woot!
---
Check out William! He looks great!

I likey the onesie, too.
Posted on 2008-06-18 at 13:27:27.

Topic: A Cold Day in Hell Q&A
Subject: nope
---
Not at all. I used some GM authority to skip the game ahead, rather than wait for everybody to post "I go to the other room like the lieutenant says".

If there are issues with me doing this (my guy doesn't want to follow orders!), then we can edit. I wasn't at all trying to NPC your guy, just set the scene for the next place where we really need player input.
Posted on 2008-06-18 at 13:26:39.

Topic: A Cold Day in Hell Q&A
Subject: bwahahaa!
---
Coolness, fun to see the game moving.

I need combat actions from the fire team.

Have no fear, Blake is working as fast as my evil dice will let her. It's gonna be a while, though...

Posted on 2008-06-17 at 17:55:24.


Topic: A Cold Day in Hell
Subject: things get stranger before they get more normal
---
May 9th, 2025 - 0236
Passage outside of the Observatory, Antarctic Research Facility 36, Antarctica

Sergeant Kane stands with the fire team outside of the observatory. Something had gone wrong - Hatherford and Hart had fallen silent. Had the two soldiers the team had met turned violent?

The big ranger's brow furrows at the thought. Even if they had, the ranger corporals should have been able to deal with them, or at the very least, warn the rest of the team. It didn't add up - nothing in this damned facility did.

As the team approaches the observatory door, they became aware of a terrible stench, very much like that of rotting meat. "Safeties off," Kane speaks quietly. The big ranger gives the signal, and Lee breaches the door...

...into madness.

The observatory is completely gone. Not destroyed, not ransacked, but gone. In it's place, the door from the corridor opens into a large cave of stone and earth, with roots dangling from the ceiling high above. There is no trace of Hatherford, Hart, or of the two other soldiers. The stench is much, much worse here - like that of rotting meat, spolied eggs, and overpowering musk, but magnified to be much stronger.

The foul odor is almost too much for mortals to bear - Lee, Johannsen, and Kane are overcome by horrific nausea, and only their superior training allows them to remain upright.

As the team attempts to gather themselves, the air is split by a bellowing roar. A tall (seven plus feet) monster covered in shaggy fur is rapidly rushng the fire team!

This is not one of the yetis viewed earlier. This creature looks like a terrible cross between a human and a sloth. Its body is covered in dark, reddish fur, and large, curved talons protrude from its "fingers" and "toes". It is clearly angry, and is currently charging the fire team.

Posted on 2008-06-17 at 14:33:42.
Edited on 2008-06-17 at 14:43:31 by t_catt11





View/Edit Your Profile | Staff List | Contact Us


Use of the RDINN forums or chatrooms constitutes agreement with our

Terms of Service

.

You must enable cookies and javascript to use all features of this site.