Topic: yet another movie thread...
Subject: musings...
---
Regarding the Golden Compass controversy - Pullman (the author of the books that the movie was based on) is on record as stating that he is "trying to undermine the basis of Christian belief". That's where your outcry comes from - that, and a few other really choice quotes.

However, my understanding is that the studio really sanitized the script to make it palatable for the masses.



I'm wondering, did anyone see Untraceable? My wife wanted to see it, but I just couldn't stand the idea. It could just be advertising, but these two lines just made me want to retch every time they came on the TV:

"...this website is untraceable!" Gasp! We can't figure out where the website is! I guess they are using MAGIC to send us this collection of text and images across the internet. Since, you know, the site is untraceable, I guess my computer doesn't know what computer to ask for the information.

"He's on my wireless network!" Okay, lady. This means that the guy is either (a) in your house, or (b) parked somewhere within, say, a hundred feet or so of your wireless router. This would probably concern me MORE than the fact that he's apparently leeching off of your internet connection.

Oh, and by the way, how exactly do you KNOW that he's on your wireless network? Do you have some sort of cool firewall set up that alerts you anytime someone else logs on to your network... yet you don't have the sense to put a decent password on it?



Sorry about the rant. I simply despise the technology references in most movies. "Hmm... the audience is so stupid, we'll just make crap up and pass it off as computerspeak." Just call it magic and be done with it, already!

"The dinosaurs have escaped, and we're locked out of the system by Newman from Seinfeld! Aaargh! Good thing we can just reboot the computer - that makes password problems go away!" ...Jurassic Park

"Hold on, let me download the entire database of top secret stuff onto this floppy disk. It'll be done soon... see? It has a neato progress bar, complete with graphics and sound!" ...half the computer-referencing suspense movies ever made

"You need me to hack into the network? First, you'll have to drive me to the mainframe. Then, I'll need your Hello Kitty phone, some duct tape, and a iPod. Or something." ...Firewall


Kill me now!


Posted on 2008-02-12 at 18:11:35.
Edited on 2008-02-12 at 18:14:21 by t_catt11


Topic: Vote for the Inn
Subject: whoa!
---
I don't think we've ever gained a spot so late in the rating period! Woot!

Keep voting.
Posted on 2008-02-11 at 16:25:35.

Topic: Chat?
Subject: true, that!
---
If you want chat to be full, you have to chat. Kind of a chicken and egg type thing.


Posted on 2008-02-11 at 14:29:55.


Topic: Birthday Wishes
Subject: hehe
---
**in faux Elvis voice** Thank you... thank you very much.


Posted on 2008-02-11 at 14:28:32.


Topic: Will you survive the coming zombie apocalypse?
Subject: Will you survive the coming zombie apocalypse?
---
74%



Take the test and see what you're made of. My willingness to risk my life to save my family badly hurt my score.
Posted on 2008-02-08 at 18:03:46.

Topic: Suggest tools for the Inn!
Subject: easy enough
---
The summoned monster thing would be even easier, I'd think.


Posted on 2008-02-08 at 14:13:18.


Topic: Scion: Holy Roads - interest check
Subject: holy cow!!!
---
You did that on The Movies? As in the game where you start off with silent, black and white movies, and build your studio over the years?
Color me IMPRESSED!



Posted on 2008-02-07 at 22:49:46.


Topic: A Cold Day in Hell Q&A
Subject: okay, then
---
The two new guys have agreed to not shoot the lieutenant. Let me know how you guys wanna proceed.


Posted on 2008-02-07 at 22:31:50.


Topic: A Cold Day in Hell
Subject: fine.
---
May 9th, 2025 - 0101
Observatory, Antarctic Research Facility 36, Antarctica

Fields grins a bit at Kernan's commentary on Army cuisine. "All right, ell-tee - you're right, we could use some shut eye without worrying about taking every other watch. And neither me nor Carter is gonna comnplain if you can out us on the next bird headed anywhere but this Godforsaken place."

The corporal glances at his companion, who slowly lowers his weapon. The two frazzled soldiers follow the lieutenant on out into the hallway. At the doorway, they pause, and Fields addresses Hart. "Sorry about that," he states flatly, indicating the flesh wound the ranger sustained in the original encounter. "If you'd seen what we have, you'd understand."



Posted on 2008-02-07 at 22:30:50.
Edited on 2008-02-07 at 22:36:32 by t_catt11


Topic: Suggest tools for the Inn!
Subject: converting results to an image
---
Wyrmsting, PHP would allow us to do something like that; the GD library will allow us to create PNG images on the fly. You won't be able to do so in HTML (no logic or proceedures in HTML, only structure) or in Javascript (no access to the server, javascript only rund in the user's browser).

I'm sure other server-side scripting langues (perl, ASP) would also make it possible.

I'm thinking that a solution for the Inn would be to let the dice roller know which thread you'd like your rolls posted to, and the system could post them on your behalf. That way, you could see them, but only moderators could edit the messages.



Posted on 2008-02-07 at 22:22:31.
Edited on 2008-02-07 at 22:23:12 by t_catt11


Topic: scattergories!
Subject: scattergories!
---
Blame my wife for yet another RDI timewaster. She sent this to me, I thought I'd share it with y'all.

Use the first letter of your first name to answer each of the following questions. They have to be real places, names, things - nothing made up. Try to use different answers if the person in front of you had the same first initial - which, by the way, can be difficult if you already have read their answers! You cannot use your own name for the boy/girl names.

Beware, this is harder than it looks (or at least was for me and my name!).

1. What is your name? Olan
2. A 4 letter word: onus
3. A vehicle: Opal
4. A city: Orleans
5. A boy's name: Orville
6. A girl's name: Ophelia
7. Alcoholic drink: Old Milwaukee (beer)
8. An occupation:? optometrist
9. Something you wear: overcoat
10. A celebrity: Shaquille O'Neal
11. A food: orange
12. Something found in a bathroom: oxycodone (in your medicine cabinet, perhaps? Gimme a break, I have a HARD letter!
)
13. Reason for being late: out of gas (maybe I cheated a bit here!)
14. Something you shout: Ouch!
15. An animal: ostrich
16. A body part: orbital
17. Word to describe yourself: overbearing

Posted on 2008-02-07 at 22:18:30.


Topic: Suggest tools for the Inn!
Subject: well...
---
...we could always give an option for the user to specify if they want a standard, easy, or tough encounter.


I'm thinking that we do it like this on the setup end:

Monster Name
Effective level
min/max appearing
Terrain (w/checkboxes for plains, woods, desert, subterranean, etc)
Frequency (common, uncommon, rare, etc)
What else am I forgetting?


Then, allow the end user to input number of party members, their level, and the terrain they are in. The site spits out a nice random encounter for them. Or, if the user so chooses, the site spits out a nice table for them. (Roll 2d10! 1-20 is goblins, 21-35 is an owlbear, etc)




Posted on 2008-02-07 at 21:48:58.


Topic: The Official Red Dragon Inn Name Generator thread
Subject: sheesh
---
Well, in that case, Khords should be SIMPLE. No real worrying about consonant/vowel patterns, soft syllables, or anything like that!
Posted on 2008-02-07 at 21:43:50.

Topic: The Official Red Dragon Inn Name Generator thread
Subject: The Official Red Dragon Inn Name Generator thread
---
As promised, I'm starting a thread for discussion of our RDI name generator. I have some ideas as to how it should work, but I'd like input.

My thought is to allow for different modules for various cultures. Obviously, khordaldrum (dwarf) names will be different from sylvari (elf) names, which will in turn be different from cidal (halfling). Human names can have a wide range, depending on the culture.

Now, there are two ways to do this: the quick, easy way, and the more difficult, higher quality way.

The quick, easy way would simply allow us to choose a module, add a lot of names, and have them spit out in a random order. It would be strictly limited by the names input. So, if a particular name is never entered, there is no chance whatsoever that it will appear.

The more difficult, higher quality way would work in a very similar manner to the end user - you'd set up your module with some seed names to start with. However, the program would use an algorhythm to then break those names into vowel and consonant pieces (possibly also prefixes and suffixes), would analyze the pattern of the name, and would then be able to take those pieces and construct completely new names, using your submitted entries as guidelines.

The second manner would require a good bit of debugging, I'm thinking, until I can maange to make it come up with "good" names. Of course, it might well become a VERY useful tool.

Any thoughts?



Posted on 2008-02-07 at 21:30:44.


Topic: Suggest tools for the Inn!
Subject: nice ideas, all...
---
I will probably start another thread for the discussion of a name generator.

After that, I think that the monster table is not only doable, but useful!

Moria - all three of your ideas are interesting, but I'd need more info. Do post again.

Posted on 2008-02-07 at 20:44:03.
Edited on 2008-02-07 at 21:09:19 by t_catt11


Topic: Suggest tools for the Inn!
Subject: joint efforts
---
I was thinking the name generator could be a joint effort, too.
Posted on 2008-02-07 at 19:05:37.

Topic: Suggest tools for the Inn!
Subject: good ideas!
---
This is why I love this community.

I have actually been thinking about a name generator. We offer the everchanging book of names as a download, but you have to purchase extra "chapters" for it.


I would, of course, probably start with names that work best with the Audalis setting, but would be open to expanding into as many area as the innmates would like (or would like to help with).

As for posting dice rolls into threads? hrm. I can see the usefulness, but I'll need to ponder the technical feasibility of it.

Posted on 2008-02-07 at 18:48:52.


Topic: Suggest tools for the Inn!
Subject: Suggest tools for the Inn!
---
Some of our most popular pages of the site, hands downs, are our dice roller and town generator. In general our online gaming utilities seem to be pretty popular.

Do any of you have ideas for other utilities we could implement?


Posted on 2008-02-07 at 17:18:39.
Edited on 2008-02-07 at 17:19:16 by t_catt11


Topic: The Guiding Light Q&A
Subject: mmmkay
---
Sounds good!

Posted on 2008-02-07 at 16:00:57.


Topic: The Guiding Light Q&A
Subject: hmmm
---
A lot of discussion here - this is good.

LEt me know what the final plan of action is. Try to recruit lizardfolk, yes/no? Use magic in an attack? Try to talk to the pirates? Leave immediately?



Posted on 2008-02-06 at 16:56:31.


Topic: Continuing Where We Last Left Off Q&A
Subject: hehe
---
Sorry, I was bitten by the silly bug prior to posting.

Posted on 2008-02-06 at 14:12:07.


Topic: Olan's baby photobucket
Subject: hehe
---
@ cuteness comments!

He likes the exersaucer... but man, he LOVES his jumparoo. He'll sit in that thing and bounce for a LONG time.



Posted on 2008-02-05 at 20:43:52.


Topic: Star Trek: Operation:Persephone - Q&A
Subject: missing GM
---
Eol is moving to a new job, and has absolutely no time right now. He hopes to be back soon.

Posted on 2008-02-05 at 18:43:09.


Topic: Continuing Where We Last Left Off
Subject: beware the six fingered man!
---
Were he to have time to ponder, Arien would wonder who his benefactor was - the knight is well aware that he should be jelly by now, but someone (or something) is protecting him.

When his gaze fixes on the six-fingered maniac, Arien would also perhaps ponder why it is that all of his major opponents of late seem to be freaks of magical nature. If he survives this enounter, what horror will he face next? A walking goldfish? A woman with serpents for limbs? A werepoodle? The hideous possibilities are endless!

The Green officer gestures at Arien with a green-scaled hand with six fingers. "I always say, you want something done right! Kill them yourselves! No longer will you haunt my dreams vile creature!" With that he draws his sword and charges.

"Vile creature?" Arien wonders aloud as he readies his own blade and prepares to receive the charge. Even factoring in the dust and grime that must surely be covering him now (man, will that armor take some serious polishing tonight!), the handsome knight is rather certain that he is far more appealing to the ladies than mister scaly digits.

Unfortunately, there is no time for a pithy retort - the man is bringing mortal combat to Arien. The raven-haired warrior knows well the skill of the Greens, so if this man is a colonel, he must be all the more deadly. Flaming blade at the ready, Arien will fight defensively at first to get the measure of his opponent, and move to offense as soon as any opportunity presents itself.



Posted on 2008-02-05 at 15:12:20.
Edited on 2008-02-05 at 15:48:12 by t_catt11


Topic: Olan's baby photobucket
Subject: so I'm a big fat liar...
---
...and I periodically post cute pics of my kids. I suppose you'll just have to deal.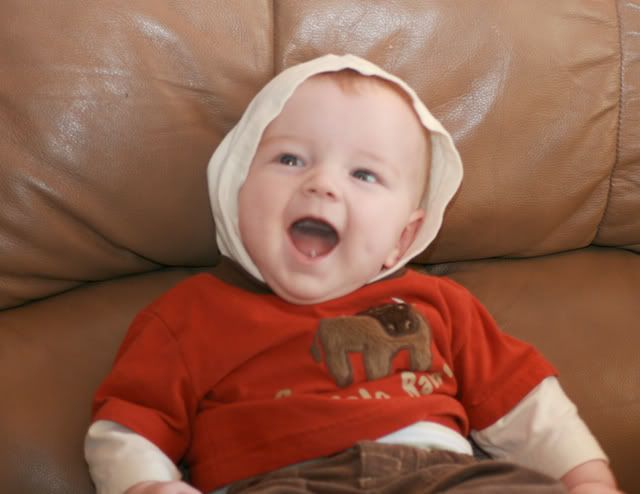 Those a couple recent ones of Noah. I may post some of all three that we had taken this wekend.

Posted on 2008-02-05 at 15:00:25.