Topic: The Trilogy War
Subject: Not A Village........
---
The party worked as a cohesive unit, as in other times they proved again that they were stronger united. When the fireballs finished their flash, Cor and the fighter moved into the room to defeat the few that were not consumed by the fire.

Ulthok drew his sword to follow the fighters and as the roar and calmer of battle subsided he heard the voices from the back of the room. What may have been the cheers for their fighter were now wails of anguish.

The evil powers that had brought this castle must moved an entire Goblin village including the female and young into this room. Moving to the back of the room the party found just that, including the Chief's hut. In a large common area, where they would have been relegate, were a very large number of females and young. As the curs cowered and whimpered Ulthok heard the Lady Jessica address the mass.

"DO NOT ATTACK OR RESIST! WE DO NOT MEAN YOU HARM! WE ONLY DEFENDED OURSELVES AND IF YOU DO NOT RESIST US THEN YOU WILL SURVIVE!"

Her magic helm allowed her words to be understood by the Goblins. They gathered and gumbling could be heard.
Turning she addressed the party members, "We have to secure this area, and then find a way to make sure they can't follow us or alert others," ………"If they don't attack us then I will not allow these children and females to be slaughtered."

Cor listened the Paladin and then he too addressed the party,"And in no way they should. They may be goblins, but they're still innocents. We should not attack them." ………………"Ok, we should look around the area and make sure there are no more surprises. We also should check the dead goblin leaders, and see if they carried anything useful. And that hut. Who knows what it may have in it." … " And everyone, only attack if you are attacked first. If we slaughter the innocent, we are no better than the enemy."

Ulthok noticed that the party started to look sympathetic toward the grimy smelly mass of little evil creatures. "Do not let your guard down…… those creatures would have gladly butchered and cooked you down for the young to suck the marrow from your bones. The young are taught that you are FOOD and some may have started to train as fighters………If you consider them to be more than rats or vermin it is only because that they can carry weapons……Do not turn your back to them and do not feel sorry for them."

The mage started toward the hut to search for item these things had stolen. Passing by the common area he shouted in Goblin a command to the mass of evil, "SIT……DON'T MOVE" He waved to Weaver to join him in the search.


Posted on 2013-09-11 at 02:50:35.
Edited on 2013-09-11 at 15:00:28 by Odyson


Topic: Are you Ready for some Football 2013
Subject: It Was EAsy............
---
It was easier to copy / paste the game list, the time and place were just a bonus.

The idea was to give folk a place to find the pairing.
The easier we make it the more will paly.

Posted on 2013-09-11 at 01:11:43.


Topic: Trilogy War Q/A
Subject: Ulthok Speaks.............
---
Ulthok speaks Goblin so he could give them direction.

Posted on 2013-09-11 at 00:47:15.


Topic: Are you Ready for some Football 2013
Subject: Week 2
---
So we start with these choices?



Thu Sep 12 Time Location


NY Jets @ New England 8:25 PM Gillette Stadium


Sun Sep 15 Time Location


Minnesota @ Chicago 1:00 PM Soldier Field
Carolina @ Buffalo 1:00 PM Ralph Wilson Stadium
Cleveland @ Baltimore 1:00 PM M&T Bank Stadium
Washington @ Green Bay 1:00 PM Lambeau Field
Tennessee @ Houston 1:00 PM Reliant Stadium
Miami @ Indianapolis 1:00 PM Lucas Oil Stadium
Dallas @ Kansas City 1:00 PM Arrowhead Stadium
San Diego @ Philadelphia 1:00 PM Lincoln Financial Field
St Louis @ Atlanta 1:00 PM Georgia Dome
Detroit @ Arizona 4:05 PM University of Phoenix Stadium
New Orleans @ Tampa Bay 4:05 PM Raymond James Stadium
Jacksonville @ Oakland 4:25 PM O.co Coliseum
Denver @ NY Giants 4:25 PM MetLife Stadium
San Francisco @ Seattle 8:30 PM CenturyLink Field


Mon Sep 16 Time Location


Pittsburgh @ Cincinnati 8:40 PM Paul Brown Stadium





Posted on 2013-09-10 at 20:07:23.


Topic: Voyages of the Rocinante - Firefly RPG QnA
Subject: No Chem.....
---
K

Posted on 2013-09-07 at 22:50:21.


Topic: Trilogy War Q/A
Subject: Visual Kind Of Guy........
---
I was thinking that if the map is helpful we might try using them in email to show ideas too. There it might work easier to each to add or make suggestions using Paint or Draw or even Excel. I am just learning how to use Paint.Net and had some trouble trying show where characters might move.

Would that be helpful?

Posted on 2013-09-07 at 16:07:38.


Topic: Voyages of the Rocinante - Firefly RPG QnA
Subject: Who's The Chemist?
---
Would Ash know how to make the explosive?

Could it be something he knows from his farm / ranch days and the fighting for his lands?

It might be reasonable due to the limited access to regular explosives due to the war and Alliance regulations.

I could have him bring it up and then start his lab to make little or big amounts.



Posted on 2013-09-07 at 15:17:52.


Topic: Trilogy War Q/A
Subject: Rough Map...
---
The areas on the map are just a rough idea of how it "might" work. The space from the door to the back of the Goblins is about 200 feet and the room side to side is about 200 feet. Sirene's blast is about double in area of each of others. The blast could actually over lap more, the final effect is up to the roll of dice.

But I hoped a little visual might be useful.

Posted on 2013-09-06 at 15:51:25.


Topic: Destiny Flight - QnA
Subject: Ok...
---
I'll keep looking, I remember it, just haven't found it.

Posted on 2013-09-06 at 15:41:49.


Topic: Voyages of the Rocinante - Firefly RPG QnA
Subject: Understood............
---
Roger,
Trying to plant idea seeds.

Brom,
Wyatt wants Ash to get pictures of cases in different places, someone needs to give him a case. He can take the mule and zip about then. If we are putting people in the caves then I'd guess that's NOT one of the locations?

Help me flesh this out a bit.

Posted on 2013-09-06 at 15:39:33.


Topic: Trilogy War Q/A
Subject: Lights, Camera, Action......
---
Ok, my post is up to get things rolling. So have fun!
A rough touch on Tann's map to give general idea of attack.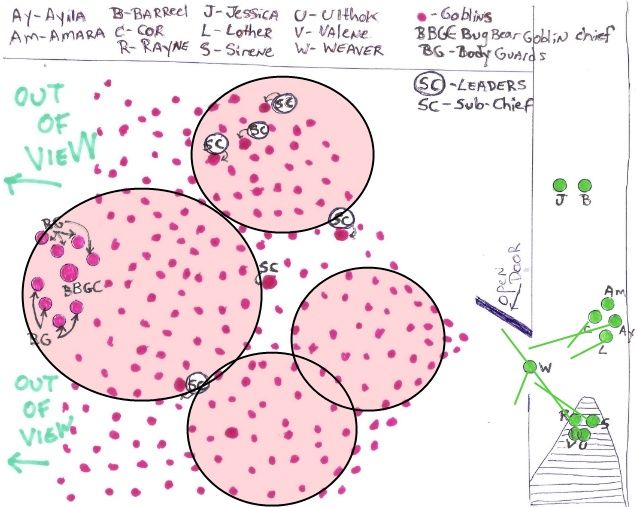 Posted on 2013-09-06 at 03:13:26.
Edited on 2013-09-06 at 03:35:25 by Odyson

Topic: The Trilogy War
Subject: I Think Arcane... I Think Arcane.......
---
The faerie dragon's plea was answered. Rayne rushed to Ulthok's side and placed hands upon him casting to reduce his injuries. Sirene seeing the horrid accidental miscue of her spell assisted and added her healing skills. The sudden rush of magic through Ulthok's body nearly stunned him as much as the shock of the freezing cold upon the bare skin of his face. Through the rush he heard Weavers speaking concern. In those moments he telepath a message back to Peri.

"Friend, your mage seems to be getting better, but I need to know what is happening with those Goblins. Fly over to Weave and let me see inside the room." The little Dragon flew over and as she gazed into the room Ulthok saw the gathered Goblins. Near the back a great over sized Goblin stood ringed by fierce like warriers, that must be the Chief. Across the width of the room spread what must have been full tribe living in that great hall. There were more sub leaders mingled among the band that must have reach the two hundred count and they were recovering from the blast of cold and preparing to charge.
Ulthok sensed there were too many to fight with the sword, this had to be the Mages battle. As he was about rise Valene leaned in, whispered one last healing spell and kissed him softly on him newly reborn lips.

The sudden rebirth had filled him with energy and his mind spun with possibilities to deal with the horde that now threatened those he cared for. He hoped the others would be ready, this would take all the casters working together to stop so many little vermin. Valene help him rise and he called out as bound toward the doors.

" I've seen through Peri that that is large tribe. To stop them we must act quickly and hit with wide area spell, a fireball from each of us will nearly fill the room with flame..... Sirene your spells seem to hit wider, can you take out that large Chief and his guards toward the back of the room?...... Weaver hit those to the left,……. I'll hit those to the right and Aliya if you are well enough cast on those to the front and in the middle…….. The fighter can rush in after the blasts and take those missed by the fire, so step aside after you cast to let them through. …..Cor, rally the fighter so you move after the fireball settles.... Valene, you, Amara and Rayne guard our backs and be ready to heal again…….Lets get this over with."

Pumped with his fresh healing energy the Halfling lead Mages back to the door and stepped inside to the right-hand, casting as he entered. Thinking to himself,"The Fireball should cover about a forty foot diameter area," so he picked a densely packed area of Goblins about 80 feet into the room and centering so edge of the ball would catch those clear to the edge of the horde. He hope the other would follow suit.


Posted on 2013-09-06 at 03:11:02.


Topic: Trilogy War Q/A
Subject: Rage.......
---
Well with the coming and going of player it sort of got missed.

I figure the Rage is there when he starts to sing. The warmup was his charge. Now it is still there even if there isn't major action, but he's got to do something.

Posted on 2013-09-06 at 01:02:09.


Topic: Trilogy War Q/A
Subject: Work On My Post Tonight.......
---
I'll try to get things moving along tonight and I've sent Eol some stuff to bring him more up to speed.

He brought up that Barreel is in RAGE so we need to be sure to allow room for him to enter the room if he wants without spiking us with his armor by mistake.
"Get out my way... Did You Get My Point?"

Posted on 2013-09-05 at 20:38:07.


Topic: Destiny Flight - QnA
Subject: Was The Story In PM?
---
Did you send out what happened it a PM?

I know I've read it but I can't seem find it either.
I'm a packrat and sve almost everything.

Posted on 2013-09-05 at 19:55:59.


Topic: Trilogy War Q/A
Subject: Start The Battle Math.....
---
Talked to Tann today, the Goblin area we see is 200 feet wide x 100 feet high and we see 200 feet deep (to behind the big Goblin Leader).

So there are about 200 Goblin covering that area and starting to charge.

Time to start calculating the areas effected by our spells to be sure an attack is a good idea.



Posted on 2013-09-04 at 23:25:10.


Topic: Treasure Seekers QnA
Subject: Yeah.....
---
And PIE.

Posted on 2013-09-04 at 20:07:33.


Topic: Destiny Flight - QnA
Subject: Go Teller.....
---
I liked the play between Jon and Tess. Sort of Mel and Zoeish. There can be even more back story of War years.


I hope to do Justice to Jon, I was just starting to understand him to play him better when we went on pause.

There are some dark places in him, a new one being that they lost Destiny for while.

But Destiny is back in Black!(Gotta love that Grace.)

Posted on 2013-09-04 at 20:06:12.


Topic: You can't keep a good elf down...
Subject: Bear Hugs for Face Licks..........
---
My first friend has returned.
That gives me a smiley face all over my body.

Egor... Break out a barrel of "Good Old Froth-N-Slosh" time for a gathering... one that seemed lost has returned.

"Welcome Home Friend!"



Posted on 2013-09-04 at 19:52:49.


Topic: Trilogy War Q/A
Subject: Room Size.....
---
Tann,
Our charcters can judge distance and area for placing area effect spells.

Can you tell us the size of the room in the picture and the distance to the Bugbear?

If we want to do fire or lightening we need to judge distance for best targeting and effect.

Posted on 2013-09-04 at 01:36:49.


Topic: Voyages of the Rocinante - Firefly RPG QnA
Subject: Code Boy................
---
Algorithm, shmalgorithm...John was just complaining the security codes were too simple. This could be just the kind of thing he'd gravitate too. He'd probably work in out in his head while tearing out the parts for Roc. He was a med guy too so he might even know something about neuro-implants.

Man could you see him and Grace together, wouldn't nuthin be safe...except their stuff.

Posted on 2013-09-03 at 21:00:07.


Topic: Voyages of the Rocinante - Firefly RPG QnA
Subject: How Techy ........
---
John and Tess are pretty gadget good. Could John or Tess be able to find the signal used to activate the head bombs?

I'd guess each was separate so only those three would be activated. But that could lead to a spectrum of freq that might help drop the mercs. The computer on board should be able to rapidly cover a spectrum with signal pulses and possibly activate some of the implants.

So Giddy and Al(seeing your NPCing Tess) what'cha think?

Posted on 2013-09-03 at 17:08:45.


Topic: Trilogy War Q/A
Subject: Peri.......
---
I see what you say about size. I was taking it from the M Manual that said 1' to 1 1/2' in size. So I picture a 6" tall body and 6" long tail.

So it's more like 3" tall with a 3" long tail.

Ok, pretend Valene is holding a magnifying glass, lol.

Posted on 2013-09-02 at 15:51:36.


Topic: Trilogy War Q/A
Subject: Spells.............
---
Yes a good time for area spells but Aliya is too far away this round to cast into the room.

Weaver can cast now, Sirene, Rayne, Ulthok and Valene are close enough to move up behind, look in and cast. If we knew our battle sequence we could RP a great series of attacks.

Goblins have sensitive eyes so Ulthok could cast a "Sun Burst" from his wand that would Temporarily blind a bunch and slow the attack. Followed by spells like a fire ball and chain lightening from the others as the Goblins paused. A wall of force or such last to lock them in as the fire burns in the room. Even without the Sun Burst we could rain fire and lightening.

Peri could cast last a wall of force to close them in.

We would need to get to the doorway so we can see in to direct our spells. This sort of like when we united to cast wall of fire against the bugs in the mountain.

Ok, that's just a first blush at an attack idea.



Posted on 2013-09-02 at 15:29:27.
Edited on 2013-09-02 at 15:35:38 by Odyson


Topic: Trilogy War Q/A
Subject: Peri And Valene Pic.....
---
Well as size wise, I figured it closer because Valene is a Halfling and a small character. Peri sitting would be about 6" tall, so the relitive size might seem closer.

Posted on 2013-09-01 at 20:46:34.