Topic: Flesh & Blood - A CyberPunk Game
Subject: Google Drive?
---
Don't mean to seem thick but I don't understand what you mean about character sheet located on Google Drive.

Posted on 2016-05-06 at 12:17:36.


Topic: Flesh & Blood - A CyberPunk Game
Subject: Sniper..........
---
Let me review the sniper. I don't think I could do a woman well.

Send me any info that might help with CyberPunk.

Posted on 2016-05-05 at 19:21:47.


Topic: Flesh & Blood - A CyberPunk Game
Subject: I Heard You May Have An Opening...........
---
Hi...
I heard you lost a player and was asked to consider stepping in and help. If you would have me I'd need a week to catch up on story and Q&A to pick up the character.

Is there a character sheet with some info to help me get him in my head?

If you already have someone, I'm good with that too.

CyberPunk is new to me but what the heck I can fake almost anything.

Ody

Posted on 2016-05-05 at 12:06:52.


Topic: Trilogy War Q/A
Subject: Go For It............
---
It's Hero time...............

Posted on 2016-05-01 at 11:52:30.


Topic: Trilogy War Q/A
Subject: Finger.............
---
Well someone needs to stick their finger in the hole.
If Roan were a gentleman he would do it for his love Rayne.

Posted on 2016-04-29 at 19:43:53.


Topic: Star Trek: the Edge of Duty
Subject: Show Time.............
---
Stardate 2365.02.08
USS Peregrine, Deck 2 Transporter - 1150

John had changed to his dress and joined his people to form the honor guard. He had not heard from Lt. Berk to confirm the welcoming party so he had attended to be ready to support his CTO.

When the Captain, the XO and the new Ops office had arrived John figured Lt. Berk would be along. The ACTO brought the group to attention when the Staff officer had stepped out of the turbo lift and kept them there. Lt. Berk had followed quickly next.

While the staff was in the transporter room John reviewed the guard procedures with the security contingent. He reminded them that this wasn't just fluff assignment there could be some real security and protection issue in play and to look smart and act smart.

When the transporter room door opened Lt. Berk lead the Ambassadors out and John set the guards in step with each of their charged assignments.

The ACTO lingered back as the Staff and guests moved to the turbo lift. No need to make a bigger crowd.

When the turbo lift doors closed John tapped his com badge, "Reid to Chief Brooks"

=/= Brooks here sir. =/=

"Chief our guests are on board. Check the bio recognition and enact security protocols. If the bio signature is not set inform secure areas and activate isolation protocols."

=/= Aye Lieutenant. We'll keep you and Lieutenant Berk posted. Brooks out.=/=

With the guests on board John needs to get back to routine. He had the grave yard shift coming and he had been up for a while preparing intel and plans for the Ambassador's arrival, now he could use some food and rest. It was just easier to go to mess first even in his dress uniform than take the time to change.

The door to the mess slide open and John stepped to the replicators and got a simple meal of meatloaf and mashed potatoes with gravel. He ordered up a glass to cold milk.

Turning to the room to find a seat he noticed three medical crew nurses, two were new faces. One was a striking red haired female beauty. He realized then that being armed and in dress uniform might seem a bit much but it was too late now. As two of the men there looked up at him he smiled as he took a seat at a table near by.


Posted on 2016-04-26 at 20:53:25.
Edited on 2016-05-20 at 11:59:52 by Odyson


Topic: Star Trek: the Edge of Duty Q&A
Subject: Ok...........
---
Im' back out of town again and will be traveling most of this week. will be home late Friday for the weekend.

Was going to post something about heading to the transporter in Dress but saw Berk and upper staff so headed back.

That is where I thought I might have John meet the nurses.

Got to get time oriented so as not to mess up sleep period going to bridge for regular shift.

It seems at the moment that John and Berk are sort of missing
each other due to meetings and sleep and shift assignments.

Posted on 2016-04-26 at 19:56:10.


Topic: The Trilogy War
Subject: What Now..........
---
As the party paused to consider this new development Ulthok noticed Rayne scanning the forests edge.

It occurred to him that there was no noises coming from beyond the clearing or from above. Then it also occurred to him that his magic had had drained away. The amulet had saved his spirit and memories but not the power of magic he had gained from his studies. Now was not a good time to be without spells and there was no time to rest for eights hour to study and recover them. For now he would rely his weapons and other magic items.

"You all need to take some kind of action and soon the forest just got still and the birds stopped attacking." With that Ulthok backed up to the wall and drew bow.


Posted on 2016-04-24 at 17:22:49.


Topic: Trilogy War Q/A
Subject: ?
---
Well would have figured that Tann refered back to me Q&A post for the positioning that Ulthok used. It should have looked like this: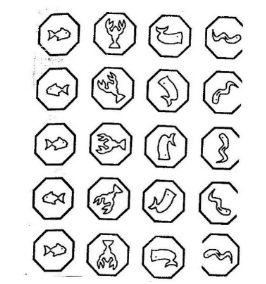 But it doesn't matter we need to move on and either have someone else activate the door or do something else.

Besides the door there is something else a foot with the forest going silent.

Posted on 2016-04-24 at 15:10:20.


Topic: Trilogy War Q/A
Subject: 5.0
---
Not here. It is our tabletop group. We are going to try playing live on Roll20.

https://roll20.net/

I have not tried it yet so I can't say if it is any good or not.

Posted on 2016-04-24 at 10:03:41.


Topic: Trilogy War Q/A
Subject: Had To Ask......
---
It would effect Ulthok's actions to know or not know if his spells were gone. It is either don't bother to cast a spell or cast a spell and nothing happens.

So I guess that the magic users can "feel" the magic so they know if it is there?

Now I can write something.

Been getting ready to play a 5.0 game online using Roll 20.
Built a half Orc barbarian.

Posted on 2016-04-23 at 19:22:34.


Topic: Trilogy War Q/A
Subject: No Spells.................
---
So this time after death Ulthok has no spells, right?

Does Ulthok know that he has no spells ready?

Posted on 2016-04-23 at 18:48:57.
Edited on 2016-04-23 at 19:09:25 by Odyson


Topic: Trilogy War Q/A
Subject: ????????
---
Another look. What am I missing?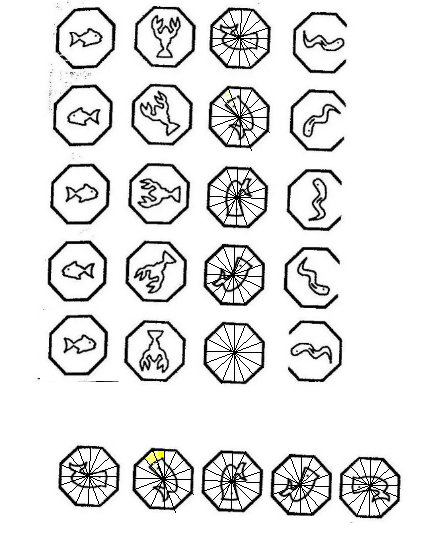 Posted on 2016-04-20 at 21:56:56.

Topic: Trilogy War Q/A
Subject: Should Have Asked Earlier....
---
Are we moving the figure inside the octagon or are we just positioning the octagon?

Schnoz, your solution looks the same as what we had.
I think the whale is the one that is wrong in our first attempt.



Posted on 2016-04-19 at 19:11:32.
Edited on 2016-04-19 at 19:31:44 by Odyson


Topic: Eol goes around the sun...
Subject: Happy Coming Out Day...............
---
May your liquor be cold,
May your women be hot.
And may your troubles slide off of you
slicker than snot.
Posted on 2016-04-19 at 17:45:49.

Topic: Trilogy War Q/A
Subject: Thanks...........
---
Well then the next thing I think I see is that the whale is moving quarter turns, not just flat to flat. There seems to be some line up on the corners. So if you split the flats into two's then we got 16 positions and I count the moves as 5, 7, 7.

So the next is what?


It could be back down the 5 or up to 9. Odd number counts seem to be the move.


Posted on 2016-04-18 at 19:22:37.

Topic: Trilogy War Q/A
Subject: The Eel........
---
Is the missing side line on the Eel picture from your cut and paste or is it actually part of the disc? Can the Eel be turned inside the disc so the the missing side line would have been to the right as it shows in the other views?

Other than that I am at loss.

Posted on 2016-04-18 at 11:29:52.


Topic: The Trilogy War
Subject: A Hard Choice..........
---
A great bell clanged and then everything went black. There was not pain, no anything. Disoriented the mage felt confused but there was something slightly familiar. Then Ulthok recognized the sensation, he had felt it once before when the fire ball had consumed his unprotected ooze form in Drow Mountain. His was body dead,again. The amulet he wore had again saved his spirit as some force had ripped life from his physical form.

Other than his own thoughts the only other thing he was aware of was the touch of spirit to Peri. As he came to grips with his situation he wondered how long he had been there. Time had no measure. His memories told him that this was only a temporary haven and if he body was not healed he would slip away forever.

In the peaceful calm he recalled another gentle ballad:

Memories, pressed between the pages of my mind
Memories, sweetened thru the ages just like wine

Quiet thought come floating down
And settle softly to the ground
Like golden autumn leaves around my feet
I touched them and they burst apart with sweet memories

Sweet memories
Of holding hands and red bouquets
And twilight trimmed in purple haze
And laughing eyes and simple ways
And quiet nights and gentle days with you

Memories, pressed between the pages of my mind
Memories, sweetened thru the ages just like wine

Memories, memories, sweet memories


As the song floated away a tiny light began to appear, as that of an early dawn after a dark moonless night. The light grew steadily until it became a great blinding flash.


Ulthok gasped and grabbed his chest as air rushed in to fill his lungs. Opening his eyes the images of a familiar Elven beauty was in a meditative pose kneeled next to him. A sweet taste was upon his lips and warmth filled body.

Ulthok could only guess that the Enchantress had used her healing arts to save him. Feeling the strength returning the Halfling raised himself up to his elbows and then sat upright on the ground. Peri fluttered in to place a kiss on his cheek and then flew to Sirene to place a kiss on her cheek. This confirmed to Ulthok that Sirene had healed him and saved his life.


Glancing around to the party gathered around, "Well that didn't go as well as we hoped."


Seeing the puzzle was gone and the door had turned to it bare exterior he knew that they needed to try again. "Well if you can save me each time then perhaps we will find the correct solution."


Rising up the mage walked back the door and again stuck his finger hole. But this time nothing happened. There was no pick of pain to draw blood and no change in the door.

Withdrawing his finger he turned to the party, "It appears the door will no longer respond to me. I fear it requires a new life to test and I cannot protect another with my Amulet, for as long as I live it is attuned to me and will not serve another,. It is now a hard choice of who next to attempt the door's challenge knowing that failure means death."


Posted on 2016-04-16 at 23:08:32.


Topic: Trilogy War Q/A
Subject: Yeah But................
---
His mind and spirit were not dead, only his body so all of his memories, including his spell should still be in tact.


Only if you determine that it is like a battery discharging that he lost the power of the spells, such as when a spell in used. Then he would need to reread the spells to again recharge the power of their magic in him.

Is this a known fact? I don't remember going through it the last time.

Posted on 2016-04-16 at 22:59:44.


Topic: Trilogy War Q/A
Subject: To move Things Along.....
---
Tann left me a voice mail to post for Ulthok, the heal spell worked. He gave me some info to help move the story along, so I'll get a post up quickly.

Posted on 2016-04-16 at 21:50:21.


Topic: The Trilogy War
Subject: The Kiss Of Life...........
---
Peri:


The Fey creature watched as her companion did the task that he was most trained to do, search for traps and gain access to locked areas. She also knew his nature and that as skilled as he was his curiosity could lead him astray. So when he stuck his finger in the small hole and let out with a "Buggers" she knew he'd set something in action. The bit of blood from the prick did not seem too threatening but she figured they were dealing with a magic item as the panels on the door changed to reveal a puzzle.


She had to hold herself from giggling when Ulthok brandishing the bloody finger tip and said, I found the lock."


Ulthok quickly studied the puzzle and agreed with Cor's solution. Then began to place the discs. Click, the first disc placed, click the second disc placed, click the third disc placed. A small pause before the forth disc was placed CLICK With that click sounding as loud as if a church bell had been rung only once, Ulthok fell from the grasp of Sirene's hand to the ground dead. For a moment the shelf and disc's remained as they were, then the metal moved and the shelve and its disc's vanished. Replaced by a finger sized hole once more.


Peri briefly was seized with panic, but she could still feel the connection of her spirit to his and knew that his life force was protected within the amulet he had told her about.

Cor remembered too. "The lad is dead. But dead is but a setback. We should have him up and about in naught but a few minutes."


Squeaking out, "Heal his body, his magic thingy will bring him back, please heal my Ulthok,." Peri was nearly in tears.

Then Sirene who had been kneeling beside Ulthok's small body, laid her hand upon his cheek. With a deep breath, Siréne opened herself to the life giving power of the Great Mother Goddess and let it flow through her. Leaning in, she brushed her lips upon his and breathed the spell into him. She sat back up and bowed her head waiting for the healing magic to take hold.

Peri watched and knew Ulthok would have treasured the kiss. Before he had met Valene the Halfing mage was smitten with the Enchantress. He had told her of the last time he had died was in an attempt to reach Sirene in her distress. He knew fey lady was beyond his station but still she had gained a special place in his heart.

Peri waited with the rest for her companion to return to her.


Posted on 2016-04-16 at 10:23:32.
Edited on 2016-04-16 at 10:27:09 by Odyson


Topic: Trilogy War Q/A
Subject: From The Last Time.....
---
I read back to page 147 where Ulthok was last healed from death. Conall cast the healing.

�Come on, old friend it is time to return to your body for we have need of you and your magics,� Conall murmured as he knelt beside the body of his fallen friend. The paladin placed his hands upon the still chest of the Halfling and closed his eyes in prayer. ((OOC: I�ll cast Heal Moderate Wounds and if that�s not enough to get him back on his feet I�ll go ahead and use my cure light wounds spell for the day also.))


Posted on 2011-05-26 at 14:56:19.

But I would guess that to save game time we didn't press to much to post more. If Ulthok is dead then that is zero HP and needs full healing.

Posted on 2016-04-14 at 11:51:05.


Topic: Trilogy War Q/A
Subject: Time Off.........
---
Well with Ulthok dead I guess I don't have to worry about a post.



Posted on 2016-04-13 at 17:53:04.


Topic: Star Trek: the Edge of Duty Q&A
Subject: Yep.........
---
He even has the two Lt pips..

Posted on 2016-04-13 at 11:46:03.


Topic: Star Trek: the Edge of Duty Q&A
Subject: I Found John.................
---
Check out Lt John Reid in the roster.



Posted on 2016-04-12 at 21:49:33.