Topic: Star Trek: the Edge of Duty
Subject: This Is the Turbolift...That Is The Airlock.....Or Is It?
---
(OOC, this is a joint post between Ody and Brenn.)


USS Peregrine, Security Ward Room 2030

"Reid, I've been reassigned off the boat where I don't know yet. I need you to do the same type of good job you did for me to the next head of Sec/Tac. Now that's the official line here's the personal one. Keep an eye on the new transfers and watch Captain Drakes back I'm not 100% sure there is not a deeper reason for these sudden transfers of key personal. And even more personal keep watch over Caity until I can find a way back to the Peregrine, You're a good officer Reid, I think it should be you taking over my job, but like I said this whole thing seems fishy. Watch your back."

Rock's words were in John thoughts as the door to the Ward Room whooshed open. Lt. Berk entered the ward room.

"Lt. Reid I presume."

John heard the crispness in the man's voice, a hint of a German accent seemed to linger or maybe John just imagined it.

"Yes sir, welcome aboard the Peregrine. I've taken the liberty of having the Bridge rotation, section duty roster and department personnel files sent to your PADD. I'm sure you will want to familiarize yourself with your staff. If you wish I'll arrange shift staff meetings."

Mathias moved to shake Lt. Reid's hand. John stepped forward accepting Berk's extended hand, shaking it firmly.

"It's good to finally meet you Lieutenant, I can't say I've had all that much time to review your personal file, my transfer orders caught me by surprise to be honest. I'll take you up on arranging those meetings, I'd also like to take some time to run some security drills, either on the phaser range or holodeck, both so I can get familiar with our security teams, and get a feel for how everyone works together. I'm not here to shake things up, I'd rather avoid turning everyone's world upside down if I can avoid it." Mathias said.

Smiling to himself John thought, "By the book, good that will help the transition to go smoothly."

"Yes sir, we maintain a regular schedule of drills, I'll include it so you can attend as your schedule allows. This last mission has been relatively quiet and the drills were mostly all of the action the teams got to see. You will find that our teams are smaller than you may have had on the Fearless but likely a bit more than those on the Xhosa,I had a little time on my hands so checked your service record, thought it would help, The Peregrine isn't too big of the ship but like our mascot here," John nods to the picture of the falcon on the wall, "we are quick and dangerous. So if you wish I could take you on a brief tour, might make thing bit easier than searching alone."

"Absolutely, please, lead the way Lieutenant." Mathias said motioning to the door.

Leaving the Wardroom John showed Lt. Berk around deck 5 making a point of stopping for a while in the Armory. Entering the turbolift they began making their way around the ship passing through Medical and Engineering. With most of the crew slowly returning from shore leave aboard the starbase, most of the ship was still relatively quiet, though there was more activity in the corridors.

"This ship definitely has the feel of a warship, probably no families aboard." Mathias thought, paying particular attention to the comparably Spartan medical facilities as compared to his prior postings. They had walked in relative silence between stops and Mathias decided to break the silence and hopefully the ice with his new second.

"I'll be honest with you Lieutenant,I feel like I'm stepping on toes here, by all accounts you ought to be taking over as Chief Tactical Officer, I only have a few years on you in terms of experience and you have a better report with the department. I'm going to be relying a great deal, especially while I settle into my new role."

They continued to walk then John spoke, "I appreciate your candor Sir, but my job is to be the best Second Officer you could ever want. The details of your command need to be conveyed and carried out so you can concentrate on the situation at hand. If I do that then matters will take care of themselves. For now the Peregrine's safety has been placed in your hands and it is our duty to assist you and to make it so."

They exited the turbo lift, stepping onto the now empty bridge.

"The Tactical and Security console is over here." explained John directing Lt. Berk to the station. "When we leave tomorrow Ensign Blackmon will have the Alpha watch."

"I'll be joining the Captain on the bridge, at least while we are getting under way, I'd like to get a feel for his style of command. There's probably no need to rearrange the duty shifts though."

"I found that First and Second Officers get to enjoy the pleasure of extra duties," John said with a laugh."And no doubt Captain Drake would appreciate your support. Now then, let's get you settled in. I'll show you the mess and then take you to Ops to get checked in," John said as they re-entered the turbo lift.

Ending at the Operation office John "Again, Welcome aboard sir."

"I appreciate the welcome Lieutenant, I look forward to working with you and I appreciate you taking the time to show me around." Mathias responded. As John turned to leave Mathias tapped the door chime. Lieutenant Reid had been friendly enough, but there was something about the whole tour and their conversation that sat in the back of his mind as seeming strange. The Lieutenant had seemed uncomfortable, maybe suspicion, or jealous? This whole situation was beginning to seem slightly off.

"I might have to give the Peregrine's former CTO's personal file a quick once over, find out if there is more to this transfer than I originally thought."


Posted on 2016-03-26 at 18:29:07.
Edited on 2016-03-26 at 18:30:50 by Odyson


Topic: Star Trek: the Edge of Duty Q&A
Subject: Office....
---
The Ward room is more of a meeting room and the is a Security Office that you have. I'd say you'd share it with the Watch Officer in Security. Check a couple of pages back in Q&A and see the picture I put in of a Star Fleet Security Section. Ours would be similar bit only about half as big. No dinning area, that would be cells and about the end of the section.

Posted on 2016-03-26 at 14:23:34.


Topic: Star Trek: the Edge of Duty Q&A
Subject: Hot Dang..........
---
I do believe that the Security Section just got their foot stuck in it. Oh this is going to play well.

And I was thinking John was going to get more ship to ship combat tactical experience.

Oh, but that could be in the cards too.

This is going to be hoot.

Brennus, watch for my email tonight. Momma Bear did have some honey do's for today. So much for a day off.

Posted on 2016-03-25 at 14:04:12.


Topic: Star Trek: the Edge of Duty Q&A
Subject: No Hazing Allowed..........
---
Gee guys John's an Eagle Scout...he wouldn't haze his new CO.
But a cat lady might ..lol....

BTW..added a little to John bio...it seemed a little weak and something was missing that would justify his promotion to Lt.
I feel this assignment is where he builds his TAC skills.

working a joint post with Brennus for the tour. So it will be just a little while before you see Lt. Berk walk in the airlock instead of the turbo.......
Posted on 2016-03-24 at 20:58:38.
Edited on 2016-03-24 at 21:00:04 by Odyson

Topic: Star Trek: the Edge of Duty Q&A
Subject: Ok.......
---
I'll try to get a reply up tonight on Reid and Berk's meeting. Being it is only early evening (8pm ish) there would be time for quick review of watch assignments and a tour of security, the ship, the bridge and ending at the Ops office so Berk can get formally signed in. Small ships don't take long to tour.

I am going to guess we will be back to all hands on station for Alpha shift on Monday for Drakes meeting and prepared to depart as soon as his party returns?

Posted on 2016-03-24 at 11:52:13.
Edited on 2016-03-24 at 11:59:21 by Odyson


Topic: Support the Inn!
Subject: Do My Part..........
---
If it will help..I'm willing to accept any gifts you want to buy.




Posted on 2016-03-23 at 19:41:22.

Topic: Star Trek: the Edge of Duty
Subject: Sir.............
---
USS Peregrine, Security Ward Room 2005

As John bide his time in the Ward Room he brought up the service record of his new department CO. Lt. Rock had not been able to tell John much about Lt. Berk.

Lieutenant Mathias Berk
Current Assignment: Chief Tactical Officer , USS Peregrine
Species:Human
Gender: Male
Date of Birth: 2336-06-01
Birthplace:Mannheim, Germany, Earth
Height: 177 cm
Weight: 79 kg
Eye Color:Green
Hair Color:Brown

Physical Description: Athletic build indicative of someone who participates in alpine sports. Keeps hair cut quite short on the sides with it being kept longer on top and parted to one side. Has a small scar on his left eyebrow which he opted not to have removed via dermal regenerator.


John noted the Lt. Berk was only two years older than him and was now Chief Tactical Officer. That was good, John figured he had proven himself to earn the promotion.

Education:Officer School, Tactical Specialisation - Starfleet Academy, San Francisco, USA

Service Record: 2354.09.05 - Enters Starfleet Academy Officer School
2358.04.12 - Graduates from Starfleet Academy and is granted the rank of Ensign
2358.05.01 - Assigned to the USS Fearless, an Excelsior class Cruiser. Security officer.
2362.06.04 - Promoted to the rank of Lieutenant (jg) and transfers to the USS Xhosa an Oberth Class Science vessel as Chief of Security.
2363.02.11 - USS Xhosa decommissioned, Transferred to Starbase 84 as Assistant Chief of Station Security
2363.11.25 - Transfered to the USS Valour a Centaur class Light Cruiser as Assistant Chief Tactical Officer
2365.02.07 - Transferred to USS Peregrine as Chief Tactical Officer


Lt. Berks' career path didn't seem too different from John's in that he had started on a larger ship. The time on the smaller Oberth Class ship would also serve Berk well in the tight confines of the Peregrine.

Special Skills or Ratings:Expert Qualification - Starship Bridge Operations
Expert Qualification - Star fleet Small Arms
Advanced Qualification - Alpine and Wilderness Survival and Rescue
Class B Conn rating - Starships
Advanced Starship Tactical Operations Certification
Starfleet shipboard weapons maintenance Certification
Advanced hand to hand and non-lethal use of force training
Certified range master and small arms trainer


John noted the Expert Qualification - Starship Bridge Operations and the Advanced Starship Tactical Operations Certificate. He had hoped that serving as part Captain Drakes crew that he'd also have that qualifications before his next assignment.

Commendations and Reprimands:2362.03.03 - Purple Heart - Injured in the line of duty
2362.03.03 - Meritorious service award for his actions during away mission to rescue federation citizens held captive by Orion slavers.


Berk's time on the USS Fearless proved him to be a gallant Officer. The Lieutenant didn't seem to be afraid to step in harm's way to do his duty and serve others. John liked that, this could prove to be a good opportunity.


Posted on 2016-03-23 at 19:09:29.
Edited on 2016-03-23 at 19:18:37 by Odyson


Topic: Star Trek: the Edge of Duty Q&A
Subject: CHa..Cha..Cha...Changes.......
---
Duncan, have you noticed that since you changed Avatar you have had issues?

Perhaps you have offended Odin?


Posted on 2016-03-21 at 20:46:29.
Edited on 2016-03-21 at 20:47:04 by Odyson

Topic: Star Trek: the Edge of Duty Q&A
Subject: Got it Out there.........
---
Tann is taking care of his mother post op so I went ahead and posted. Tann will supply the fill later.

Maybe this will give Olan and Brennus something to work with.

Posted on 2016-03-21 at 19:16:45.
Edited on 2016-03-21 at 19:18:04 by Odyson


Topic: Star Trek: the Edge of Duty
Subject: Changing of the Guard...........
---
Star Base 118 Security 1935

Having sent his report Lt. Reid started to make his way to the commerce section. It was often possible to get real food at a Star Base. As he exited the turbo lift his com badge signaled an income message.

Activating the badge, "Lieutenant Reid"

=/= (OCC Lt. Rock calls John asking to meet at the Peregrine docking bye)=/=

"Aye Sir, on my way."

John thought it an odd request but he hot footed it to the docking bay.

Star Base 118 Docking Bay 1940

As John approached Lt. "Rock" lifted hand his in greeting.

(OCC assuming Rock extends a hand in a friendly manner and informally tells John how he has been reassigned and is leaving the Peregrine. Being the transfer is immediate and his replacement is on his way he would want John meet with Lt. Berk in the Ward Room and give him his full support and a tour of the Peregrine.) (ok Tann you fill this in and I'll move it to the Ward Room.)

"Sir, I understand. You know I'll do my duty." John took Rock's hand again, "I have learned a lot from you in my shirt time in your command, thank you." John heard himself and realized how formal it must have sounded, but he couldn't help, so he just shrugged and smiled.

(Tann fill something, a joke or tell John to lighten up things will be fine.)

USS Peregrine, Security Ward Room 2000

John stood looking at the out stretched wing of fierce brown bird painted on the Ward Room's wall. The picture of the name sake Peregrine Falcon as it attacked served to remind them that they too were small but deadly.

Each member of the security teamed seemed to have their own name for their mascot; John called it "Nutiket" (Nu-ti-ket).

It was from his days as a Boy Scout when he had been a member of the Order of the Arrow. They had learned words that had used by the Lenni Lenape Indians of Earth Midwest American area. It meant "Guard".

John felt it fitting as the USS Peregrine was "on guard" for the Federation, also the Security Section was "on guard" for the USS Peregrine.

John couldn't be sure that Capt'n Drake would ask him to escort their new Chief, but Rock had asked him to make himself available and he was.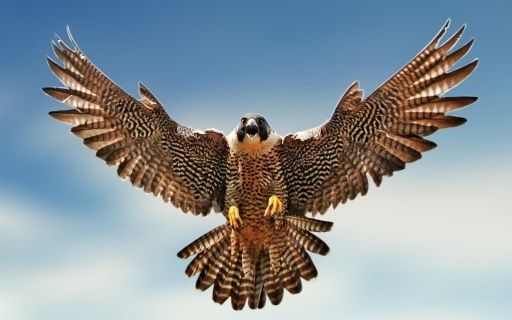 Posted on 2016-03-21 at 19:04:50.
Edited on 2016-03-22 at 11:58:10 by Odyson

Topic: Star Trek: the Edge of Duty Q&A
Subject: Security.......
---
Got a joint post under way with Tann to have Rock tell John about the transfer and ask him to head back so he can meet Berk. Also got with Brennus to role play Berk and John.

That should reset things in security and give Brennus his head to start doing his C of TAC thing.

If we move out of base before it is all up it can just be background and Brennus can do his thing knowing he has the support of his section.

Posted on 2016-03-21 at 11:43:25.


Topic: Trilogy War Q/A
Subject: My Thought........
---
How's this; Sirene flies over the destruction without getting too high so as not to attract the tower birds or too low to not kick up dust. She fixes on a safe spot at the edge just past the destruction as our teleport to place. She flies back, we join hands and teleport over the mess to the far edge. We then hike to the tower using what is left of the foliage as cover.

Tann you take care of mom and this gives us a little more time.

If Nimu posts first then we can all just tell of waiting for Sirene and then joining hands and appearing on the other side prepared hiking into the jungle.

Posted on 2016-03-20 at 18:25:25.


Topic: Star Trek: the Edge of Duty Q&A
Subject: Leave Under One, Return Under Another...........
---
Ok so how will this work. It seems that Rock will transfer out while his staff is has gone on to the Star Base. Will we receive a message or will we just find the "New Sheriff" when we return.

I had John at Star Base security at 1820 which I figured that was pretty quick after docking. Cap't Drake didn't the information about Rock until 1835 so the security team still thnks they report to Rock.

Berk is reporting on board at 1815 still 20 minutes before Drake read the orders. Supposing it took 20 minutes to find Drakes office that would put Bert report just Drake found out.

I'd say Reid was still in Star Base security at a com around 1830 and stayed for an hour or so to 1930. Would he have received notice? Perhaps a message from the Ward Officer to check his messages? Maybe Drake would want John back to have him meet his new CO and have him give Berk a tour of the Peregrine? That could give Brannas and me a chance to RP before we head out.

Posted on 2016-03-20 at 10:16:37.
Edited on 2016-03-20 at 10:20:16 by Odyson


Topic: Trilogy War Q/A
Subject: Might Work...
---
So it appears with as few as we are the teleport weight limit won't be reached so that spell should work if the mage knows where we are going. We all join hands and away we go.

The spellcaster is able to teleport a maximum weight of 250 pounds, plus an additional 150 pounds for each level of experience above the 10th (a 13th-level wizard can teleport up to 700 pounds).

So is this what we are trying????

Posted on 2016-03-19 at 22:33:49.


Topic: Star Trek: the Edge of Duty
Subject: Trustworthy, Loyal, Helpful.......
---
Stardate 2365.02.07
USS Peregrine, Bridge 1548

Lt. Reid had spent time after their briefing searching the available records on the Kudar and Rytain but as it often was with minor races the records were few and lean. So it hadn't taken much time to forward the meager report to Lt. Rockatansky. John then grabbed few hours shut eye and quick a meal, then reported for his watch on the bridge at the Tactical Station.

It would be a short shift as the Peregrine was nearing Star Base 118. Lt. "Rock" was manning the Command Station but they hadn't had time to discuss John findings.

USS Peregrine, Bridge 1719

The scene that played out on the bridge between Captain Drake and the captain of the vessel they were to escort left John feeling angered and embarrassment for his Captain. Captain Jacobs showed none of the qualities of leadership and professionalism Lt. Reid had come to expect and admire in current commander. It wasn't John place to do or say anything, but it motivated him to do what he might to support his captain.

Star Base 118 Security Section 1820

With the Peregrine safely docked and the bridge secured Lt. Reid had been dismissed of the watch. The scene still fresh in his memory John felt the only thing left for him was to carry out Captains Drakes orders to research the capabilities of the Kuldar and Rytain vessels, any known battle tactics they may employ. So he on his way to the security section of Star Base 118. The Star Base had access to continual information updated that a small Scout ship would not.

John was granted access and began to find more bits and pieces. The fleets of these races were small as it appeared their war had prevented either from gaining any superior strength. The constant replacement costs for defense restricted development of better systems.

They were still using primitive EM weapons such has lasers and particle beam accelerators. EM weapons both share a common design lineage in practical directed energy devices created for early starships to clear dust and small meteorites from their flight path. Their war had not allowed them to advance and other races saw no reason to favor either side or conquer them both.

Their torpedo technology was still photonic torpedoes and nuclear warheads.

The Kuldar destroyer is a warship armed with light short-range weapons and minimum shields.

Destroyer Class:
Crew complement: 53
Length: 150 meters
Width: 82 meters
Height: 44 meters
Mass: 90,000 metric tons

Crew: 80 officers and enlisted
Phasers: Partical Laser
Torpedo Launchers: 2

Warp Reactor:
Normal Cruising Speed: Warp 4
Max Cruising Speed: Warp 5
Maximum Speed: Warp 6 (12 hrs)

They had smaller support craft that fit their pack tactic.

Category: Scout
Length: 157.76 meters

Width: 181.54 meters
Height: 98.54 meters
Mass: 236,000 metric tons

Decks:
Crew: 12 officers
and troops

Phasers: Particle Beam Laser
Torpedo Launchers: 1

Warp Reactor:
Normal Cruising Speed: Warp 6
Max Cruising Speed:
Maximum Speed: Warp 9.6

The Rytain destroyer seemed nearly identical but their Assault Craft ship was listed as superior to the Kuldor Scout class, equipped with several weapon platforms and a shielding system.

Category: Assault Craft

Length: 140.72 meters
Width: 221.76 meters
Height: 51.76 meters

Mass: 96,500 metric tons

Decks:
Crew: 12
Maximum Capacity: 200 troops
Phasers: EM Laser
Torpedo Launchers: 1
Warp Reactor:
Normal Cruising Speed: N/A
Max Cruising Speed: N/A
Maximum Speed: N/A

John saw that these factions were of no real technical or tactical threat to a Star Fleet vessel. There should be more but than just two ship classes but perhaps that was all Star fleet found significant. Lt. Reid summarized findings and sent off his report.

He knew the report wouldn't change what happened on the bridge and that Captain Drake would most likely never know he had found the information; it was his job after all. But John had learned in his youth to be Loyal and Trustworthy to those that earned it; Drake had earned it.


Posted on 2016-03-19 at 22:20:27.
Edited on 2016-03-20 at 20:50:29 by Odyson


Topic: Star Trek: the Edge of Duty Q&A
Subject: Thanky...........
---
SB 118 is located very close to the Borders of federation space and the Klingon Empire, Ody. So, extreme "eastern/south eastern section of the Alpha Quadrant.

This feeds my thoughts of just what kind ships these races might see and copy. Also the type of "retired" tech they might be able to find.


Posted on 2016-03-18 at 20:12:58.


Topic: Star Trek: the Edge of Duty Q&A
Subject: GEEK Me Up Scotty.......
---
Hehehehe..... Oh I'm so gonna have something.

But I'll PM it to Olan first so he can bless it.

Did we say what sector we are in or is that too specific?



Posted on 2016-03-18 at 17:52:15.


Topic: Star Trek: the Edge of Duty Q&A
Subject: Yeah..But....
---
The Enterprise NX-01 didn't have Lasers, it had Phase Cannons and Plasma Artillery.

I copied this from Wiki:

General characteristics
Class NX
Registry NX-01
Maximum speed Warp 5.06 (maximum speed)
5.2 (emergency)
Auxiliary craft

2x Shuttlepods
2x Workpods
Armaments Spatial torpedoes
Photonic torpedoes
Phase cannons
Plasma artillery
Defenses Polarized hull plating

100 years would put them more like NCC-1701:

Launched 2245
General characteristics
Class Constitution
Registry NCC-1701
Maximum speed Warp 6 (cruising speed)
Warp 7 (maximum safe speed)
Warp 8 (tolerable for brief period)
Warp 9 (at extreme risk)[1]
Auxiliary craft Shuttlecraft
Armaments Torpedo launchers
Phaser banks
Defenses Deflector shields
Propulsion Impulse engines
Warp drive
Power Matter/antimatter warp core
Length 289m

It has Phaser technology so I guess I can do a hybred to lesser weapons and warp and give them deflectors.

Oh baby have I ever got my GEEK on now....yee haw....
Posted on 2016-03-18 at 13:35:44.

Topic: Star Trek: the Edge of Duty Q&A
Subject: Tactics..........
---
I was going to have John visit Star Base security to see if they had more information the Kuldar ships. Any facts I should be able to find? I would think if Star Fleet was involved in "Peace" negotiation they would have intel on their "War" abilities.

As I said before I could just clone the info from Enterprise NX-10 apply to those vessels. Seeing that Drake wanted a "Detailed" report I am working on details.

Posted on 2016-03-18 at 12:01:07.


Topic: Trilogy War Q/A
Subject: Rule #1..............
---
Yikes.. don't give the DM ideas!!!!!

We can also hike around the edge of the burn. I'd think the flame would have driven back most creature from near the edge.

How long would it take Sirene to fly to the far edge to get a teleport location and fly back? How many can teleport at a time?

Posted on 2016-03-17 at 11:45:08.


Topic: Star Trek: the Edge of Duty Q&A
Subject: The Other Ships.......
---
Been doing a little net surfing to find something to clone for the Kuldar and Rytain technology. Only fond one so far with plasma cannons which I equate to plasma lasers. Would think maybe they copied the early NX Earth ships. But trying to find stuff on the deflector tech still looking.

Prehaps the Star Fleet intell would relate these to be similar to Kriosian?

Yeah..my geek is showing.........

Posted on 2016-03-16 at 20:40:24.


Topic: Star Trek: the Edge of Duty Q&A
Subject: Bridge Watch.........
---
I would gather that even in Docking Bay we would have at least a security presence on the bridge at all time. A level four to keep watch?


Also seeing we just heard the insult of "Mister"; I used Mister to address the Watch Officer in security as a title of respect for that command. Was that right?

Posted on 2016-03-16 at 11:44:37.
Edited on 2016-03-16 at 11:48:02 by Odyson


Topic: Hey all, I'm new here!
Subject: Ody Here........
---
Hello......... Thought I'd pop in here and add the Ody welcome.
A really good place to start here is "Pit F(r)iend's epic guide to getting started for newbies." That helps you figure out how to navigate the halls of the Inn.
To meet folk in real time pop into the DragonChat where I act as current resident bartender. We offer our very own "Good Old Froth-n-Slosh", the stale pale ale that is so light it has the foam on the bottom.

Just grab a mug off the mantel and draw a cold frosty one.

My assistant Igor is usually lurking around if I'm not there.

He never says anything, must have something to do with having his tongue cut out by his last boss, that nasty bartender over at the Orc Bar & Grill.

I'll have him put out a plate of "Lady Fingers" in your honor.

Reminds me we need to have another "Ladies Night" and restock.

Anyway the Posting Games are great place to get to know folks and of course the DragonChat is our favorite lounge.

So lurk or play, welcome to the Inn

BTW...Here's a nice fluffy towel....you're gonna need it..lol.


Posted on 2016-03-15 at 18:53:27.


Topic: Weird War II
Subject: High Sign.....
---
Doc smiled at Star to acknowledge her hand gesture.
"Forever the lady.... well get along..I'll protect your rear since you saved my a**." Jack gathered he things and fell in as the group moved on.

Posted on 2016-03-14 at 20:48:45.
Edited on 2016-04-03 at 18:56:22 by Odyson


Topic: Trilogy War Q/A
Subject: A Light Rain.....
---
Purhaps a Control Weather spell to bring a light rain to dampen the ash?

Posted on 2016-03-14 at 19:34:58.