Topic: Hi everyone
Subject: Welcome.............
---
Hey Oxxia ,glad you stopped by. Tip #ONE. Here take this soft fluffy towel!! Quickly!!!

Now you are ready..why the towel??? There are more welcomes coming and you'll need it...lol.

Now tip#2: Oh just lurk and read and join in the chat and find something that interests you.

Tip #3: Go to the home page and check out Pit Friend's Guide for Newbies. Really good stuff there.

As For RPing well if you enjoy writing then it will evolve.

Tip# 4: Enjoy this nice frosty tankard of "Good Old Froth-n-Slosh" our own stale pale ale that is so light the foam is on the bottom!!!

Welcome..Hope you enjoy your time here!

Odyson



Posted on 2016-03-31 at 20:33:49.
Edited on 2016-03-31 at 20:35:02 by Odyson


Topic: Star Trek: the Edge of Duty Q&A
Subject: Out Of town....
---
I'm out of town for business so not much time to post. Been trying to keep up on the read though.

I'll post a response by Reid to Berk that he will assign security details.

Because of short staff and need for security in several areas I am looking at switching to a 12 hour rotation of "Escorts".

Also will set Deck 5 Security floor as "Off Limits" to the Ambassadors. Only orders by Drake, Zai, Berk or Reid will allow them there.

Torpedo launching, computer core centers and phaser control will be guarded too. Most likely also 12 hour shifts. I have to count locations and bodies.

Considering having "Escorts" only carry old tec weapons like disruptors or laser side arms. A little clunky but less tempting to steal. They are still effective in close quarters.

Going home tomorrow so maybe I will have a post up by Friday night to flesh out this set up.

You all can use these ideas if you need to post anything dealing with security.

Posted on 2016-03-30 at 22:10:09.


Topic: Star Trek: the Edge of Duty Q&A
Subject: Edit...........
---
I did an edit to have John only in the Command chair. Missed having a PO on Tactical.

Posted on 2016-03-30 at 16:47:30.


Topic: Star Trek: the Edge of Duty
Subject: Kids In A Candy Store.........
---
Stardate 2365.02.08
Lt. Reid's Quarters - 0845

The events of the last day and the stop at Star Base 118 had put a bit of snag in John's usual routine. The duty rotation had become second nature but a new CTO and the escort assignment he had let his own time jumble. As much as he would have liked to have taken Lt. Sa'eridon on a holodeck hike of American southwest mountains it just didn't seem the proper timing. If things stayed quiet maybe Wednesday when they were scheduled off duty he could show her a New Mexico sunset from on top of Mount Baldy.

His next scheduled bridge shift was late and there time to fill before he rested so he was hitting the studies. John knew he needed more in his ship to ship tactical so he worked toward his Advanced Starship tactical Operations Certification. John was impressed Lt. Berk's record and maybe between him and Captain Drake he'd be able to achieve the certification. John sat in the Command chair on today's shift. These were the times that stretched him, hopefully in a good way.

A message alert rang out on John's PADD and he switched to the incoming from Ops Lt. Moriden. Reading the message that the ambassadors of Kuldar and Rytain were coming aboard made him sigh heavily. His research into the battle tactics of these races also gave insight into their mind set. Ambassadors were supposed to be all about peace but they were also most likely to be spies.

The Kuldar could not be trusted at all and the Rytain thought very highly of themselves. These two Ambassadors would use very trick they knew to gain an advantage on each other. Now they will be here with potential access to technologies way beyond their current level. What a prize it would be for either to return with advanced weapon information.

John wasn't sure if Lt. Berk had had time to read his report so it was his duty as ACTO to send his recommendation to Mathias. Quickly composing an informal report John suggested an Honor guard on the Ambassadors arrival and then provide an "Honor" escort to each for the time on board. If it was possible get a bio scan of each, that could establish a signature for sensors to track their movements.

John attached his previous tactical report and emphasized that the Kuldar were pragmatic over gaining an advantage so that respect must be shown as an Ambassador but not to trust their actions.

It seems things are not going to stay quiet.


Posted on 2016-03-28 at 21:21:38.
Edited on 2016-03-30 at 16:45:06 by Odyson


Topic: Star Trek: the Edge of Duty Q&A
Subject: Help With Text Fomating......
---
Also you can go to the tab above "Archives" then "Other".

There about the third article down is Scarab's post of formatting. That is where I first started learning about doing this. I am not programmer so it was all confusing to me.

You can use the link below to get there too.

Hope this helps..

Ody

http://www.rdinn.com/misc/393/creating_links_and_formatting_text_a_tutorial.html

Posted on 2016-03-28 at 18:21:00.


Topic: Star Trek: the Edge of Duty Q&A
Subject: Big Bam Boo Boo......
---
Oh man..it's Cheech and Dio.

Now we're talking Space cadets.....

Next thing is munchies on the bridge.....

"Hey man..want to see the pretty colors when I press this button......."

Posted on 2016-03-28 at 16:28:10.


Topic: Star Trek: the Edge of Duty Q&A
Subject: Guests................
---
Sure we can let the Ambassadors roam freely about the ship.

They'd never try to steal our technology to get an advantage or the other.

They'd never try to take over the "Superior" vessel.

And there are never other powers lurking in the shadows.

Do you think that as soon as they figure out how valuable the Dilithium is to the Federation it can turn a lot on its ear.

There may already be another bidder in the game for the Dilithium.

Paranoid...who me....naaa....What was that?....


Posted on 2016-03-28 at 16:22:30.

Topic: Star Trek: the Edge of Duty Q&A
Subject: Setting The Scene....
---
Good info... I didn't want steer Brenn wrong. ASSUME can go so wrong sometimes.

I didn't want the whole formal thing between Berk and Reid to appear or turn into an issue. John knows he has not been ACTO long enough to get the promotion.

I didn't want John's actions to look like he was trying to run the department. John will may make suggestions on Security but both men are experienced there, supposedly.

Posted on 2016-03-28 at 16:01:28.


Topic: Trilogy War Q/A
Subject: FYI...........
---
I'll be traveling again the next two weeks. I will try to keep up.

Thought, Ulthok has Stone to Mud so do want to make the door fall open by making the hinge area mud so they pull out?

Just one option.

Posted on 2016-03-28 at 14:00:05.


Topic: Star Trek: the Edge of Duty Q&A
Subject: The News............
---
Can we assume... that when Drake called Lt. Moriden that Lt. Lasad and Lt. Berk were also on the bridge and heard of the Ambassadors coming? So that Ops and Security can react.

As Ops now need to get accommodations ready Security needs to prepare to. Without their own staff we need to provide comfort, privacy and security. I'd think an assigned guard for each outside their rooms or at least in the gangway.

Are they coming over by teleported or shuttle? Berk and Reid need to add some "show respect" to them while providing security.

Posted on 2016-03-28 at 13:44:27.


Topic: Star Trek: the Edge of Duty Q&A
Subject: Ok Boss...You're Up........
---
Well we follow your lead on the story line. We have other fun on the side.

Posted on 2016-03-26 at 22:01:08.


Topic: The Trilogy War
Subject: good Plan...........
---
The party was driven back to the shore once more by the horde of beasts, but this time it was their dead ash pluming into the air. The wet mask Ulthok wore to shield him from the stench was not nearly enough to block the ash.

The party regrouped to figure how the cross the three mile or so of destruction. They could not all fly over but one mage could and then return to cast a teleport and transport them all to the other side.

Sirene indicated she had the spell prepared. "Good plan,.. If you could do this and save us the time of have to hike around the carnage that would be wonderful,.. We'll be here when you return,"Ulthok joked.

Peri giggled.


Posted on 2016-03-26 at 21:45:53.
Edited on 2016-03-27 at 15:18:19 by Odyson


Topic: Star Trek: the Edge of Duty Q&A
Subject: The Tour Is Up....
---
We got the tour post up. My bad in the delay, but we are off and running.

Berk and Reid are now on their way to find mutual trust. Both a bit concerned with the changes. Both have to work through this. Security guys are naturally paranoid.

Posted on 2016-03-26 at 18:36:04.


Topic: Star Trek: the Edge of Duty
Subject: This Is the Turbolift...That Is The Airlock.....Or Is It?
---
(OOC, this is a joint post between Ody and Brenn.)


USS Peregrine, Security Ward Room 2030

"Reid, I've been reassigned off the boat where I don't know yet. I need you to do the same type of good job you did for me to the next head of Sec/Tac. Now that's the official line here's the personal one. Keep an eye on the new transfers and watch Captain Drakes back I'm not 100% sure there is not a deeper reason for these sudden transfers of key personal. And even more personal keep watch over Caity until I can find a way back to the Peregrine, You're a good officer Reid, I think it should be you taking over my job, but like I said this whole thing seems fishy. Watch your back."

Rock's words were in John thoughts as the door to the Ward Room whooshed open. Lt. Berk entered the ward room.

"Lt. Reid I presume."

John heard the crispness in the man's voice, a hint of a German accent seemed to linger or maybe John just imagined it.

"Yes sir, welcome aboard the Peregrine. I've taken the liberty of having the Bridge rotation, section duty roster and department personnel files sent to your PADD. I'm sure you will want to familiarize yourself with your staff. If you wish I'll arrange shift staff meetings."

Mathias moved to shake Lt. Reid's hand. John stepped forward accepting Berk's extended hand, shaking it firmly.

"It's good to finally meet you Lieutenant, I can't say I've had all that much time to review your personal file, my transfer orders caught me by surprise to be honest. I'll take you up on arranging those meetings, I'd also like to take some time to run some security drills, either on the phaser range or holodeck, both so I can get familiar with our security teams, and get a feel for how everyone works together. I'm not here to shake things up, I'd rather avoid turning everyone's world upside down if I can avoid it." Mathias said.

Smiling to himself John thought, "By the book, good that will help the transition to go smoothly."

"Yes sir, we maintain a regular schedule of drills, I'll include it so you can attend as your schedule allows. This last mission has been relatively quiet and the drills were mostly all of the action the teams got to see. You will find that our teams are smaller than you may have had on the Fearless but likely a bit more than those on the Xhosa,I had a little time on my hands so checked your service record, thought it would help, The Peregrine isn't too big of the ship but like our mascot here," John nods to the picture of the falcon on the wall, "we are quick and dangerous. So if you wish I could take you on a brief tour, might make thing bit easier than searching alone."

"Absolutely, please, lead the way Lieutenant." Mathias said motioning to the door.

Leaving the Wardroom John showed Lt. Berk around deck 5 making a point of stopping for a while in the Armory. Entering the turbolift they began making their way around the ship passing through Medical and Engineering. With most of the crew slowly returning from shore leave aboard the starbase, most of the ship was still relatively quiet, though there was more activity in the corridors.

"This ship definitely has the feel of a warship, probably no families aboard." Mathias thought, paying particular attention to the comparably Spartan medical facilities as compared to his prior postings. They had walked in relative silence between stops and Mathias decided to break the silence and hopefully the ice with his new second.

"I'll be honest with you Lieutenant,I feel like I'm stepping on toes here, by all accounts you ought to be taking over as Chief Tactical Officer, I only have a few years on you in terms of experience and you have a better report with the department. I'm going to be relying a great deal, especially while I settle into my new role."

They continued to walk then John spoke, "I appreciate your candor Sir, but my job is to be the best Second Officer you could ever want. The details of your command need to be conveyed and carried out so you can concentrate on the situation at hand. If I do that then matters will take care of themselves. For now the Peregrine's safety has been placed in your hands and it is our duty to assist you and to make it so."

They exited the turbo lift, stepping onto the now empty bridge.

"The Tactical and Security console is over here." explained John directing Lt. Berk to the station. "When we leave tomorrow Ensign Blackmon will have the Alpha watch."

"I'll be joining the Captain on the bridge, at least while we are getting under way, I'd like to get a feel for his style of command. There's probably no need to rearrange the duty shifts though."

"I found that First and Second Officers get to enjoy the pleasure of extra duties," John said with a laugh."And no doubt Captain Drake would appreciate your support. Now then, let's get you settled in. I'll show you the mess and then take you to Ops to get checked in," John said as they re-entered the turbo lift.

Ending at the Operation office John "Again, Welcome aboard sir."

"I appreciate the welcome Lieutenant, I look forward to working with you and I appreciate you taking the time to show me around." Mathias responded. As John turned to leave Mathias tapped the door chime. Lieutenant Reid had been friendly enough, but there was something about the whole tour and their conversation that sat in the back of his mind as seeming strange. The Lieutenant had seemed uncomfortable, maybe suspicion, or jealous? This whole situation was beginning to seem slightly off.

"I might have to give the Peregrine's former CTO's personal file a quick once over, find out if there is more to this transfer than I originally thought."


Posted on 2016-03-26 at 18:29:07.
Edited on 2016-03-26 at 18:30:50 by Odyson


Topic: Star Trek: the Edge of Duty Q&A
Subject: Office....
---
The Ward room is more of a meeting room and the is a Security Office that you have. I'd say you'd share it with the Watch Officer in Security. Check a couple of pages back in Q&A and see the picture I put in of a Star Fleet Security Section. Ours would be similar bit only about half as big. No dinning area, that would be cells and about the end of the section.

Posted on 2016-03-26 at 14:23:34.


Topic: Star Trek: the Edge of Duty Q&A
Subject: Hot Dang..........
---
I do believe that the Security Section just got their foot stuck in it. Oh this is going to play well.

And I was thinking John was going to get more ship to ship combat tactical experience.

Oh, but that could be in the cards too.

This is going to be hoot.

Brennus, watch for my email tonight. Momma Bear did have some honey do's for today. So much for a day off.

Posted on 2016-03-25 at 14:04:12.


Topic: Star Trek: the Edge of Duty Q&A
Subject: No Hazing Allowed..........
---
Gee guys John's an Eagle Scout...he wouldn't haze his new CO.
But a cat lady might ..lol....

BTW..added a little to John bio...it seemed a little weak and something was missing that would justify his promotion to Lt.
I feel this assignment is where he builds his TAC skills.

working a joint post with Brennus for the tour. So it will be just a little while before you see Lt. Berk walk in the airlock instead of the turbo.......
Posted on 2016-03-24 at 20:58:38.
Edited on 2016-03-24 at 21:00:04 by Odyson

Topic: Star Trek: the Edge of Duty Q&A
Subject: Ok.......
---
I'll try to get a reply up tonight on Reid and Berk's meeting. Being it is only early evening (8pm ish) there would be time for quick review of watch assignments and a tour of security, the ship, the bridge and ending at the Ops office so Berk can get formally signed in. Small ships don't take long to tour.

I am going to guess we will be back to all hands on station for Alpha shift on Monday for Drakes meeting and prepared to depart as soon as his party returns?

Posted on 2016-03-24 at 11:52:13.
Edited on 2016-03-24 at 11:59:21 by Odyson


Topic: Support the Inn!
Subject: Do My Part..........
---
If it will help..I'm willing to accept any gifts you want to buy.




Posted on 2016-03-23 at 19:41:22.

Topic: Star Trek: the Edge of Duty
Subject: Sir.............
---
USS Peregrine, Security Ward Room 2005

As John bide his time in the Ward Room he brought up the service record of his new department CO. Lt. Rock had not been able to tell John much about Lt. Berk.

Lieutenant Mathias Berk
Current Assignment: Chief Tactical Officer , USS Peregrine
Species:Human
Gender: Male
Date of Birth: 2336-06-01
Birthplace:Mannheim, Germany, Earth
Height: 177 cm
Weight: 79 kg
Eye Color:Green
Hair Color:Brown

Physical Description: Athletic build indicative of someone who participates in alpine sports. Keeps hair cut quite short on the sides with it being kept longer on top and parted to one side. Has a small scar on his left eyebrow which he opted not to have removed via dermal regenerator.


John noted the Lt. Berk was only two years older than him and was now Chief Tactical Officer. That was good, John figured he had proven himself to earn the promotion.

Education:Officer School, Tactical Specialisation - Starfleet Academy, San Francisco, USA

Service Record: 2354.09.05 - Enters Starfleet Academy Officer School
2358.04.12 - Graduates from Starfleet Academy and is granted the rank of Ensign
2358.05.01 - Assigned to the USS Fearless, an Excelsior class Cruiser. Security officer.
2362.06.04 - Promoted to the rank of Lieutenant (jg) and transfers to the USS Xhosa an Oberth Class Science vessel as Chief of Security.
2363.02.11 - USS Xhosa decommissioned, Transferred to Starbase 84 as Assistant Chief of Station Security
2363.11.25 - Transfered to the USS Valour a Centaur class Light Cruiser as Assistant Chief Tactical Officer
2365.02.07 - Transferred to USS Peregrine as Chief Tactical Officer


Lt. Berks' career path didn't seem too different from John's in that he had started on a larger ship. The time on the smaller Oberth Class ship would also serve Berk well in the tight confines of the Peregrine.

Special Skills or Ratings:Expert Qualification - Starship Bridge Operations
Expert Qualification - Star fleet Small Arms
Advanced Qualification - Alpine and Wilderness Survival and Rescue
Class B Conn rating - Starships
Advanced Starship Tactical Operations Certification
Starfleet shipboard weapons maintenance Certification
Advanced hand to hand and non-lethal use of force training
Certified range master and small arms trainer


John noted the Expert Qualification - Starship Bridge Operations and the Advanced Starship Tactical Operations Certificate. He had hoped that serving as part Captain Drakes crew that he'd also have that qualifications before his next assignment.

Commendations and Reprimands:2362.03.03 - Purple Heart - Injured in the line of duty
2362.03.03 - Meritorious service award for his actions during away mission to rescue federation citizens held captive by Orion slavers.


Berk's time on the USS Fearless proved him to be a gallant Officer. The Lieutenant didn't seem to be afraid to step in harm's way to do his duty and serve others. John liked that, this could prove to be a good opportunity.


Posted on 2016-03-23 at 19:09:29.
Edited on 2016-03-23 at 19:18:37 by Odyson


Topic: Star Trek: the Edge of Duty Q&A
Subject: CHa..Cha..Cha...Changes.......
---
Duncan, have you noticed that since you changed Avatar you have had issues?

Perhaps you have offended Odin?


Posted on 2016-03-21 at 20:46:29.
Edited on 2016-03-21 at 20:47:04 by Odyson

Topic: Star Trek: the Edge of Duty Q&A
Subject: Got it Out there.........
---
Tann is taking care of his mother post op so I went ahead and posted. Tann will supply the fill later.

Maybe this will give Olan and Brennus something to work with.

Posted on 2016-03-21 at 19:16:45.
Edited on 2016-03-21 at 19:18:04 by Odyson


Topic: Star Trek: the Edge of Duty
Subject: Changing of the Guard...........
---
Star Base 118 Security 1935

Having sent his report Lt. Reid started to make his way to the commerce section. It was often possible to get real food at a Star Base. As he exited the turbo lift his com badge signaled an income message.

Activating the badge, "Lieutenant Reid"

=/= (OCC Lt. Rock calls John asking to meet at the Peregrine docking bye)=/=

"Aye Sir, on my way."

John thought it an odd request but he hot footed it to the docking bay.

Star Base 118 Docking Bay 1940

As John approached Lt. "Rock" lifted hand his in greeting.

(OCC assuming Rock extends a hand in a friendly manner and informally tells John how he has been reassigned and is leaving the Peregrine. Being the transfer is immediate and his replacement is on his way he would want John meet with Lt. Berk in the Ward Room and give him his full support and a tour of the Peregrine.) (ok Tann you fill this in and I'll move it to the Ward Room.)

"Sir, I understand. You know I'll do my duty." John took Rock's hand again, "I have learned a lot from you in my shirt time in your command, thank you." John heard himself and realized how formal it must have sounded, but he couldn't help, so he just shrugged and smiled.

(Tann fill something, a joke or tell John to lighten up things will be fine.)

USS Peregrine, Security Ward Room 2000

John stood looking at the out stretched wing of fierce brown bird painted on the Ward Room's wall. The picture of the name sake Peregrine Falcon as it attacked served to remind them that they too were small but deadly.

Each member of the security teamed seemed to have their own name for their mascot; John called it "Nutiket" (Nu-ti-ket).

It was from his days as a Boy Scout when he had been a member of the Order of the Arrow. They had learned words that had used by the Lenni Lenape Indians of Earth Midwest American area. It meant "Guard".

John felt it fitting as the USS Peregrine was "on guard" for the Federation, also the Security Section was "on guard" for the USS Peregrine.

John couldn't be sure that Capt'n Drake would ask him to escort their new Chief, but Rock had asked him to make himself available and he was.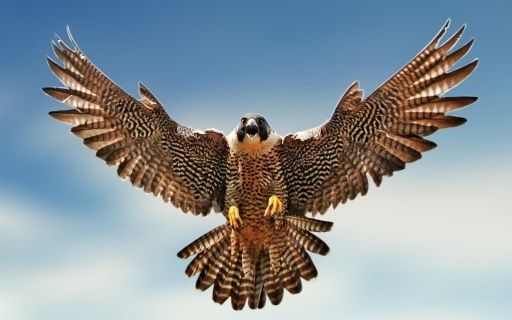 Posted on 2016-03-21 at 19:04:50.
Edited on 2016-03-22 at 11:58:10 by Odyson

Topic: Star Trek: the Edge of Duty Q&A
Subject: Security.......
---
Got a joint post under way with Tann to have Rock tell John about the transfer and ask him to head back so he can meet Berk. Also got with Brennus to role play Berk and John.

That should reset things in security and give Brennus his head to start doing his C of TAC thing.

If we move out of base before it is all up it can just be background and Brennus can do his thing knowing he has the support of his section.

Posted on 2016-03-21 at 11:43:25.


Topic: Trilogy War Q/A
Subject: My Thought........
---
How's this; Sirene flies over the destruction without getting too high so as not to attract the tower birds or too low to not kick up dust. She fixes on a safe spot at the edge just past the destruction as our teleport to place. She flies back, we join hands and teleport over the mess to the far edge. We then hike to the tower using what is left of the foliage as cover.

Tann you take care of mom and this gives us a little more time.

If Nimu posts first then we can all just tell of waiting for Sirene and then joining hands and appearing on the other side prepared hiking into the jungle.

Posted on 2016-03-20 at 18:25:25.