Topic: Destiny Flight - QnA
Subject: Ideas........
---
As I said on the end of my post that page 65 here in Q&A has the ship layout. This may give us more ideas of where to head. The docking bay is on deck 2 and the hops on deck 3.

Now I'd guess that Steele took the Penthouse floor deck 11.If the gun is on board then it is likely there and that is where the brothers are headed.

The Baron's group would likely have the next floor down deck 10. I'm not sure where they might keep Andrew, no brig is shown and that may be too public anyway, so he could be in one of those rooms. That might be a good target of Jon and Angela.

All the guest are likely high rollers so they will be in the more exclusive venues.

As for security posts they would be on each floor most likely near the entrance to major areas or even at the lifts.

I hope JC's RP will get us more information for our search. If he can allie the taylor then maybe we could get info on the "additional" crew brought on for the wedding. These could be some of the Wedding Planner's henchmen. They may housed in seperate section from regular crew.

Also maybe Roger will RP Steph and give us some "free" insight from the guests.

We have goals but little else at the moment. Maybe Grace's encounter with Steele will give us more info.

Posted on 2015-06-07 at 11:11:05.


Topic: Voyages of Rocinante - Serenity/Firefly RPG
Subject: Not Just Noodles...........
---
The three of them reached Mei Long's and found it not just a noodle house but a fancy a place the likes he'd seen, right up there with the Hotel they'd stayed at. The kid had gotten use to those places so seeing all the fancy dressed folks didn't flap him none. He checked his stuff with Wyatt, this was starting to be habit to go without his iron and it still wasn't pleasing to him. As they stood to get on the waiting list he heard other folks being told it was a two hour wait without reservations.

"Phew this place sure seems popular.", he whispered. He loved noodles but he could make, cook and eat his own in less time than that. He was about to tell the others he's cook um noodles back at the Roc when a lady stepped up to them.

"Capt Wyatt Sung and Guests? Your table is ready. Right this way. Have you ever been to Mei Long's before?"
Asher looked side long at Wyatt and raised an eyebrow; then followed Wyatt and Willow down the corridor to a private room. The hostess opens the door, bows and motions them to go in. The PR man in him noted the two armed guards; his hormones noticed they were women. "Oh great, more women with guns." he thought.

Seated at the table for eight was a drop dead gorgeous woman in a form fitting Alliance uniform. Her black hair, pale complexion and almond eyes show her heritage. She appeared to be too young to have been in the war, but she was still an Alliance officer.

As they entered she stood and bowed in a formal polite manner. "Good day. You must be Captain Wyatt Sung, Asher Talhone and of course, Willow Takahara. You bring great honor to myself by accepting my invitation so swiftly. I am Colonel Sally Wu, commander of the alliance outpost here on Serenity Views. "

Again Ash gave Wyatt a side glance. The kid wondered if the Colonel understood to losses suffered by so many here on this battlefield and their families, but the lady knew his name so it was only polite to smile and nod back to her.

"Yes. I sent you an invitation to join me tonight in honor of your fallen comrade and the exemplary work you did on LV-426. Many would have run, but you stood your ground for others. That is worthy of ..."

The door to the room opened slightly and a blonde woman put her head in to find the Colonel. She nodded to Ms. Wu and Ms. Wu nodded back. "Right. We are free to talk. Please sit and join me for dinner. We have much to discuss, starting with what your business is with Virgil Morningstar?"

"Ah, business talk."thought Asher. Well he'd leave the talking to Miss Willow and just concentrate on the noodle and the view.


Posted on 2015-06-06 at 18:12:59.
Edited on 2015-06-06 at 18:30:00 by Odyson


Topic: WWII Horror LFP
Subject: Oooo...Ooooo.........
---
Old Bear jumps up waving pawhand wildly...... We need a pilot in Destiny....You could takeover Tess.... She's really cool...owns part of the ship..... You would be a GREAT Tess.!!!!

It is one Roger's other games...slow paced at the monement, but great potential. Your writing would add a great deal to the story and your experience gaming would help us too.

We have mostly a female cast, so you may like that, get to push around the Capt'n. (Sort of a sibling type thing.)

Please think about it.

Oh, you'd be more than welcome in Weird War, we need more Zombie killers.

But you'd be a GREAT Tess........
Posted on 2015-06-06 at 15:18:49.

Topic: The Trilogy War
Subject: Lead On..........
---
"Do you feel it too?"

Ulthok furrowed his brow, "It's just the shock of the explosion." He raised his head to look around and for the first time. The room they were in was not the same round room that held the well. This was single room building, although mostly demolished. Somehow they escaped the castle. Perhap someone had tried a teleport spell and the concentration of magic for the explosion took over.

The sounds of battle were now hushed but the senses were still attacked by the smell. The rot of death was always the aftermath of battle. Motioning to Peri to follow he headed out.

The battle was over, but had won? Dust and smoke was the only thing cut the putrid oder. The lack to guttural howls and screams was leading Ulthok to hope that the evil had been stopped. Moving out the party saw the destruction but it was the landscape that now drew their attention. It wasn't so much the massive walls of Craggian Core could not be seen be the mountains were gone too.

Before them stretched a flatland, the field was not just strewn with bodies but the carrion coated the land. To the far side stood a small castle with movement on the walls. This was where they needed to go.

Following his leader the small mage made his way through the gore. After passing so much death piled on death the party as startled when movement came within a pile of dead and an armored hand was lifted. Weak and bloody it was raised but only for a few short moments then it was gone once more. In this vast field of the dead, something yet lived, they could not ignore this. As Cor moved to check the body Ulthok checked for a potion.


Posted on 2015-06-04 at 22:36:47.
Edited on 2015-06-04 at 22:40:11 by Odyson


Topic: The Trilogy War
Subject: Different...........
---
Peri,.


The explosion from the well had knocked them to floor,,..


Dust caught in her throat as she gasped in a breath. The fay creature felt tender hands lifting her as consciousness returned. Turning her face up she saw a child like face filled with concern that brighten as she smiled at her Ulthok. Softly he brushed the dirt away and then nuzzled her softly on the nose. Her bond to him seemed so much stronger but she felt there was something different. It wasn't that the bond was more but something else was missing. Looking into the Halfling's eyes she whispered, "Do you feel it too?"


Posted on 2015-06-04 at 20:24:45.


Topic: Trilogy War Q/A
Subject: A Start.........
---
I just got stared and had to take care of some RL stuff. I'm going out of town tomorrow and may not get back to post until Friday.




Posted on 2015-06-02 at 21:50:32.


Topic: The Trilogy War
Subject: Not Dead...........Yet.........
---
Clutching tightly Peri held on as Ulthok made his retreat after tossing his gems. As the gems landed and the two forces of magic met and there was a huge explosion, then everything went black..................

A wave of wonder washed over Ulthok as his head cleared and he realized he was still alive. Deep inside the mage had felt their mission was only a one way trip. The odds were just too great against them. So to still be alive was a bonus. As he pushed himself off the floor he looked for the little fay creature Peri, she lay limp in the dust next to him. Half panicked his gently scooped her up. Lifting her she coughed and started to stir,,,,,..

To Be Continued ,,,,,,..


Posted on 2015-06-02 at 21:45:39.


Topic: Trilogy War Q/A
Subject: Yep.........
---
And it could be time for some good RP. Sirene I'd say has the longest memory and knowledge of times gone by. Cor would be next, so work with Tann to get info on battle banners, armor, signets and such. Elven families and Dwarven clans go way back and their is great pride in heritage. So there can be clues there.

Ulthok on the other other hand may have problems, halflings are not an old race.

So if your character is part Elven there may be clues you see too.

Posted on 2015-06-02 at 18:46:15.


Topic: Trilogy War Q/A
Subject: Game On..............
---
We had time to digest the new plot line so we should look at our next actions. We know we don't recognize the area. We know we are not injured. Although Tann's story told what happened after the castle fell, we don't know any of that or the results of bad taking over. So we need to move forward and start piecing things together in game. We see the injured person so we can do something about that. We are moving toward the castle but we need to be on guard. This is a time for lots of questions of everyone we meet.

Posted on 2015-06-01 at 19:27:16.
Edited on 2015-06-01 at 19:37:11 by Odyson


Topic: Voyages of the Rocinante - Firefly RPG QnA
Subject: Oh My........
---
Poor Asher...another beautiful woman with guns, but she likes noodles!!!!

Posted on 2015-05-29 at 21:53:18.


Topic: The Gobber King- QnA
Subject: Sigh............
---
Ok, I'll put Dudley on ice for a while. May use him again in another low level game sometime.

It was fun, so thanks you Roger. Maybe it is best for me, been a bit challenging to keep up with six games.

Posted on 2015-05-29 at 21:35:45.


Topic: Weird War II Q n A
Subject: Doc Say's...........
---
Welcome Keeper!

Posted on 2015-05-28 at 20:44:18.


Topic: Trilogy War Q/A
Subject: Game On..... Soooooooo........
---
First question is...Are we hurt and in need of healing?

Our limited healing supplies would be used on us first, then help others. Just need to determine what is available for the limp hand.

Posted on 2015-05-27 at 21:37:58.


Topic: Trilogy War Q/A
Subject: Hey.................
---
I still have a lot of popcorn left, what's up with that?

Posted on 2015-05-25 at 18:10:07.


Topic: Trilogy War Q/A
Subject: Critical Fail...........
---
Well that went well.

Posted on 2015-05-25 at 10:09:27.


Topic: Destiny's Flight - A Serenity RPG
Subject: What Next??????
---
"This could be awhile." Stephanie says to the rest of the group, "We may want to look around, come back in an hour or two. I am sure that JC is in good hands."

"Okay Honeybuns! Into that change room and take it all off now! Time to get Fab-u-lous!"

"Ahh whaaat? No don't leave me here alone, come on what did I ever do to you Stephanie?, Watch the fracking hands or I'll rip them off!"

Jon saw the panicked looked in JC's eyes. The Capt'n walked over and placed a hand on his shoulder."They just appreciate a good challenge,we won't be gone too far." Then whispering, "These guys probably know more about what goes on here on the ship than security does....see what you can find out. See if they heard about Daniel, the gun or Steele messing with any of the women." As he turned leave he was about give his PR man a swat on the bottom but he could tell JC just wasn't in a joking mood. Then loud enough for the tailor," If you're going to watch over Miss Lillianna's safety you gotta look good or Seth won't let you near and embarrass her. Give me a comm when they're done with you."

Jon then led the rest out of the shop, seeing ships brochures on the tailors door Jon grabbed one with the deck layouts. When they were out of earshot," Steph, if you see any old friends slip off and socialize, take Catie with you, find out what you can. I'll stay with Angela and watch for security stations.. they will likely have a port for Grace's bug." Sliding it from his pocket he slipped it to Angela, "You seem to have a knack for secret things and looking like that you shouldn't have a problem distracting security people and getting this plugged in,.." Looking at the ship's layout, "We'll try to find a way into the guess quarters, I'd say that Andrew would be there instead of the brig. We may find the brother too. This whole thing is fluid and need to gather information quickly. When things start to happen it will happen quickly so use your best judgment."

(O.O.C., See the ship layout on Q&A page 65. I'd say we are on deck 3. we would have gone up from deck 2.

DECK 3: LOUNGES, FINE DINING, AND SHOPS
Lilac Dining Room: Smaller and more elegant than Verbena. Tables are assigned when passengers board. Only those with penthouse staterooms are permitted to dine here.

Chart Room: Elegant bar that plays Chinese classical music. Walls are decorated with navigational charts.

Champagne Bar: Champagne and champagne cocktails are the only drinks served. Small, dark, romantic.

Grand Lobby Mezzanine: Overlooks the Grand Lobby below. Sweeping staircase leads down to Deck 2. Shops offering designer clothes for men and women, jewelry, sculpture, paintings, and sundries.

The Bijou: Balcony seating for the theater.

Library Bar: Walls are shelves lined with books. Leather chairs and couches. A cozy, quiet place for a drink.)


Posted on 2015-05-24 at 11:37:08.
Edited on 2015-06-16 at 19:47:12 by Odyson


Topic: The Trilogy War
Subject: Paradox...........
---
Peri.......

The little companion fluttered near Ulthok as he pulled the gems from their hiding place. Hearing his instructions she purched on his backpack, she wasn't going to be seperated from him again. She knew his mind now and she felt the loss and hope in his heart for Valene. Purhaps she had already escaped with White Queen.

As Peri pondered their actions now she thought it a paradox of magic. Using magic to destroy magic. The power of the well and stone would give the antimagic gems more strength until they distroyed the source of their added strength. Turning the power against itself.

Clutching tightly Peri held on as Ulthok made his retreat after tossing his gems. "Hide behind the big ones." she thought. But now other than Cor they were all big ones.

Posted on 2015-05-24 at 10:48:27.


Topic: Weird War II
Subject: Ain't No Healing Here..........
---
The man figures drew near enough to see these weren't wounded soldiers, they were now the non living.

Captian had warned agaist gun shot noise so Doc pull out the double barrel and forcefully plants a skull crushing blow with the solid wooden butt to finish off the thing Capt'n had knocked down.

"Don't brawl with them...just smash in their skulls."

Posted on 2015-05-23 at 20:49:55.


Topic: The Trilogy War
Subject: The End....Maybe.......
---
Ulthok watched the globe around the gem ahatter and crumble. The cage continued to be suspended over the well. With the power bolts coming up from that pit the mage guessed that both the gem and the well were the source of the castle's power. This wouldn't be easy to destroy but they had been armed with the antimagic gems and told to use these to stop the power.

"We need to use the gems we were given..now. Cor, you and i toss ours in the cage...the rest of you toss yours in the well. We need to attack both to be sure. So activate your gem as you were told and let's got this done....Then look for cover and protect yourselves."

The mage figured those that sent them would guessed not all of each party would survive so that not all of a party's gem would be needed to do the job. Ulthok hope that tossing four gems in the cage and six in the well would be enough.....if indeed this was the source.

Then he heard Cor and they all tossed on his count of three.



Posted on 2015-05-23 at 18:24:39.


Topic: Memorial Day
Subject: Memorial Day 2015
---
Memorial Day 2015:
Once again I am pleased to present this thread.

The first Memorial Day Ohio Western Reserve National Cemetery decorations occured in May of 2000. The cemetary officially was dedicated in June of 2000. While I was Scoutmaster our Troop attended that first decoration ceremony. I have been attending each year since with our Scouts. I found out that I am now the last volunteer that has attended all decoration days. My father was buried there in 2003 so I have a personal reason to attend more than just being a voluteer.

So take a moment this weekend to remember all the service people from all the countries that have stood in harms way to give us a better life.


------------------------------------------------
Memorial Day 2014:
Once again I am pleased to present this thread.

This Saturday, the 24th, Boy Scout and Girl Scout Troops of Northeast Ohio will assemble to place flags on the graves of the over 30,000 military at the Ohio Western Reserve National Cemetery. My father is in one of those.

This year I may be the last of the original attandies of the first Decoration Day. But from that first it has grown from about 80 Scouts to over 500. Last year the nearly 30,000 site were decorated in less than a hour.

I hope you remember to thank the veterens in your area and take a moment remember those that served. This includes those of all nations that united to protect freedom.

----------------------------------

Memorial Day 2013:

This Saturday we will once again "Honor" and remember those that have gone before. Please take a moment to remember those that defended your rights. The Scouts in the area will decorate the over 30,000 graves of our service people.

Also this year please remember those first responders that have put their lives on the line every day to protect and save us here in our own country.

-----------------------------------------



I wanted to repost this reminder. Next Saturday the 26th we will once again honor our service people by decorating the graves at Ohio Western Reserve National Cemetery. This is the 12th year it has been open.

Ohio Western Reserve National Cemetery


Here is the 2012 write up from the Akron Beacon Journal


(Below written in 2010)
I want to take a moment and ask our Inn Mates to pause and say "Thank You" to those that protect and defend our rights to do things like gather online for fellowship and those that gave that last ounce of life. Whether they died in actions protecting our rights or passed after surviving to enjoy the those rights they honorably defended.

Today I attended the 10th decoration day at Ohio Western Reserve National Cemetery outside of Rittman, Ohio. Our Scout Troop, among many others here,has been proud to take the time each year since OWRNC has opened to help plant American Flags on each of final resting places of these service people. Today we honored 13,300 service men and women, which included my father. Arlington Nation Cemetery in Washington, DC is nearly full. This is our nations second National Cemetery and is growing at a rate of 12 veterans per week.

I am constantly reminded of this Honored place because I live close enough to see at night the spot light that illuminate the giant flag there and often in the quite of the evening to hear "Taps" that is played every night.

So on this long weekend of outdoor picnics, swimming parties and family gatherings please pause for that moment of "Thank You".

"Freedom is not Free, there are those that paid the price for you!

Posted on 2015-05-22 at 20:52:32.
Edited on 2015-05-23 at 17:54:57 by Odyson


Topic: Destiny Flight - QnA
Subject: My Bad.........
---
I've let things slide and I'd guess folks are waiting for the Captain to take charge and do something. It's a long weekend so I should get a post up finally.

Posted on 2015-05-22 at 19:29:42.


Topic: Voyages of Rocinante - Serenity/Firefly RPG
Subject: NOODLES>>>>>>>>>>>>>>>>>
---
Asher followed behind Wyatt and Miss Willow as they left and headed back into town. It didn't take a lot of skill notice that Alliance men seem to be watching them as left Mr. Morningstar. As Wyatt attempted to find why the men just seemed fade away.

"Don't look like we're gonna receive the same type o' treatment in Serenity Views as we done received in Osiris," the captain let his gaze indicate the accompanying information. "Ya know somethin'? That noodle house does sound good."

Wyatt looked around when his comm activated. It was Jade. "Hey Captain, you there?"

"I am."

"This is Jade, I just wanted to let you know that I am not at the ship, I am very close to the junk yard. One of the local told me about how there been an issue of people going missing and I am checking into it, I should return back with the ship with more information."

The Capt'n looked concerned,"Did she jus' say she was lookin' into missin' people? Alone?" Ash nodded, "That's what I thought." Activating the comm, Captain Sung says, "Jade, listen here. We got company watchin' us with a very intentful eye that I don't imagine is keen on seein' if we're the type they want t' invite t' a local ball. I'm not keen on you runnin' off on yer own niether, so why don'tcha come on over to the noodle house and we'll talk 'bout what you were set on. Dohn la ma?"

Ash wasn't sure just what was going on but at least they were going to have NOODLES.


Posted on 2015-05-21 at 20:39:02.
Edited on 2015-05-21 at 20:40:13 by Odyson


Topic: Trilogy War Q/A
Subject: Wild Guess.........
---
Well we don't know what will happen but I think we need to toss our gems at both. Ulthok has three that he will toss in the cage with the gem. Cor could toss his there too and the rest can toss in the well.

We need to get away quick then, I don't remember being told how these react.

Posted on 2015-05-21 at 19:10:03.


Topic: The Gobber King- QnA
Subject: Maps...........
---
Here is the map as I see it. There seemed to be two extra X's so I took them out. Does this look like what you all figure is where the party stands?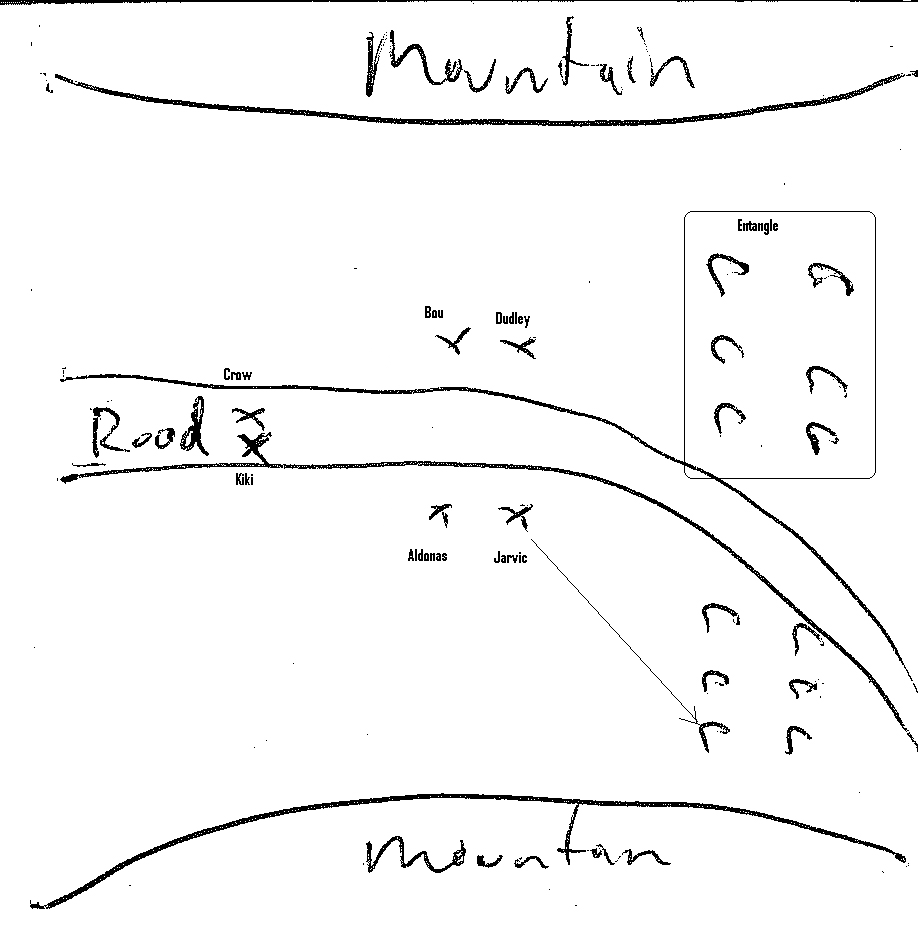 Posted on 2015-05-20 at 21:14:38.

Topic: The Gobber King- QnA
Subject: Keeper.............
---
If Keeper will say which side of the road Jarvic attacked we can then place everyone. He was the the first to attack. We would have seen him move away so as not to attack him by mistake.

I guess we can NPC the ranger for now or have one of the rest of us fill in a while.

From family visits and illness I'm a little behind on a couple of games but should be able to catch up soon.

Posted on 2015-05-19 at 09:45:42.