You are here: Home --> Forum Home --> Recent posts by Kaelyn


Topic: yet another movie thread...
Subject: definately got my interest

---
I'd definately be interested, though yes, you may want to start a Recruitment thread so we don't gum up this movie thread with pick me's! lol

Posted on 2008-06-28 at 16:21:15.


Topic: Forgotten Realms: The Unsung Heroes
Subject: The battle roars on...
---
The moon hung in the sky like an eager spectator, gazing down into the arena of tree and dirt to watch the gladiatorial event unfold below. Our adventurers were hard pressed, and like cattle they had been herded into this pen of pine and evergreen in preparation for the slaughter. Even though the odds were against them, the stalwart team was determined to fight till the last. They had entered as a group and by the God's they would do all they could to ensure they left as one.

Elesia felt the bone wand disintegrate into dust through her delicate fingers, but her attention was on aiding those around her and the best way she could do that was to bolster their resolve. It started soft, quiet, unnoticeable beneath the sounds of combat, but soon her voice gathered power behind her words and the allies in the arena could feel the effects of her spell-song wash over them as they felt a supernatural confidence encompass their actions. (Inspire Courage)

Xaris, sweet little Xaris was the quintessential double sided coin. On the one side was the good natured, caring and empathetic little forest gnome who shared a love of nature and harmony in life that the others had come to admire; on the other was the savage nature of some beast which broke free every time emotions took over and instinct replaced coherent thought. At the sight of the carnage around him, and Artanis' immediate danger Xaris bolted into action, his knuckles whitening around the hilt of his great sword, his little legs spurning him forward, and his long sword sized blade arcing in a great cleave and nearly taking the wolf's head completely from its thick strong shoulders. His blade cut deep, severing resistant flesh and muscle, and cacking the spinal column which ran the length of the wolf's skeletal structure. Even the creature's natural resistance to metals did not seem to be enough to save it from Xaris's super-gnomish wrath. (Xaris has once again scored a critical, this time the critical chart yielded him x3 damage instead of the typical double damage for a massive 48 damage before damage reduction) As the wolf's spine shuddered from the impact, the paralysis swept through the beast and it slumped over, eyes of life slowly glazing over as it stared one final time at the moon above.

This is where the parties' luck ran out. Redoubling their efforts, it was the wolf pack which reacted with expert timing and coordination once more. Still prone, Talus was an easy target for the wolf which loomed above him, and with ease the wolf saw fit to take another bite at the already wounded warlock. This time, teeth and fang found fending arm and flesh, and Talus gritted his teeth nearly taking off his own tongue in the sudden inhalation of breath after the gasp of pain. (Talus 5/24 – prone)

The wolf which Aelistae had frightened still pawed at the treeline, trying to worm its way through the entangled branches, but found little success. The one fighting Linnix however held no such fear, and with the skill of a trained hunter bypassed the woman's defenses and bit deep into her side, the rogue managing to keep her footing through sheer luck more than anything else. (Linnix 23/3


The Dire Wolf standing over Bart growled hungrily at the man who bled freely before it. Movement in the tent to the side caught its attention, and it stalked over to the tent just as the flap was lifted to reveal a weary-eyed Sheva poking her nose out into the night. She was rewarded with a fury of fang and fur as it pounced her into the tent, and as the canvas shuddered and lurched against the pitons staking the ropes to the earth, Sheva's scream of pain could be heard across he battlefield, and the wolf only howled in delight.

The lycan leader apparently did not fancy Xaris, for his weapon had felled two of his kin, and in the lycanthrope's mind he had to wonder if it had been forged by the mineral bane of his kind's existence. As his spell finished, a swirling mist formed in the air, and from it came forth a 30' long bolt of lightning. There was no clap of thunder to give warning of its descent, and Xaris could barely move as the lightning bore down his back and legs as he jumped aside, though he barely even registered the pain. [Reflex save successful Xaris 66/ 71 (rage enhanced HP *see Q/a about your HP please)]

Regrouping, the adventurer's did their best to turn the tide on the wolf pack. Aelistae was free to move to Bartholomew, and bestowed upon him his deity's blessings staving off death one more time. (Bartholomew = 8/?? Hp) as his eyes fluttered open and his body mended much of the damage which had put him on the brink of eternal rest, he could only manage a painful nod of appreciation towards the drow priestess as he stood with some effort; realizing just how close he had come to never returning home… save in a casket. Even as she moved on to other tasks however, her armor grew scorching hot, burning her flesh and causing great pain (Aelistae 26/ 3


Linnix's eyes grew cold as she hefted her newly acquired scythe for a deadly strike, but her lacking in proficiency for large weapon showed as she over compensated and the wicked curved blade swung too far, arcing and tearing a fine slice of skin off her own foot. (Linnix 19/37)

Talus knew his life was forfeit if the wolf managed even another meager attack, and thusly did all he could to avoid suffering the chance of another strike from the deadly wolf. It was this attention to defense that cost him another invocation of his innate eldritch blast. He feared the worst as the wolf snarled at him, its thick saliva dripping with a reddish pink hue as it was mixed with Talus' own blood. Movement caught the corner of Talus' eye, and at first he feared it was another wolf, arriving to finish the job. When the glint of steel and the yelp of pain from the lips of the wolf echoed into the night, Talus dared look to find the wolf dead, Artanis standing over it bastard sword held straight on the diagonal pointing down, an extension of her arm, a thick line of blood running along the groove to drip to the cool earth below. (Wow, Artanis too has scored another Critical hit, and though only for double damage scored max on her die roll for a juicy little 34 points to the poor wolf)

With more than half his pack dead or dispatched, the Lycan's face contorted and he snarled, before the awful sound of bone's breaking and his spine popping filled the air, as his armor melded into his flesh, and a thick layer of hair covered his body. Arms and leg's grew in muscle and tone, and soon there was no hint of humanity left, as the Lycan now stood a good head taller than even the dire wolves, it's gleaming black coat matted with sweat as it howled into the night, issuing a challenge to all who would oppose him.




Posted on 2008-06-28 at 16:18:04.
Edited on 2008-06-30 at 02:58:31 by Kaelyn


Topic: Forgotten Realms: the Unsung Heroes Q/A
Subject: Jozan:
---
I noticed your character sheet has you at 75 hp

as a fifth level barbarian with a +3 con..
12 x 5 +(3x5) = 75
That's perfect health. When you leveled your character did you just change his health to max? because all the PC's are not using max HP / level rules.

I've rerolled your health, because I'm only now just noticing that your character has always seemed to have max HP (like 60hp back in the ogre cave at level 4)

Just want to keep things fair for everyone.

If you've successfully rolled 4 12's when levelling every time step up, let me know and so be it I'll leave it be, but if it's just a character creation miscommunication, you're new hit points are 61 (still the highest out of any pc)

Posted on 2008-06-28 at 15:58:34.


Topic: yet another movie thread...
Subject: Equilibrium
---
Forget Wanted, if you havn't seen it, See it now. This is the movie from which Christian Bale's Resume guaranteed him the part as the new Batman, I'm convinced.



Posted on 2008-06-28 at 13:03:40.
Edited on 2008-06-28 at 13:04:03 by Kaelyn


Topic: The Chakran Portal - Q/A
Subject: my mind
---
In this particular case, I've been so flooded with work and illness I'd been hoping to wait for an opportune moment to post, in fact I posted last night from the hospital I was forced into (which takes alot considering my hatred and fear of the places) But that's neither here nor there. I knew what Thondrek was going to do, and other people's actions weren't likely to affect it, but I didn't want to post I fireball the group if everyone else posted we run and charge y'know?

I enjoy playing Thondrek, heck the tree battle made him seem really heroic and though he wasn't my original character, I've come to make him my own, and I thuroughly enjoy the game, adventure, you're writing, and the others who participate.

I can't speak for everyone else, but I'm still here for the long haul, (havn't checked the actual thread yet for an update or not) but every saturday morning I get home from work (or in this case the hospital) and your game is the first thing I read over breakfast, it's become part of my weekly routine.
So don't give up on me or Thondrek, we're still here and interested as ever.

I do know that alot of other games have fallen silent, died off or their DM's have just sorta disappeared lol. It may well be that the apathy from having only one or two active games have crept across into those games as well for people, I'm not sure, but if I as a player can try and keep the interest level higher by posting sooner again (like I used to almost always be the first poster lol) then I will try.

Posted on 2008-06-28 at 12:59:26.


Topic: Forgotten Realms: the Unsung Heroes Q/A
Subject: Brianna/ DM
---
answering your questions via msn
Posted on 2008-06-28 at 05:25:32.

Topic: The Chakran Portal - an Adventure in Audalis
Subject: Preparing for battle
---
Thondrek knew that time was running out and soon quite the fight would be upon them. He looked to his comrades for their actions but they all seemed frozen, like the thrum of the drum through the rock beneath their feet had stricken them with fear. As a Khord of the Mountains, Thondrek had dealt with his fair share of goblin and giant kind, though that was when he had his brethren behind him, and a surge of sturdy shields and dwarven axes worked their way in harmony to defend their homes. Now, he was with a group who each held their own styles of combat, and though they worked as a team, he doubted anyone else here, save perhaps Geim had partaken in strict military formation or strategy before.

Falling into a spell, Thondrek imbued his body with the strength of the bull and moved a bit closer, and as his muscles swelled he prepared for the first layer in his trap. (R1) He held in his free hand a vial of smokey liquid as he began to read from the scroll scribed into the back of his caster's shield. As soon as the fiery little bead was away to encapsulate the group in a blast of fire, (one of the 2 inscribed fireballs)(R2) Thondrek quaffed the Potion of invisibility, and disappeared from view, moving closer to the Ogre and the hopefully scattering and disorganized goblins. (R3) Finally, he activated his True Strike Clasp as he hefted his axe and awaited the Ogre to come closer so that he could strike out with a Arcane channeled Shocking grasp through his newly imbued masterwork axe. (R4)

(Four rounds should have him nearer the Ogre and invisible and true striked, ready for combat on the five round when they would have originally come into view anyways. Thondrek will let the Ogre/ goblins pass by him if needbe to effectively pincer them between him and the others.)

Posted on 2008-06-28 at 05:07:43.
Edited on 2008-06-28 at 05:10:08 by Kaelyn


Topic: Forgotten Realms: the Unsung Heroes Q/A
Subject: as I told DA
---
One could potentialy use the shield as a land mine, though it might be wierd to watch everyone flee from the dropped shield which is glowing with each hit and firing arrows at it (not to mention the AC to hit it would be pretty darn high considering you're trying to strike a small or less object, plus you'd have to roll over 5 on the die roll to even charge a crystal, it might make more sense to simply hit the shield with a area effect itself, and compound the explosion with an extra lightning nova lol... providing you don't blow the shield up. it could be a reusable tactic.

I also told DA so I'l share with the rest of you as it's only fair though I'm not entitled to do so
THe likelyhood of the lycan picking up the discarded shield is unlikely, AND I also indicated that the lycan seems highly intelligent, so don't think that should you all flee he doesn't move as well, especially with Artanis vocallizing the warning.

I also told DA that the shield will naturally lose one charged crystal at the rate of 1/hour of disuse as the energy dissipates.

Posted on 2008-06-28 at 04:47:51.


Topic: Forgotten Realms: the Unsung Heroes Q/A
Subject: in the mood for a debate
---
and who has the right to deem an animal's basic instincts as innocent or otherwise? Is it simply not a means of survival?. The rat does not readiate an aura of menace or evil, it is simply enjoying a little "bone appetite" in the evening of another long day of scratching, nibbling, and possibly eating your own feces.

I'm not really going to denounce DM's paladinship over something like this it's just something my sleep deprived mind thought of. Sure, it's just a rat, but what if, it had been say... a emaciated unicorn struggling for nourishment in a barren setting where only corpses remained? Would one think to strike down the unicorn? no of course not it's a UNICORN! but poor ol whiskers over there doesn't deserve the same consideration


~~
Anywho, I'll likely not update tonight, but provided I'm feeling better tomorrow I'll post in the morning. Take care all.

Posted on 2008-06-27 at 20:10:22.


Topic: Forgotten Realms: the Unsung Heroes Q/A
Subject: a paladin's code..
---
does killing an innocent rat happily munching on a corpse count as an act of evil? or simply watching as your companion does the killing?

Is it not akin to murdering a small child because they could potentially grow up to be a serial murderer? I ponder these things in my idle time...

do you?

Posted on 2008-06-27 at 19:53:03.


Topic: Silent Hill: Eternal Decay
Subject: hmmm
---
Chris moved with Hank and the other's towards her domecile when Cindi abruptly came to a halt, her toes impacting with an unmoving object. After some grimaces of pain and careful observation, the letters ton were revealed on the section of the headstone and everyone's minds began to race a to the implications of the meaning.
(Are the letter's on the right side of the piece of headstone? indicitive of a last name?)

As Delilah left Chris to aid Cindi in her walking, (broken foot or not I'l take it she at least goes to make sure she's ok)Chris moves closer to Hank, ofering a supplicating and concerned smile. "When we make it to your place you'll have to let me take a look at your wound, if only to patch it up to prevent further exposure to possible infection. I'm no doctor, but I'm pretty sure there's some basic first aid skills at least locked up in this blender of jarbled memories in here;" he said tapping his forehead.

Trying to keep Hank's mind off the pain he tries to strike up a conversation with the woman as they move. "Hank doesn't strike me as much the girl's name, did your parent's originally want a boy and just didn't think to change the name?" He wasn't sure if she'd remember anything along those lines, but if she had remembered her grandfather and the flower shop, there was a possibility exploring more avenues of her family would reveal something, and at this point anything would be better than nothing.

Posted on 2008-06-26 at 21:28:52.


Topic: Forgotten Realms: the Unsung Heroes Q/A
Subject: lol
---
Can't be singing and speaking command words for spells which incapacitate or obiterate foes


But if you were to ask her nicely in character she just might oblige you lol.

Posted on 2008-06-26 at 14:09:17.


Topic: Forgotten Realms: the Unsung Heroes Q/A
Subject: AND!
---
Got another update in for ZOra and Silvara... NOW! I'm off to work see y'all on the morrow.

Posted on 2008-06-26 at 04:06:32.


Topic: Forgotten Realms: The Unsung Heroes
Subject: What's for dinner?
---
Zora and Silvara both cautiously move into the mess hall, carefully stepping over broken remnants of furniture and debris. Zora heads left while Silvara heads right hoping to trap whatever is behind the table between the two of them. As they round the table and the creature making the sound comes into view, the women are met with the bloodshot eyes of a hideously large rat, gnawing away on what is little more than a gnawed and gnarled bone, once belonging to the man on the table; his left arm to be precise. The rat looks up at Zora, it's whisker's twitching, feeling the air around it, and it bares a pair of razor sharp incisors along the front of it's pointed angular face. It hisses in protest at the intrusion of the women, but does not aggressively react, instead it gnaw's on the arm some more, somewhat cautiously, its eyes fixed on the armored paladin before it. If it's seen Silvara it hasn't showed it, though it's tail whips back and forth through the air like a swaying cobra.

Posted on 2008-06-26 at 04:05:47.


Topic: Forgotten Realms: the Unsung Heroes Q/A
Subject: And
---
The map is up, I know I know, y'all love me.

Posted on 2008-06-26 at 03:57:31.


Topic: Forgotten Realms: the Unsung Heroes Q/A
Subject: Sure jozan give me 5 minutes I'll put one up
---
Map wise that is.


and Deuc, I don't see why moving 10' from combat wouldn't allow an AoO when moving 5' would.... unless I'm reading your blurb wrong. The point of being prone is it's supposed to suck. I can't rightly see how crawling away in any fashion allows you to safely proide enough attention and cover to prevent any AoO's that may otherwise be taken against your withdrawing form.

The only house rule on this I can make is a Full round withdrawl while Prone. "By focusing all your attention on escaping your precarious position, you can move 1/2 your reguar movement and stand from prone, while making a Concentration check vs the AoO's Attack roll to deny any additional damage. Doing so is a full round action "(meaning only swift / free actions can be taken that round)

So Talus could make a full withdrawl, make a Concentration check vs the wolf's Attack roll, and if your concentration check is higher, no AoO is made, if it fails, the wolf's AoO will go against your prone AC as normal. Providing you're not incapacitaed or further tripped, your round would still end with you being 1/2 movement away and standing.

That seems more than a fair compromise for unclear rules to me.

Posted on 2008-06-26 at 03:42:59.
Edited on 2008-06-26 at 03:59:10 by Kaelyn


Topic: Forgotten Realms: The Unsung Heroes
Subject: Dice God's giveth and taketh away
---
Battle was on, and the forest had become an arena of death where the wolf pack were the reigning champions. As one, they moved again this time even faster than before, marking their targets and lunging in an effort to end the combat before it could even really begin3.

Wolf 1 vs. Talus: This time around Talus was far from fortunate. Perhaps he was distracted by the inner turmoil that wrestled within, but the wolf took full advantage of his divided attention, lunging at Talus' legs, sweeping him off his feet and biting hard into his calf as he fell. (enemy critical =Talus 10/24 + prone)

The wolf (2) in front of Elesia still slept soundly, unaware of the dangerous battle which raged around it.

Wolf 3 vs. Linnix: Linnix too was better prepared for what was to come, and as the Wolf lunged, his hungry teeth found only the shaft of the sturdy scythe. (31/37)

Wolf 4 vs. Xaris: once more Xaris nimbly avoids the dangerous fangs of the predator, and tries to talk the creature into fleeing…

Wolf 5 vs. Aelistae: the Drow Priestess' armor proved stronger than the gnaw of wolven teeth though that same armor does continue to grow hotter by the second beginning to burn her delicate ebony skin. (29/3


Dire Wolf 1 vs. Bart: The already wounded Bart could not fend off the Dire Wolf which bore down upon him, he was helpless as the dire wolf began to gorge on human flesh, tearing out enough of his torso to reveal the ribs ad muscle beneath. Bart's wail of agony fell silent as he passed out, blood pooling around him. (Bart =Dying)

Dire Wolf 2 vs. Artanis: The wounded wolf facing Artanis was running in adrenaline and instinct now, and lunged swiping at Artanis' feet, hoping to knock the armored warrior off balance, finding a hold with a mighty paw behind her leg's Artanis soon found her world turned upside down as the Dire Wolf chomped down, it's teeth piercing her breastplate along the shoulder line, the teeth drawing deep puncture wounds. (Artanis 32/50) Artanis just realized just how dangerous these creature's were.

Lycanthrope: the Lycan leader looked on with a smug look on his face. As Talus spoke his refusal, the hybrid shrugged an almost disappointed gesture before falling into a chant, his incantation calling upon the Dark Mother to send forth her power and strike down the infidels. Fortunately perhaps, nothing evidently happens as of yet.

Xaris was the first to react, still free from the wounds of the wolf set upon him. He watched Bart fall, heard his cry go silent, and knew he had to act quickly. The wolf before him stared him down and his growl was interpreted as "I will eat the trespassers." Xaris sighed a reigned sigh as he brought his blade across in a second arc. Once more the sharp blade found it's mark and sank into the wolf's side, this time striking bone. The wolf shrieked in pain, eliciting a howl from the rest of the pack as the shark fell silent its breathing shallow and labored. (Super gnome does it again, max damage has put the wolf into the negatives)

Artanis was in a predicament of her own, and wouldn't be able to help anyone until she managed to get to her own feet and deal with the threat of the Dire wolf hungry to finish her off. Chancing an attack of opportunity in regaining her balance, Artanis moved to stand, the wolf lunging but hitting nothing but her shield with a forceful thud, lighting two of the quartzes in the shield. Taking a swing, She struck true, but noticed this time her blow did not penetrate the thick hide of the large wolf before her. Somehow, the beast was resisting the damage of her blade, how could this be?

Linnix, though untrained with her newly wielded scythe, she managed a swing at the wolf in front of her, drawing a thin line of blood to stain the sweat matted fur. (-5)

Elesia, free to move for the time being, new she had to get to Bart soon, but with such a threatening beast standing over him, she was afraid to approach. Instead, she slid a familiar looking wand of bone from her belt, and sighted a line that would take both the Dire wolf (1) by Bart, and the regular one facing Aelistae together. Leveling the wand, she uttered the command word and a searing bolt of lightning shot from the tip of the wand. It surged across the battlefield catching the Dire Wolf square in the side, singing its hair and causing it to howl in pain. The Wolf was visibly shaken and not nearly as confident in it's movements as it turned it's gaze on the bardic beauty. As for the wolf by Aelistae, little to nothing was left of the beast but a scorched and stinking pile of burnt fur and meat.

Free from direct oppression, Aelistae attempts another turning attempt but this time there is no reaction from those gathered for the hunt. Disappointed, she readies her next action.

Talus, bolstered by Artanis' words of encouragement, but left very much alone due to unforeseen circumstances was now on his back and though he concentrated on preventing any further attacks, he was unable to fully summon forth the power for the invocation of his Eldritch blast. He would need assistance soon, or this organized pack of hunters would soon pick the team apart one member at a time.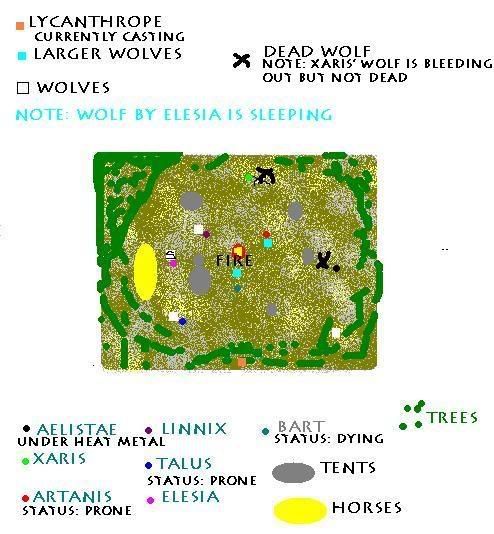 (Ugh, things aren't looking good for you guys this round, let's hope your choices, and the dice god's look more favorably on you all next time round or I may be out some more players!)

Posted on 2008-06-25 at 23:27:27.
Edited on 2008-06-26 at 03:54:58 by Kaelyn


Topic: Forgotten Realms: The Unsung Heroes
Subject: Are we alone?
---
Silvara motioned for Zorana to halt entering the mess hall, thinking it better to wait it out and let whatever was inside come to them. However, they stood there for a good five minutes, and were only rewarded with the continued sound of scratching and gnawing. It would seem that whatever was lying currently out of view, was content in whatever it was doing, having not noticed the two explorers. The hallway was once again filled with a strange chill, and Zorana for a split moment felt like something had gently brushed against the nape of her neck, while Silvara felt her hair move seemingly of its own accord.

Posted on 2008-06-25 at 21:20:53.


Topic: Forgotten Realms: the Unsung Heroes Q/A
Subject: oh
---
and since I'm running on no sleep today it seems, gotta babysit and prep dinner yadda yadda then work, I'm updating for everyone again lol. enjoy

Posted on 2008-06-25 at 21:14:10.


Topic: Forgotten Realms: the Unsung Heroes Q/A
Subject: Artanis
---
Don't edit I'll just have you deal with the wolf on your next round, and then you can take it from there as to where you go (ie to talus or what not depending)

Posted on 2008-06-25 at 21:13:25.


Topic: Audalis: Tides of War Q/A
Subject: waiting?
---
Pretty sure I'm still waiting on people to post I'l cehck over it again though...

Posted on 2008-06-25 at 19:13:01.


Topic: Silent Hill: Eternal Decay
Subject: memories
---
"...Think about it Chris. What self-respecting public servant would put the safety of a cat over the safety of the people?"

A searing headache washed over Chris for a moment, the intensity strong enough to make him almost lose the grip on his 'club' before countering the weakness witha clench that turned his knuckles white.

a flash of imagery swept across hism ind's eye. there was red and blue lights flashing in a swirling arc across the canvas of his mental recollection, and a whirling siren blaring ever so loud. There was a face, a dark skinned man in a similar vest to his own smiling and laughing over the powdered donut which oozed some thick red gel from a hole in the side. Then another flash, and that same dark handsome face was lying torn asunder on a gurney being rushed away from him, the barrel of a police issued baretta 9 still smoking on the cold concrete in font of him as a swarm of voices and accusing words bombarded him. A third flash, and the glints of gold and silver are seen sliding across an oak desk to a balding man on the other side, who shakes his head solemnly as the world fades to black. The last image Chris see's is the "Welcome to Silent Hill" sign at the edge of town, beconing him home.

Chris shakes the pain away and takes a look at Hank, Cindi, then Delilah.

"I..I don't know what I was thinking Sorry, got this awful headache there all of a sudden. Cindi, Hank's right, if there's a chance for another peson to be alive out there, we've got to... I've got to chance looking for them, just like you do your cat. Meera is small, agile if anyone has a chance of staying out of the grasp of one of those shambling creatures it's her, I'd dare say I'm envious I'm not one of her feline friends myself at the moment. I know you've got to check up on her, I understand your worry but be reasonable, let us go and collect our bearings and some possible supplies and then we'll return for Meera I promise."

Chris scratched the back of his head a moment thinking some more before speaking. "Besides, I'm curious about this darkness, flute inspired or not. Have you tried playing it again to see if it can reverse whatever this is? And if the answer's no, I'd prefer to be somewhere a bit safer than the middle of a street before you try and put the theory to use, just in case it goes from worse too, well, whatever comes after that."


Posted on 2008-06-25 at 13:44:28.


Topic: Forgotten Realms: the Unsung Heroes Q/A
Subject: correctimundo
---
AS you would have no idea what the enemy's total hp count is, I just lit what damage you've done, and even then I only do it occassionally, sometimes I don't post the numbers at all, typiclly only when they are impressive and you can go "aw yeah, I did that!"

Posted on 2008-06-25 at 13:17:20.


Topic: Forgotten Realms: the Unsung Heroes Q/A
Subject: as I left word on yahoo
---
the wolf you managed to really injure is far from dead, you might wanna rethink your post, or not don't know lol.

Posted on 2008-06-25 at 05:08:44.


Topic: Forgotten Realms: The Unsung Heroes
Subject: Arena of Trees
---
Any thoughts of escaping were quelled with Aelistae's word's and the soft click sounding the release of a silver bolt in the direction of the lycanthropic threat. Aelistae's holy symbol was encased in a silver glow of holy power, and as she held it aloft to attempt to turn the lupine beasts, she felt the power of Ellistrae flow through her as she spoke the words of power. The lycan before her stared her down, seemingly unaffected by the turn attempt, as did his loyal guardians. One of the wolves nearby however, (on the right side) shuddered and howled, before being overcome with a supernatural fear, and whimpered scratching at the tree-woven cage, unable to flee.

Linnix's bolt flew towards the Lycanthropic leader, but amazingly it was one of the pairs of larger wolves before him that snapped forward, catching the bolt with a snap if it's maw, the wooden shaft of the bolt snapping and the potentially dangerous silver head falling harmlessly to the floor.

Then as one the entire enclosure became a feeding ground, as every wolf, wolf-like beast, lycanthrope or otherwise all reacted at once, their pack moving on the same initiative with unparalleled teamwork.

The five unaffected wolves all pounced at once, each taking a different target in respect to those nearest to them. Talus, Elesia, Linnix, Xaris, and Aelistae all found themselves staring down the throats of a razor tooth lined maw attached to a hundred plus pounds of fur and fang.

Wolf 1 vs. Talus: Talus was able to quickly twist his body out of the way of a dangerous snapping set of teeth…

Wolf 2 vs. Elesia: Elesia however was not so lucky, he efforts of freeing the horses left her exposed, and the wolf clipped her arm, drawing blood. (-4hp)

Wolf 3 vs. Linnix: Linnix too was unprepared for the sheer speed of the wolf attack. The lupine beast was atop her in an instant, sharp teeth tearing into her flesh above her right thigh. (31/37)

Wolf 4 vs. Xaris: Xaris, being small and nimble easily dodged the attacking wolf, and prepared his counter offensive.

Wolf 5 vs. Aelistae: Even Aelistae, so focused on her godly refutation of the enemy could not maneuver out of the way of the wolf, who bit down painfully into her left leg, the wolf growled in satisfaction as it tasted blood. (30/3


Dire Wolf 1 vs. Bart: Despite the bravado Bartholomew had shown up till now, in an instant it was proven he was no warrior, though he hid his fear behind the sweat which gathered on his brow, the Dire wolf simply barreled into him, knocking his newly acquired pitchfork from his grasp, as the large wolf tore a large chunk out of the farmer-patron's torso. Bartholomew let out an agonizing cry of pain as he stumbled over, barely keeping his footing. (-15hp)

Dire Wolf 2 vs. Artanis: In an instant, the second Dire wolf bounded past the wounded Bartholomew and into Artanis, but the seasoned warrior was more than prepared, as the dire wolf landed, she side stepped, and deflected the charging beast with her shield, pushing it off to the side.

Lycanthrope: With a call upon the blessings of the Dark Mother, the lycanthrope cast a spell, and Aelsitae could feel her armored shirt heat up like a warm cozy blanket about her person. "Hehe, unlike my kin, I prefer my meat cooked." The Lycanthrope said.

They had been caught at a disadvantage, and though many had been wounded, some more grievously than others they had survived the initial onslaught, and were now ready for a counter offensive. Artanis hefted her newly acquired bastard sword, the gleaming metal reflecting the firelight across the battlefield, and as she took a 5' step closer towards Talus, not taking her eyes from her enemy, she swung a mighty arc that cut deep into the Dire Wolf's frame. She could feel the resistance as the creature's body fought the intrusion of the foreign metal, but such was the strength of her swing that even still it left quite the wound. (Critical hit, (-18 hp)

Xaris wanted to get closer to the more threatening looking opponents, but leaving the wolf free to attack his flank just wouldn't do. Taking a 5' step towards the center of the clearing, the resident super gnome gripped his master worked great sword and laid into the wolf, the blade cutting deep and eliciting a howl of pain from the creature. (-13 hp)

Bart scrambled backwards as blood seeped through his fingertips, he was shaking and his vision was blurry. For the first time in his life, he truly feared that perhaps he'd not see his wife and children again, forget the claiming of the keep or the quest for glory. As he felt his lifeblood slipping away, he prayed as he fumbled for a potion from his belt pouch. "Tyr, Helm, Ilmatyr and Torm, watch over us now as you have in the past, please see me safely through this ordeal." With that he quaffed the potion, feeling the cool refreshing healing properties wash over him, mending a small portion of his grisly wound. (Bart HP-7/??)

Elesia winced slightly as her arm ached, stepped back and turned to face the approaching wolf, blood on its lips. "That's enough out of you, now sleep." She focused the sleep spell on the wolf before her, and was pleased when the pup simply curled up and began a growling snore at her feet.

Talus was free from harm, but far from free of danger. As the wolf bared its fangs at the warlock, his power growing within him, Talus took a step back, free from immediate danger and fired his eldritch blast at the lycan-leader. The blast splashed across the lycan's chest in a burning scorch, and the man hissed as he turned his attention towards Talus. "You who cavort with demons, The Dark Mother can use those of your talents, cease your futile attempts to deny what you are, and join us, and you shall be rewarded a thousand times more than you could ever hope to achieve in this lifetime."

Posted on 2008-06-24 at 20:19:01.
Edited on 2008-06-24 at 20:42:13 by Kaelyn





View/Edit Your Profile | Staff List | Contact Us


Use of the RDINN forums or chatrooms constitutes agreement with our

Terms of Service

.

You must enable cookies and javascript to use all features of this site.