Topic: Voyages of the Rocinante - Firefly RPG QnA
Subject: Whitefall
---
This is what you would know about Whitefall through the cortex and the rumour mill.

The fourth moon of Athens of the Georgia system is Whitefall, a large percentage (60-70%) of which is owned by a woman named Imogen Patience. Whitefall is said to not be civilization "in the strictest sense." Truth be told - once the planet was terraformed, families were dumped there with a case of rations, the deed to their land and whatever equipment they could afford. Patience was able to become mayor by a combination of buying out starving families, forcing out others, stealing cattle (rumoured), smuggling (rumoured), use of indentured servants to work the land, developing her own law enforcement (her deputies) and later by bringing the only hydrogen plant to the moon (allowing her to control the fuel for almost everything). The United Planet Alliance recently made her governor of the moon although that really holds little sway to the people of Whitefall. Some of the more successful owners of Ranches recently pulled together to form the Rancher's Lodge as a means to counter Patience.

It is rumored that there is a Blue Sun facility underneath one of the mountains, although what they are producing is unknown. The K-3 Mining Post on Whitefall is a major alliance mine for copper, iron and other metals.

Whitefall was untouched by military conflict during the war, but the populace still felt the harsh effects of trade disruptions. Most people here live by means of farming, ranching or hunting. A popular pastime is bare-knuckle boxing matches, fought between ranch hands or champions of the local bosses. Spectators bet on the matches and bragging rights are held dear by the winner.

The threat of Reavers raiding parties has made the settlers here over-protective and perhaps a bit paranoid. Patience was forced to beef up the satellite detection grid and get a few security measures in place.



Posted on 2017-06-29 at 13:45:11.


Topic: Voyages of the Rocinante - Firefly RPG QnA
Subject: cargo check. fight, no
---
I very rarely put someone into a fight after one post. Even two you are safe but after that all bets are off.

Posted on 2017-06-28 at 14:33:05.


Topic: Voyages of the Rocinante - Firefly RPG QnA
Subject: posting
---
I have most of the post done, I need to check with Vanadia as to when she wanted to sell her wares, before of after the lunch. I plan to make the jump from Lunch to evening rather quick unless there is a sideline any of the players wish to follow. After lunch the people of the Ranch will return to there duties and chores.



Posted on 2017-06-28 at 13:02:29.


Topic: Voyages of the Rocinante - Firefly RPG QnA
Subject: don;t be shootin' yet
---
maybe Patience will decline his offer......

Posted on 2017-06-28 at 08:51:54.


Topic: Voyages of Rocinante - Serenity/Firefly RPG
Subject: Silver Screen II - Sterling
---
The door to the office read "Sterling Phoenix -Chief Custodial Engineer". Deep in the bowels of a Blue Sun Corporation megaplex, this wasn't the office of an ordinary janitor. If anyone were to walk in expecting such, they would soon be surprised by the luxurious furniture, the huge oak deck and the state of the art security feeds and cortex box. Many great crime lords had a base of operations. Niskai had his space station, Dwain had his floating plantation on Bellerophon, and Sterling had his office that few knew about.

It wasn't always the way of his life. Sterling had once been a Captain fighting on the independence side of the war - the losing side as it were. He lost a lot in the war, Friends, family, his arm, and eye on the left side. But the death of his parents and baby sister always hung on Sterling like a lead weight he carried around. Died in the firebombing of Athens by the "heroes" of the alliance, or so the media called them. There had been five young pilots smiling prettily after they burned his home and family beyond recognition. But that was the past, and today was the future. Using contacts he made during the war to "appropriate" supplies, Sterling had done well for himself. Quite well actually, starting with stolen goods and moving into drugs, smuggling and unsavory goods. It didn't bother him, let the spoiled kids of the stuck up alliance die of OD's or killing each other with illegal weapons. He made a profit, and money solved a lot of problems. His left eye and arm were replaced with the best that money could buy, making him better than he was before - better, stronger, faster - or so the doctors said. Then there was the four of the "hero" pilots that the news people lauded in their feeds and articles were now all dead. One by one, at the hands of Sterling, he killed them. One of them died in the war before he could get his hands on him, but the other four paid dearly.

Or so he thought.

Sterling stood behind the man called Snake as he viewed the screenshot on the security screen. Snake was a master tracker in the verse. He could find people with the smallest of clues and Sterling had used his skills before. He liked Snake because he was dependable, reliable and up front about what he'd do and not do. Sterling appreciated honesty.

"It is has been six months now, boss and I have not got a peep on them."

"I am ... very disappointed Snake." Sterling said quietly, "and you know I hate to be disappointed."

"Well I ain't never seen anything like this before. I tracked your Trent guy down to a firefly named Rocinante. But he rabbits before we can get him. He leaves the ship and the ship suddenly becomes famous for fighting mercs and stopping human trafficking. "

"Yes Snake. I know this. We took a heavy hit on both. A heavy hit financially, and yet you tell me he had nothing to do with it."

"Well, I have been snooping for his alliance file for awhile, it is buried deep so I have to wait for someone else to pull it up so they can't track me. Well someone called it up and them - whamo!"

"Explain Whamo to me, Snake."

"Gone. Deleted. Like never existed deleted. Someone mad the file vanish like it was magic."

Slerling leaned back and swore a blue steak of chinese under his breath. He shook his head, "Damn that Blue Fairy Bitch!"

"Come again Boss?" Snake asked.

"Nevermind. So we know that Trent is gone from the cortex and now he is working under the name 'Sam Dash'. So find him.

"Well there is a problem. Two actually. One is the Rocinantehasn't moved a cargo for six months or at least they have stayed of the satellite tracking feeds."

"They'll pop up. What's the second?"

"Umm. Sam Dash has a gold star beside his name on the Companion Guild Registry."

Sterling's real eye when wide, "What? That's impossible. How'd he'd even get on the companion registry?"

"No. Very possible and there it is. You touch him then you incur the wrath of the Guild and all its influence."

"How many people have gold stars by their names?"

"About a dozen total in all the verse. I wonder if he knows about it?"

Sterling paced back and forth, "Snake. I want this man. I want to kill him so many times that it defies recording. I want to draw DNA from his dead corpse, clone babies of him and then when each one is as old as my sister was when she died, I will kill them all the same way. Now you are telling me that we can't find him? Can't touch him? No! No no no! My will shall be done, Snake! Or it will be done upon you and every member of your …"

Suddenly the screen changed colour in one section the monitor.Snake hastily pressed a few buttons, "Boss! We got a hit. Rocinante entered atmo on Whitefall."

Sterling smiled a crooked smile, "Excellent. Get me Patience on a wave. Tightbeam comm. I am sure she'd like to do me a favour or two."




Posted on 2017-06-27 at 13:57:59.


Topic: Voyages of the Rocinante - Firefly RPG QnA
Subject: oh and plot points
---
Plot Points

Everyone starts with 6 plot points and you can use these in the game to better your roll or save your life. Now I play that each plot point is worth a d6. So you can ask to use plot points before making a roll of any kind. As well, in combat, you can ask to use plot points to regain some life points (stun or wounds or split).

you can use plot points to up a roll after you have failed but they are only worth a d3 then. So if you really wanted to make a shot and failed the roll, you can use up plot points to get what you want but it is costly.

You gain PP in the game by playing up your complications, doing really heroic (stupid) things that add to the story or playing out a role playing opportunity really well.

Posted on 2017-06-26 at 20:26:01.


Topic: Voyages of the Rocinante - Firefly RPG QnA
Subject: yes yes yes
---
movement forward will be happening. Vanadia and I have had a few things to deal with in the last few days with school ending and summer camps starting and no one available for support work. You would think university students would like to work the summer for 15-20 an hour but we keep running into the same "well I need these weeks off and I am gone for these weeks". That means you are not available for the whole summer then!!!

Sorry ranting.

Vanadia is writing a post as I type. I will move forward soon after

Posted on 2017-06-26 at 20:23:53.


Topic: Voyages of the Rocinante - Firefly RPG QnA
Subject: 6 count them 6
---
Everyone starts a new campaign with 6 points. You do not carry points over.

Posted on 2017-06-23 at 13:34:53.


Topic: Voyages of the Rocinante - Firefly RPG QnA
Subject: Our Mrs.Reynolds
---
Brigit was the fiery redheaded school marm that tried to play you in your very first adventure. Played by Christina Hendricks in the TV series.


Posted on 2017-06-23 at 09:01:20.

Topic: Voyages of the Rocinante - Firefly RPG QnA
Subject: yep
---
I was just thinking that I should start using some of these enemies soon or they'll get dusty. No one wants dusty enemies.

And can you believe that I have GM'ed three Serenity games with you so far and no Reavers yet? I am just slacking off.



Posted on 2017-06-22 at 07:54:35.


Topic: Voyages of the Rocinante - Firefly RPG QnA
Subject: Friends and enemies
---
Back on Earth-that-was, there was a saying that if you went through life without gathering some enemies, you weren't doing it right. Here is a list of some friends and enemies you have made along the way.

Allies

Griffin - Captain of the Royale (a Dragonfly class ship.) Former independent that has so much bad luck that you'd think he's cursed

Dodger – A Boss out of Beaumonde. Known for his ability to ship things (smuggle) and not a dabbler in other criminal actions. Gets you jobs on occasion for a fee.

Sheriff Andrew Bowman – Sheriff of Frisco on the Planet Regina. Relative of Wyatt and a good man with a gun.

Kora Ling – Former crew (mechanic) that fell in love with Sam Hawkes, co-owner of the Lullabelle Mine on the Angel-Hair Comet

Tinkerbelle – A ghost on the cortex, this cyber hacker can get into and out of any system known in the verse. She sees and hears all but only helps out a choice few. No one has ever seen Tinkerbelle and some say she doesn't exist but then again, you have to believe in fairies, right?

Sheriff Weaver – Newhouse Beylix, the deputy became the sheriff.

Stacey Tam - Newhouse Beylix. Foreman of Newhouse Spaceport and casual lover of Fenris. A rebel by nature, loves to stick one to the "man" whenever she can.

Sheriff Buford T. Justice – Sheriff of Eisley Moss, A lawman more worried about what is right than what is the law.

Colonel Sanders, Lt. Hicks, Lt Vasques and Prv. Hudson – Federal Marshalls who are sitting pretty right now because of you, but as well if they had not shown up you might be dead by now.

Javelin - Head of the Companion Guild Security Force. You did him a favour, he returned the favour but he would count you on the list of friends so you can too.

Enemies

Sterling Phoenix (Sam) - A powerful man with a long reach that wants to kill Sam and then revive him and kill him again and then revive him and ......

Adelei Niska (Asher) - A businessman who has a score to settle with Asher Talhone

Miko – A commander of the Mercenary army you assisted in taking out. She is the only one to make it out alive and not captured. You only know she is of Japanese descent and is mute.

James Blake – The son of the Banker on Frisco, Regina. Felt that Willow betrayed him and all of the crew assisted in the death of his parents.

Bridget (?) – Ahh, Bridget, where to start ....

Commandant Herbert Ludlow of the 21st Grenadiers – Wyatt killed all three of his sons. Now they were actively trying to kill him at the time but blood is blood.





Posted on 2017-06-21 at 13:42:50.
Edited on 2017-07-06 at 09:19:58 by Alacrity


Topic: Voyages of the Rocinante - Firefly RPG QnA
Subject: Vanadia is a bit busy
---
Vanadia is busy with work. If she can not post but this weekend, i will move the story forward.

Posted on 2017-06-21 at 13:26:28.


Topic: Voyages of the Rocinante - Firefly RPG QnA
Subject: yes
---
Reavers are the caution here for sure. Now they have upped the satellite security on the planet, and different Ranches have different defences. Part of the "reason" for Patience's navy of two Gyrfalcons is strictly reavers although she likes having the only strict force on the moon.

Posted on 2017-06-19 at 12:50:38.


Topic: Voyages of the Rocinante - Firefly RPG QnA
Subject: agony of de feet
---
Rocinante is parked on the property of Eagle-Eye and I assume close to the homestead as who wants to haul frozen bees over a long distance. So I was working on the assumption that you walked. If you really wanted to take the mule, that is fine with me.

Before any asks about guns - everyone packs here. Women, Men, and anyone old enough to be shown how to shoot properly. They ain't showy about it, all are holstered or put in side racks nearby. There are four outlook towers posted around the homestead fully armed as well but keeping an eye on the sky mostly. Whether this makes your character feel nervous is up to you.

Posted on 2017-06-19 at 12:28:54.


Topic: Voyages of the Rocinante - Firefly RPG QnA
Subject: Waiting
---
Just waiting on Robert and Vanadia. Hopefully soon.

Posted on 2017-06-19 at 07:36:13.


Topic: Voyages of the Rocinante - Firefly RPG QnA
Subject: Ambidextrous
---
Albert - Ambidextrous is a Asset. You can't just claim it. It is called Two fisted and it is a Major asset. Asher has this asset but you do not.

Posted on 2017-06-18 at 11:02:20.


Topic: Dark Fantasy QnA
Subject: coming soon
---
I will finish this game off. I will post an update this week

Posted on 2017-06-18 at 10:51:36.


Topic: Voyages of the Rocinante - Firefly RPG QnA
Subject: not looking really
---
I was not planning on recruiting for this game. I can NPC Saul well because he was an NPC to begin with, so not a problem

Posted on 2017-06-16 at 13:51:53.


Topic: Voyages of Rocinante - Serenity/Firefly RPG
Subject: Silver Screen Moment
---
Saul Potter look at his old friend and the two bodyguards who accompanied them for so long now. They needed a ship. They needed one badly but so many things stood in their way, the biggest being that there was no ships. That is to say, there was no ship until now. Saul stood up and straightened out his suit and shirt before proceeding, "The good news is we have a possible ship. A firefly class. Just made atmo and is parked out on Sarafina's land. Bad news is it is Rocinante


Brutus whistled, "Well we ain't taking that on by force. Have you seen the vids? That crew took on like 1 thousand mercs at once."

Saul sighed, "Taking it by force wasn't on the agenda Brutus."

""Good." He replied, "Because we wouldn't want to try."

"We are not trying. Was not part of the plan. Ever."

"Right."

"Saul nodded his head and looked over at the older man, "Your thoughts, sir?

"The old man coughed wetly and spat into a handkerchief, "Who's the captain?"

"Wyatt Sung."

"I know that name. He was on the independent side. Good man, very driven and loyal."

Saul shrugged, "Well his last two jobs of note involved helping the alliance in a big way. Rep is he's gone to the dark side."

"Ha!" the old man laughed and coughed again, "You know as well as I do that them purple bellies lie and spin their stories to suit their needs. Wyatt's a loyal man, bleeds brown and he'll help us – see our need."

"Well, just in case, we might need a plan B, and we are a little short on funds to hire a ship right now. Brutus? Jerome? How do you feel about the fights?"

"Brutus and I are judo trained, Boss." Jerome replied, "The fights are strictly boxing style, no throws, no kicks, no takedowns. Frankly, we'd be at a disadvantage. You ask me to, I'll do it but I can't promise a win."

Saul nodded thoughtfully. "Well, I am going to the Slaughterhouse tonight. Hoping someone from the crew might be there. Then we can go from there. The crew roster mentions a Doctor on board so maybe I can get them to come see you sir."

"Saul, we've been over this. No Doc is gonna be able to do anything about what I have." The old man said loudly and then broke into a spasm of coughing up phlegm.

"So you say, but I would rather a doctor told me that instead of you."

"Bah! You know what I need! You all know what I need!"

Saul looked away from the old man's gaze. "Working on it Sir. I promise you I am working on it. If there is a way, I'll get you there."


Posted on 2017-06-16 at 10:03:38.
Edited on 2017-06-16 at 10:07:20 by Alacrity


Topic: Voyages of the Rocinante - Firefly RPG QnA
Subject: GOB
---
With Grumpy Old Bear leaving due to family issues, I will be running his character as the NPC for now.

Posted on 2017-06-16 at 08:16:21.


Topic: Voyages of the Rocinante - Firefly RPG QnA
Subject: Well
---
I only need the who is where in case of a reaver boarding party going room to room. How likely is that?

Having read and watch "the expanse", the idea that you would have a small machine shop to fix and repair parts makes a lot of sense. So I will say the is a mechanic's quarter under the engine room with a bunk, a work bench and some equipment for repairs.

So that would make

1- Sam
2- Wyatt
3- Jade
4- Asher (with the hidden gun stash)
5- Ma

Willow in the passenger rooms nearest the infirmary.

Posted on 2017-06-15 at 18:17:53.
Edited on 2017-06-15 at 18:20:04 by Alacrity


Topic: Voyages of the Rocinante - Firefly RPG QnA
Subject: quarters
---
There is no crew quarters in the engine room.

There are five crew quarters, one with a double bed. There are seven "passengers" quarters. I believe Willow uses two of the passenger quarters (one to sleep, one for clothing).

You have 7 crew now including captain. If Willow and Ma are in the aft section, then you should all have crew quarters unless I missed something.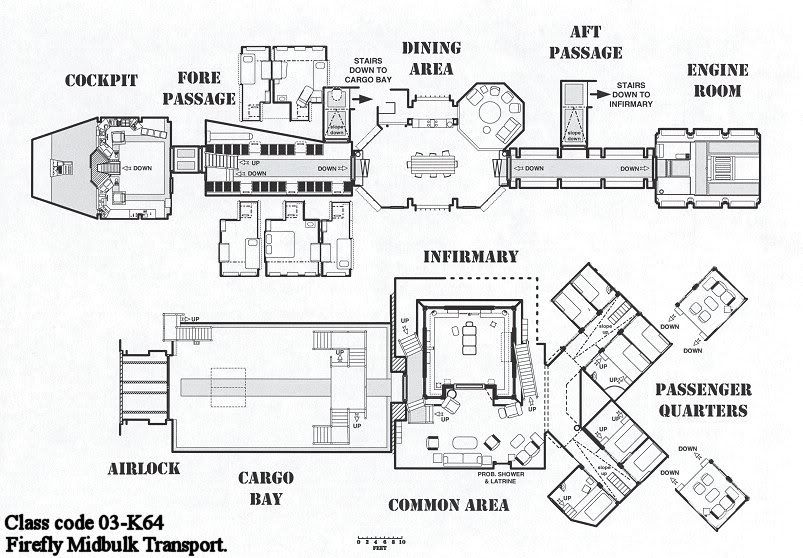 So if you number the top of page two as 1,2 and the bottom as 3, 4, 5 - This is what I was thinking:

1- Sam
2- Wyatt
3- Jade
4- Asher (with the hidden gun stash)
5- Wolf


We can say that the rebuild put another crew quarter in the space above the engine room since the new engine parts were smaller, and Wolf sleeps there. Not a big issue.

Posted on 2017-06-15 at 14:50:21.
Edited on 2017-06-15 at 14:53:41 by Alacrity


Topic: Voyages of the Rocinante - Firefly RPG QnA
Subject: ship
---
The ship was always there at the end. I even updated with the new engines.


Which reminds me, Who has what bunk now?

Posted on 2017-06-15 at 10:43:12.
Edited on 2017-06-15 at 10:44:52 by Alacrity


Topic: Voyages of the Rocinante - Firefly RPG QnA
Subject: Happy Birthday Lance
---
I have fixed up the characters, taking out the strange question mark symbols and updated Wolf who was not fully completed for some reason. Asher has a couple of errors on his that he needs to sort out 4 points of skills.

Posted on 2017-06-15 at 10:04:15.


Topic: Voyages of the Rocinante - Firefly RPG QnA
Subject: looking good
---
Thanks for the posts.

One thing I did want to say is that this particular adventure is very open ended. There are a number of ways it can end by design - some heroic, some tragic and some bittersweet but all of them decent endings. There are a lot of "side" events going on as well that may or may not influence the main plotline. So if your character is put into a situation that seems a sideline, it might just be that. Not everything will tie itself into the plot. Much like life, some things will happen because they happen - roll the bones.




Posted on 2017-06-14 at 07:31:18.