Topic: Destiny Flight - QnA
Subject: Excellent work Celeste
---
The only thing missing are the doors on the utility hall and the engine room. Believe me, if there is a decompression, you want the airlock blast doors.

But this is great. Thanks Celeste.

Posted on 2011-04-23 at 19:10:30.


Topic: Destiny Flight - QnA
Subject: hand drawn
---
Yes, I'm old school! I prefer pencil and graph paper. Odyson will make a joke here about my crudely drawn map.

Here is my reinterpretation and a review of the need for airtight blast doors if the worst happened. I have put a lift to all levels to haul injuried and equipment. The passengers have a circular stairs to get to their rooms, the engine room has a secured door and Grace has a ladder to her rooms. MMV suggested a trap door in the floor of the galley in case you are ever boarded and need a way that no one else knows about. Med is on the lower level,Captain is near the bridge and the exercise room has doors cause who wants to watch guys working out. (Grace will install a secret webcam girls)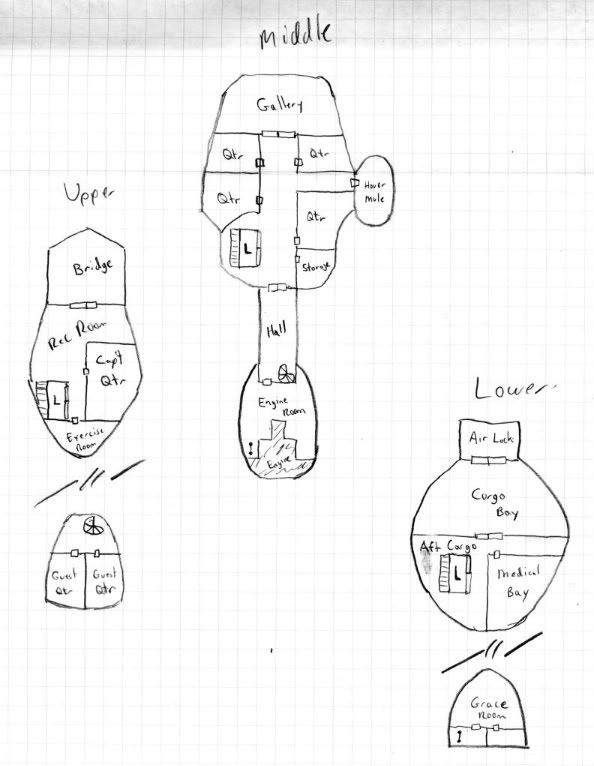 Posted on 2011-04-23 at 17:02:31.

Topic: Destiny Flight - QnA
Subject: nice work
---
What program are you using? I like it. And what is the font?

You technically don't need a head. Serenity didn't have one and each room would have a fold out privy as shown in the Firefly series. As to a shower - that is unlikely. The water is self contained within the ship and could not be wasted on showers. The toilets are not water based either which is why you have to pay to have your sanitation flushed when you are at port. Remeber the scene in the pilot where Inara is bathing with a sponge and dish? (vividly) Zoe speaks about awaiting the joy of a real bath with running water. That is life on a tramp freighter. When you dock, many space port's have rentable showers and baths.

Posted on 2011-04-23 at 11:02:30.


Topic: Destiny Flight - QnA
Subject: couple of things
---
The missile turret will hold a hover mule. Heck, Grace could even install a drop/lift - just don't try to operate without being in atmo.

You could change access to the guest rooms as through the lower part of the utility room and not through the engine room. Then the engine room could have blast doors which would be a real safe idea.






Posted on 2011-04-23 at 02:02:56.


Topic: Destiny Flight - QnA
Subject: flat
---
The utility deck is one level only. That section of the ship is smaller than the rest, like a big old tube.

The stairs can be changed to ramps in places. Remember each square is 5x5.

Posted on 2011-04-23 at 01:44:44.


Topic: Destiny Flight - QnA
Subject: redo the ship
---
I am all for the redesign of the interior as long as you stay within the bounds of the outer walls estblished already. As GM I want you to be happy with your ship.

Who designed it? Good question. Why a brig on a fast ship with science lab level sensors? Why autocannons and a missile turret used to the point of exhaustion by no damage to outer haul? No emblem, marking and the computer system reformated and defragged. Shuttle intact by no crew or crew belongings? You do not know.

No matter where you put medical, there is a chance you'll have to use the stairs. Maybe you need a better access lvl to lvl than a circle stairs? the circlar stairs are a challenge to bring any furniture in. Does someone want to get out the graph paper and redo the design?

I'm off to look over Db's character.




Posted on 2011-04-23 at 00:31:10.


Topic: Destiny Flight - QnA
Subject: 16?
---
Isn't that the smallest room? (floorplan is on page 4 of this thread)

Posted on 2011-04-22 at 18:34:21.
Edited on 2011-04-22 at 18:34:50 by Alacrity


Topic: Destiny Flight - QnA
Subject: Destiny it is then
---
I think Destiny wins as it have a good mandarin name as well and it suits the ship. I will call the game Destiny's Flight. I have some artwork I will use for emblems that you can pick from.

Celeste - The ship is as much a character in this game as are the crew so yes you may interact with the ship and its quirk if you wish, just don't get carried away. Later, I will even ask you to profile me with an NPC or two who would be people you'd know in the verse that you might call upon for help or advice.

Once I have all the characters in, I wil lpost them and we can flesh out the ship more. MMV has asked to convert the Brig into her room so she can be close to the engines. The rest of you will pick rooms, and you will all have to decide what to do with the ex-missile turret (game room, hydroponic garden, hanger for a hover bike, remove completely). Finally you will look at equipment for the ship (Grav suits, mule, hover mule, Infirmary, etc etc)

Posted on 2011-04-22 at 17:47:59.
Edited on 2011-04-22 at 17:48:38 by Alacrity


Topic: Destiny Flight - QnA
Subject: Quirk
---
All ships have a quirk - something unique about them that no matter of fixing will change. In Rocinante, when the ship goes to hard burn, there is a sound like a horse galloping across the length of the ship.

This ship has a strange quirk. It occasionally vents cool mist in certain areas. This mist swirls and disappears quickly and is no harm to anyone. However some of you have noted that the mist often looks like a lady dressed in white. A ghost? Well, no one believes in ghosts do they?

Posted on 2011-04-22 at 13:22:15.


Topic: Destiny Flight - QnA
Subject: well
---
I like Destiny or Xuan Zi personally.

Posted on 2011-04-22 at 12:47:42.
Edited on 2011-04-22 at 12:48:00 by Alacrity


Topic: Destiny Flight - QnA
Subject: or
---
I have one that suits the nature of the background although it is similar to Serenity

How about: Serendipity

Serendipity is when you find something that you were not expecting to find.

A suggestion, you don't have to like it.

Posted on 2011-04-21 at 17:31:09.


Topic: Destiny Flight - QnA
Subject: mandarin
---
Rao Nei Yali (Rao-Yali for short)

"Graceful under Pressure"

Posted on 2011-04-21 at 16:39:28.


Topic: Destiny Flight - QnA
Subject: Seriously...we need a name
---
Some suggestions:

Archimedes
Black Storm
Dark Sword
Hell's Angel
Fuligin Cloak
Terminus Est


I'm open to ides.


Posted on 2011-04-21 at 16:14:45.


Topic: Artist wanted
Subject: Artist wanted
---
Hello

I am looking for an srtist who might be able to draw up a ship I will be using in a firefly campaign. I have floorplans, and some "similar to" images but I would like to have a picture of the ship in flight.

So it would be an sleek, all black vessel. These are the floorplans.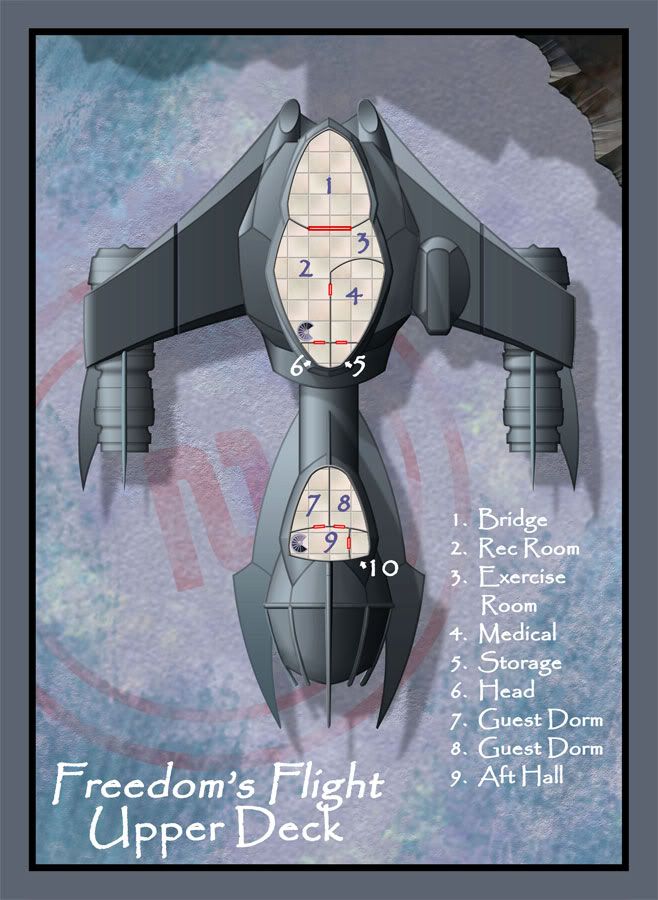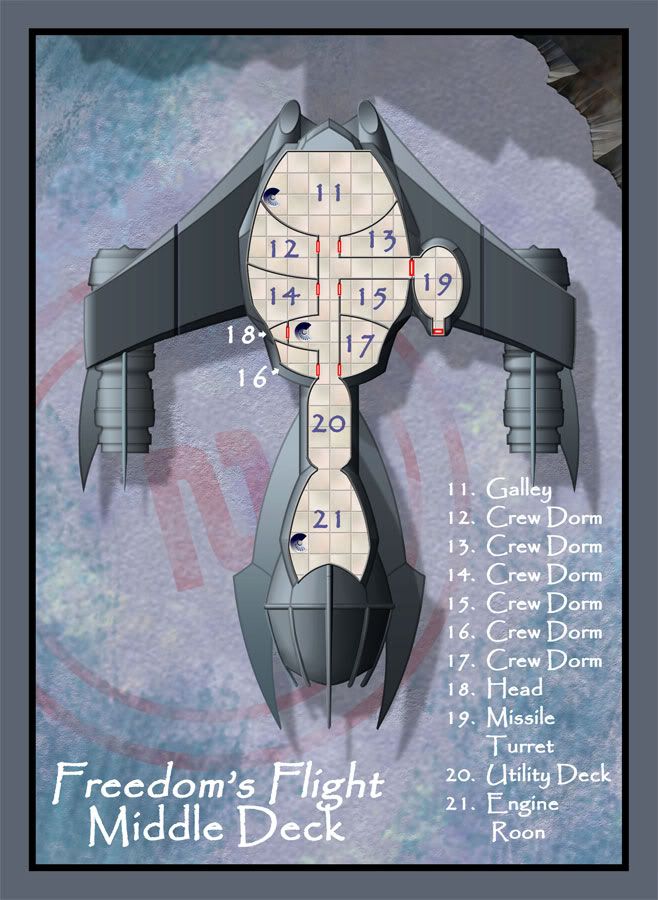 It would have a shuttle on the top, like this similar ship.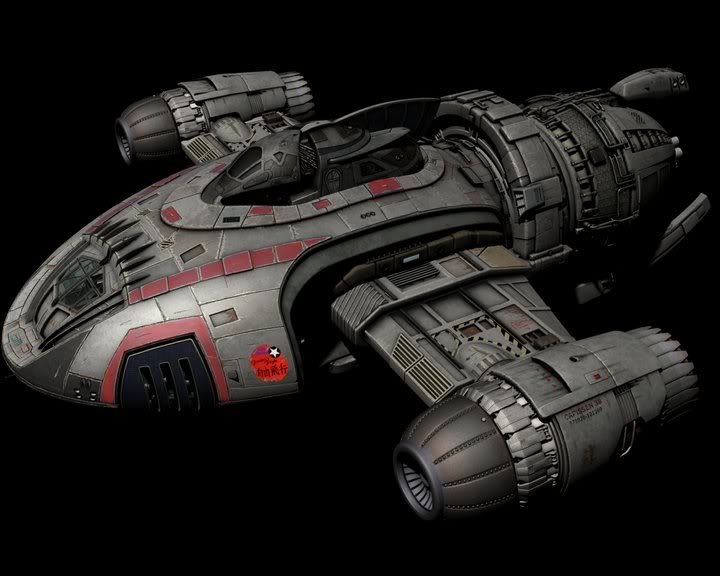 Any takers? Please?



Posted on 2011-04-21 at 15:52:27.


Topic: Destiny Flight - QnA
Subject: yeah....that's sexy
---
Next?

Posted on 2011-04-21 at 15:47:58.


Topic: Destiny Flight - QnA
Subject: Ship Stats
---
Name: ???


Stats
AGI: D10
STR: D4
VIT: D6
ALE: D8
INT: D2
WIL: D2
INIT: D10+D8
LP: 6

Assets/Complications
Allure (minor) – Damn Sexy machine.
Fast Throttle (minor) – Fastest ship around, for sure.
You Want What? (Minor) – Hard to find parts, high maintenance due to retooling
Memorable (Minor) – Everyone remembers this ship

Skills (It is a transport but steers like a gunship)
Aerial Transport Operations/Gun-Ship d2
Perception d4
Space Navigation d2
Space Transport Operations/Gun-Ship d2

Specifications
Dimensions (LxBxH): 106×125×48
Tonnage: 1920
Speed Class: 7 cruise / 11 hard burn
Fuel Capacity: 60 tons (600 hours)
Cargo Capacity/Maximum Deck Load: 480 tons
Crew Quarters: 6 single cabins
Passenger Capacity: 2 double cabins
Gear: One 20 ton Shuttle, Infirmary
Complexity: Low
Maintenance: 300/month, 3600/year


Now if you know any artist friends that would like to take a stab at drawing this for me, that would be great.

Posted on 2011-04-21 at 15:41:20.
Edited on 2011-04-21 at 15:45:01 by Alacrity


Topic: Destiny Flight - QnA
Subject: better guns and rifles
---
PDF of better guns and rifles than in the books. Lots out there on that World Wide Web if you feel like looking.


Posted on 2011-04-21 at 13:26:27.
Edited on 2011-04-21 at 13:27:46 by Alacrity

Topic: Voyages of the Rocinante - Firefly RPG QnA
Subject: sigh sigh
---
I go out of my way to make the game as much fun as it can be. I don't think anyone who games with me should suggest otherwise. in fact, I am trying to keep things fun for all. There is an excess to what is being suggested and I am trying to rein it in before characters who are suppose to be Big Damn Heroes go in and destroy a town of innocent people.

Remember the Pilot episode of Firefly? Jayne, Zoe and Mal know they are walking into a trap with Patience. Did Mal bring two machine guns, an assault rifle, a shot gun and his pistol? Does Jayne have Vera and grenades?

When they rescue the Doctor and River from the hillbillies that were gonna burn them - again Jayne is carrying one weapon, as is Mal as is Zoe.

So I'm trying to keep it "real" as in real for a sci-fi western. Firefly had a simplicity about it that made it wonderful (which the movie lost but that is another argument). So I would recommend you keep it simple.

BTW - the difference in range between the SMG and the assault rifle is 50 feet. That's all.

Posted on 2011-04-21 at 12:32:45.


Topic: Destiny Flight - QnA
Subject: Characters
---
I will be posting the characters for all to see and familiarize yourself. Now your will have all been together between 5 to 2 years so you will have come to know each other and most importantly - trust each other. The life you lead, the jobs you take - you have to have the trust or you'd be dead.

So, think about your character and write a short blurb that would be how others describe him or her. Not pages please, just a paragraph or two - and send it to me so I can add it to your character.

Roger is a hard working fella who tends towards the serious side. Not one to laugh or play around - heck he rarely cracks a smile, but he is always there to offer a hand or cover a shift if someone needs him. His secret passion is cooking and he enjoys reading and writing.


I'm all for people knowing each other before the game starts because it adds to the story and the teamwork. Yes, it is cliche but cliche exists for a reason.

Posted on 2011-04-21 at 12:07:10.


Topic: Voyages of the Rocinante - Firefly RPG QnA
Subject: Okay...just stop
---
This is Firefly! Not the foyer scene in the Matrix!!!!!!!!!!!!!!!!!!!!!!!!!!!!!!!!!!!!!!!!!!


You didn't really meet up with too many arms dealers in town. They probably couldn;t get any cause Asher already created a shortage!!!

Posted on 2011-04-20 at 19:47:23.


Topic: Voyages of the Rocinante - Firefly RPG QnA
Subject: sigh
---
Okay. I looked though the posts and unfortunately the equipment taken and not taken is vague - probably because I thought I was writing Ash off the game.

We have established in posts that Ash has the Pythons, the Peacekeepers and the 22 colt. As well he has the SPAS shotgun. I don't believe that Ash would go as sheriff without a rifle so I rule that he took the single shot 22 rifle (feeling that he wasn't fighting a war, just keeping the peace).

That leaves:
The Grizzley
The Justice Arms
and the Uzis

Yes, you can use an assault rifle at d6 skill. I was merely pointing out that you won't be as accurate with it as with the other weapons.

Posted on 2011-04-20 at 16:57:26.


Topic: Personal Question...
Subject: pathfinder
---
I keep hearing about pathfinder in passing but I have not really had the time to check it out (plus I don't want to buy another system right now). For those of you who play it - what do you like about it?

Posted on 2011-04-20 at 15:18:36.


Topic: Destiny Flight - QnA
Subject: A basic background and how the game will start
---
This is how it is:

It is only two years after the unification war ended and at least three of the crew members (MMV's Mechanic, Celeste's Pilot and Grugg's Captain are my choices but it can change) are on an Alliance ship for some reason. Grace is being released from the prison she was kept in after being captured at the end of the war. The others, we can work out the reasons.

Something happens and the ship is attacked, power is lost and chaos takes over. The three PC find themselves together in an escape pod and leaving a dying ship. You drift for a day and no one picks you up. Then, one of you spots something out in the black – it looks like a ship but you almost miss it because it is painted black. You try to hail it and it doesn't move. So Grace rewires the pod's propulsion and manages to get you close enough to attach to the airlock. Realizing the ship is adrift, she transfer power from the escape pod to the ship so she can get enough time to get the engines going so you have air.

The ship has no marking at all, neither alliance nor independent. It has some pretty advanced sensor equipment, auto-cannons that are burned out, a fried missile turret and a place to hold prisoners. There is no crew, no bodies, and no sign of life. The onboard computer has been formatted so it is wiped clean with no hope of recovery. The crew quarters have no personal effects. The engine is labeled "Malarkey17" and is nothing like any engine you have ever seen before, with module parts and systems rerouted everywhere.

Working together, you get the ship moving. You take it to Beylix, the junkyard of the universe, and using Grace's underworld connections, land the ship and hide it so you can work on getting it up and proper. It takes a better part of a year to do so as the parts are so hard to find and often have to be "retooled" in order to make them work. You take out the auto cannons and the missile turret and sell them to finance the repairs and your living expenses over the year. Once complete you soon discover that the ship is very fast, very unique and as far as you can tell completely unclaimed. So you register the ship as a Whitefire Class and do all the paperwork. Working with the plan to use the ship as a way of life, you look to a few more crew and bring/hire on the rest. You will need a name for your ship …..

The game starts two years later and you have established a reputation for fast delivery and reliable service with few questions asked. You got a job transporting a Companion "Priscilla" from Higgins Moon to Persephone with a caveat of being there for a certain day – a lord (Atherton Wing) wanted her there for his birthday and would pay 3000 cr. Priscilla put forth a 300cr deposit and away you went, confident that you had plenty of time.

Except that the companion became very ill. So ill in fact, that your Medic feared for her life and demanded that you make an emergency landing on the nearest planet – Greenleaf. There you rushed Priscilla to the hospital where they saved her life, but only barely. She was very weak and would have to remain in the hospital for a few weeks. (Medic hears from staff it was a very slow but lethal poison, probably ingested days before you picked her up)

So you are out the commission for the job (Wing's assistant expresses regret but any illness or difficulty delivering the girl is not his problem). You are on a tropical vacation planet for the wealthy so you can't afford to stay here long (fuel, food, port fees are all 3x cost here). You need something to offset your losses and move on. As luck would have it, you are approached by a wine merchant looking to move some casks quickly and willing to pay well for it.


Posted on 2011-04-20 at 13:12:43.


Topic: Destiny Flight - QnA
Subject: yep
---
It is in the jar labelled "In case Captain tries to drive or write bad poetry"


Posted on 2011-04-20 at 10:37:26.
Edited on 2011-04-20 at 10:37:57 by Alacrity


Topic: Voyages of the Rocinante - Firefly RPG QnA
Subject: why?
---
Asher's equipment is listed on his character sheet on the character thread. It is all there but he has most of it with him. I can go searching for the exact post but other than the uzis, I think there is little for you.

Fenris has two machine pistols and a shot gun. Bowman has two pistols. Neither you have any specialization in assault rifles. So I am at a loss to why you feel the need to rummage through Ash's stuff.

If you wish to stock up your character on weaponry, I suggest you make sure you do that next time no one is shooting at you in the game.

Posted on 2011-04-20 at 10:32:53.