Topic: Voyages of the Rocinante - Firefly RPG QnA
Subject: Racking the brain
---
If I could figure out a plausible way to get you into the pilot's role and not break up the entire story, I would.

Let me think on it. I might have an idea forming...

Are you familiar with the character buidling process? Check out the Looking for browncoats thread in recruitment if you are not. I have details listed in there.

Hurm....

Posted on 2008-03-18 at 16:54:31.
Edited on 2008-03-18 at 16:54:48 by Alacrity


Topic: Earth Hour - March 29th, 8:00 pm
Subject: Plans
---
Cathy and I are planning a late dinner during the hour - doing a Broth-based fondue by candlelight. Of course, Veronica would prefer a choclate fondue, but I will sway her over with noodles.


Posted on 2008-03-18 at 16:51:18.

Topic: Voyages of the Rocinante - Firefly RPG QnA
Subject: Yeolde
---
I agree with you and even asked YeOlde directly, but he doesnt want to take over another persons character.

Posted on 2008-03-18 at 09:55:02.


Topic: Earth Hour - March 29th, 8:00 pm
Subject: Earth Hour - March 29th, 8:00 pm
---
I don't normally do this, but this is a movement I feel strongly about. Pardon my shill ...

On 31 March 2007, 2.2 million people and 2100 Sydney businesses turned off their lights for one hour - Earth Hour. If the greenhouse reduction achieved in the Sydney CBD during Earth Hour was sustained for a year, it would be equivalent to taking 48,616 cars off the road for a year.

With Sydney icons like the Harbour Bridge and Opera House turning their lights off, and unique events such as weddings by candlelight, the world took notice. Inspired by the collective effort of millions of Sydneysiders, many major global cities are joining Earth Hour in 2008, turning a symbolic event into a global movement.

So join the movement - turn your lights and power off for an hour. Created to take a stand against the greatest threat our planet has ever faced, Earth Hour uses the simple action of turning off the lights for one hour to deliver a powerful message about the need for action on global warming.

This simple act has captured the hearts and minds of people all over the world. As a result, at 8pm March 29, 2008 millions of people in some of the world's major capital cities, including Copenhagen, Toronto, Chicago, Melbourne, Brisbane and Tel Aviv will unite and switch off for Earth Hour.

For more Information, please check out EarthHour.org




Posted on 2008-03-17 at 18:09:01.
Edited on 2008-03-17 at 18:10:09 by Alacrity


Topic: Continuing Where We Last Left Off Q&A
Subject: Open to suggestion
---
If someone wants to volunteer to play Spooky for Robert, I am more than willing to listen.

Posted on 2008-03-17 at 14:48:08.


Topic: Voyages of the Rocinante - Firefly RPG QnA
Subject: Sam Dash
---
I am going to post a request for someone to play Sam Dash for me. I hope it will be a temporary fill-in but we shall see. If you know anyone who might be interested, let me know.

Posted on 2008-03-17 at 14:41:44.
Edited on 2008-03-17 at 14:45:23 by Alacrity


Topic: Continuing Where We Last Left Off Q&A
Subject: All PCs are plot devices
---
This is classic D&D. Even if I collaspe the building on him, while setting him on fire and forcing him to compete on American Idol - there is always a way he can come back.

Posted on 2008-03-13 at 13:54:57.


Topic: Continuing Where We Last Left Off Q&A
Subject: Robert
---
Unfortunately, I have heard nothing from Rob in so long, including direct emails to him asking him if he is coming back. In this campaign, I have been slow to post partially because I was waiting (though the baby delayed things mostly). So, yes, Jal may be sacrificing himself for the team unless I hear from him soon.

It is harder in my Firefly/Serenity game, as he plays a pivotal role, and I hate NPCing a major player.

Posted on 2008-03-13 at 13:08:47.
Edited on 2008-03-13 at 13:53:15 by Alacrity


Topic: Voyages of Rocinante - Serenity/Firefly RPG
Subject: Meanwhile, back at the ship ...
---
Rocinante, Frisco Landing Pad, 12:30 PM RST

Asher looked at the chrono once again. It hadn't been that long since the captain left, but he was getting bored fast. Trish was off in the kitchen cleaning and sorting stuff out and there was only so much of that a young man could take. He had already cleaned all the guns he had brought up and was putting them back in the case when there was a light tapping on the door to the cargo bay. He had to listen carefully at first, to make sure he had heard it before going over to the hatchway door.

Looking through the glass he could see a lady was standing outside. She was close to his own age, perhaps younger. She was short with long black hair tied black in a single pony-tail, her tanned skin and rugged clothing spoke of a workers life but she sure was purdy though. Them blue eyes of hers seemed to sparkle but she looked like she was hesitant. She was just turning to go when Asher opened the door to look out at her.

(assuming some sort of question as to why she's here)

"I'm sorry. I was just… I mean I was hoping to speak to..Are you the captain? I need help something fierce and I don't know where else to turn. I don't have much money but I can work real hard. But work that is, not anything else! I'm not like that kind of …well you know." She trails off and looks up at you helplessly.

OCC: Something for Blammm to get into...


Posted on 2008-03-12 at 20:56:15.


Topic: Voyages of the Rocinante - Firefly RPG QnA
Subject: Brigit
---
She is not local, but came from off world less than a year ago. She managed to attach herself to JW McClarrin, the mine's owner, within a few months and was soon tossing about that she was his fiancee. JW ain't denying things but he is off world himself a whole lot because he's a member of parliment now.

Now those who like to talk, they see a lot to tak about in Brigit. She seems to know everyone and everyone's business. She can play the weak and helpless but then again, there was that time that that Ludlow fellow was coming on strong and she faceplanted him with some fancy moves.

Some think that she isn' the faithful type either - with a real weakness towards the bad type. We ain't talking the wearing black bad boys either,but the real rough and tumble baddies than infest these lawless places like Frisco. But then again, she the one that has been pushing JW to hire a sheriff to get some law and order in this town. So take it as you want, and remember that talk is cheap when the story is good and the target is a fine sight -prettier than most.


Posted on 2008-03-12 at 20:41:49.


Topic: Continuing Where We Last Left Off
Subject: One building -going down
---
The Green officer closed in on Arien with sword and green arm at ready. He struck with the sword, an easy blow delivered out of anger that Arien deflected easily. The man was fighting like a soldier, an accomplished swordsman, but not the tricks and moves of a Green. The knight countered with a strong swipe at the man's head, just to see how fast the enemy could move. The colonel blocked the blow casually with the green scaled arm. Hitting it was like strike a stone wall. The solidness of the deflection almost wrenched the blade out of Arien's hands. Reeling from the blow, the Green attacks with his blade, but Arien's armour saved him from any real damage.

Inside, the party was caught between the crumbling building and two invisible battle mages. Kilgim having finished healing Maximus looks over to Dapple, but sees that the Rogue has recovered enough himself. "We've no time t'fight 'em in 'ere. Let's get outta 'ere. Now!" The Dwarf calls out while running towards Dapple. As the cleric approaches he sees that Dapple is moving, having drunk a potion herself so he continues onwards shouting his warnings.

"What did I miss?" Dapple rasped, her tongue thick in a dry mouth.

"Arien's gone," Char muttered. "Tru da wall, an' we go' invisible wizar's somewhere in 'ere."

The tower emphasizes his point with sounds of buckling above and the stone and mortar starting to crack. With a dramatic bang, the stairwell up to the next floor loosens in its moorings and come falling to the ground, not far from Where Jal is standing as if in a daze. The small mage seems to be listening to other voices and ignores the chaos around him. He begins to chat the incantation of a spell while looking at the roof.

Adrian casts a detect invisibility in time to see one of the Red's is running out of the room, through the only exit to the south. The other is Wind, who is busy casting a spell. Although not an expert on evocation magic, Valentine recognizes the gestures of this particular spell and realizes the dangers – the explosive force of the fireball will rip apart the tower. The Battle Mage immediately starts a counter spell with as much haste and speed that can be managed.

The spells are released, with Valentine's shortly behind that of the Red. She appears again as the fireball takes shape and is fired directly towards Jal. The Mage's skin is so pale and she crumbles to the ground as spell is complete. Then Adrian's spell counters toe energies, dispelling the mana of the spell into a fine mist and eliminating the danger.

Jal finishes his spell a few seconds afterwards, and the tower seems to stop buckling – or at least slows down. A piece of plaster falling suddenly slows down and floats to the ground. With a voice of desperation, Jal calls out to his friends and companions. "Run! Get out while you can! I can't hold this for long!"

OOC: Exits – There is the door to the south (along the 40 foot corridor) or you have windows on the east and west walls. Dapple, Kilgim, Maximus and Char are closest to the southern entrance, and the west window. Jal in in the centre, Adrian is closest to the east window but the crumbled Wind is close to the east window.


Posted on 2008-03-12 at 20:21:34.


Topic: Rhyming Game
Subject: uh huh
---
Bite Me
Posted on 2008-03-10 at 15:18:46.

Topic: Voyages of the Rocinante - Firefly RPG QnA
Subject: Details
---
Yes, I saw that. I will be providing you with more details to relay to the party.

Posted on 2008-03-06 at 17:29:04.


Topic: Continuing Where We Last Left Off Q&A
Subject: Hello
---
Yes I am still here. I am really bad at giving myself time for myself.

Anyway, I am off all next week and if I don't update all my games by the end of the week, Cathy will probably hurt me - badly.

As I have hinted before, we are so near the end of this adventure, which is really a McGuffin to the next adventure (Look it up on Wiki). I want to keep this going but once this is finished, it will be a good time for players to bail and new ones to come abroad.




Posted on 2008-03-06 at 13:12:55.


Topic: Voyages of the Rocinante - Firefly RPG QnA
Subject: Who? What? Me? It was the booze!
---
I'm still here, plugging away. Thanks for the offer Yeolde, I appreciate it. I really need to find out if Robert is coming back or not. The next part is pivotal and I need interaction that I'd rather a player did, not the DM.

I'm off for a week starting this Saturday. If I don't have all my games updated by the end of next week, Cathy will probably hurt me - badly.

Posted on 2008-03-06 at 13:05:00.


Topic: Gary Gygax has passed away
Subject: If you
---
If you want to pass well wishes or thoughts to the family of Gary, they have set up an email account.

InMemoryOfGaryGygax@gmail.com



Posted on 2008-03-05 at 16:55:43.


Topic: Gary Gygax has passed away
Subject: Order of the Stick
---
The OOTS tribute to Gary is amazing. I think it summed up precisely how I felt about Gary and the game.

I liked Penny Arcade's as well.

Posted on 2008-03-05 at 16:51:36.


Topic: Gary Gygax has passed away
Subject: From what I read
---
Gary thought that second edition was a complete waste of time. He wanted to stick to first edition and just do errata books like Unearthed Arcana. However, he didn't have controlling interest in TSR when 2nd edition was made, but he still retained copyright - so they had to credit him.

That's what I remember reading. I think Gary probably played the G edition (Gary's Home Rules)

Posted on 2008-03-05 at 16:33:43.


Topic: Gary Gygax has passed away
Subject: Gary Gygax has passed away
---
Just read the news, Gary Gygax, the inventor of D&D passed away.
From CNN article:

He had been suffering from health problems for several years, including an abdominal aneurysm, said his wife, Gail Gygax.

Gygax and Dave Arneson developed Dungeons & Dragons in 1974 using medieval characters and mythical creatures. The game known for its oddly shaped dice became a hit, particularly among teenage boys, and eventually was turned into video games, books and movies.

Gygax always enjoyed hearing from the game's legion of devoted fans, many of whom would stop by the family's home in Lake Geneva, about 55 miles southwest of Milwaukee, his wife said. Despite his declining health, he hosted weekly games of Dungeons & Dragons as recently as January, she said.


Ahh...Gary. We'll miss you.




Posted on 2008-03-04 at 21:09:37.
Edited on 2008-03-04 at 21:10:39 by Alacrity


Topic: A Literary Review Thread
Subject: Green
---
I think you are confusing them with the Luddites that believe all of societies problems are because of Gene Roddenberry. :-)



Posted on 2008-02-28 at 20:19:43.


Topic: A Literary Review Thread
Subject: Dies the Fires
---
I am enjoying a book by S.M. Stirling called Dies the Fires. It is an alternate history where something happens in 1998 called The Change. Basically the laws of physics are changed in a split second and everything mechanical stops working. Guns, engines, electricity, anything that is high energy just stops and the world is thrown into chaos.

Much like Stephen King, the jewels of this book are the characters. He creates these interesting characters that you really like or hate and takes you for the ride along with them.

The book requires a high level of suspension of disbelief. He doesn't explain why the change happens and the logic of it is strained in some places.The author also has a thing for Wiccan beliefs and goes on and on about them. But if you can put that aside, it is an interesting look at the base level of human nature and the will to survive - no matter what.

Posted on 2008-02-26 at 21:30:44.
Edited on 2008-02-26 at 21:33:01 by Alacrity


Topic: Voyages of the Rocinante - Firefly RPG QnA
Subject: Question for crew
---
Do you all have an account for funds transfers? You might if you want to be considered legit in the core, but that means you are easily tracked by the Feds whenever you make a deposit/withdawal. You will also be taxed.

If you work cash/platinum only, then you are off the books, no taxes taken and free to do as thou wilst. However, the method of payment that Brigit just suggested won't work.

Posted on 2008-02-26 at 15:20:05.


Topic: Olan's baby photobucket
Subject: cute
---
Great pictures. I just posted some new ones of Will too.

Posted on 2008-02-22 at 15:17:10.


Topic: William Pictures
Subject: Mo mo more
---
Some more pictures of William for you. He is over 16 lbs at a week shy of three months. Already wearing 12 month sizes and beyond.

Sigh - We don't have small children...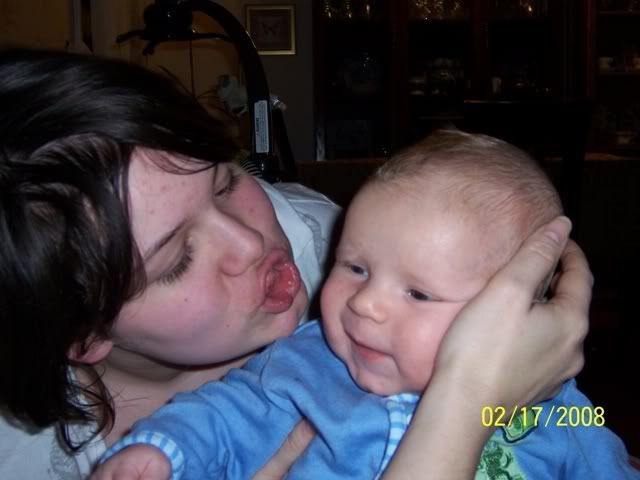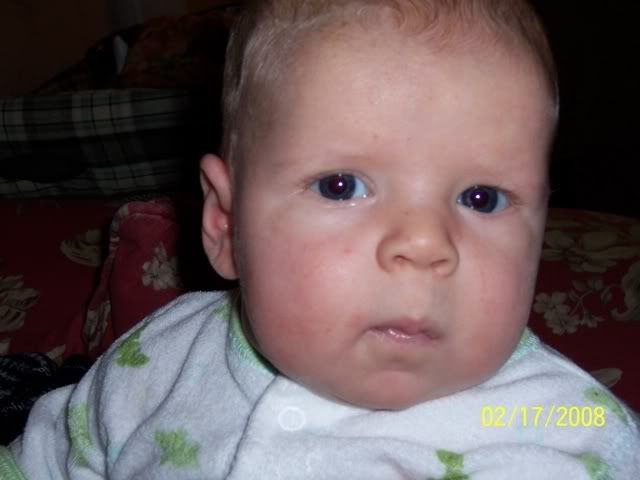 Posted on 2008-02-22 at 15:16:16.

Topic: Continuing Where We Last Left Off Q&A
Subject: That would be nice
---
Good to have you back. I would hate to kill off both Mages when the cleric in the party is about to commit assisted suicide.

Grab Dapple and run? What were you thinking Kilgim?

Posted on 2008-02-20 at 17:55:50.