Topic: Grugg
Subject: News from the Grugg
---
Officially discharged from hospital and heading home. Basically need to return to hospital every day and have limited legs and arm function so probably won't be out or about for a few weeks but this is progress! Can't really do anything but looking forward to fresh air and my own bed. Woo.

Posted on 2016-03-02 at 16:04:07.


Topic: The Death of the Inn?
Subject: all very good points Schnozzle
---
I am working on a brand new game system designed strictly for the inn and on line playing. It will be a Gladiator style game.

I have been thinking about the guide to games and RDI article. It is a good idea, probably necessary but I am a bit pressed for time.

Suggest away anytime you want. We love to her input.

Posted on 2016-02-26 at 07:20:31.


Topic: Star Trek: the Edge of Duty Recruitment
Subject: Actually
---
You are both right. I was thinking the Deadpool cameo of Stan Lee mixed with a bit of Guinan added in. See there was this technician who programmed a sentient virus that would infect and take over a ships computer. But the science officer discovered it, yet could not debug it as it was too complex and self aware. So he dumped into into a holodeck program where it took on a life as a DJ in the Electric G-string. The virus



Whoa!!!! Hey. I am not joining this game. No time. Gladiators. Got to write gladiators.

Posted on 2016-02-25 at 19:20:54.


Topic: Star Trek: the Edge of Duty Recruitment
Subject: ok
---
I'll be the wise and knowledge Disc Jockey in the 1980's stripclub holo-deck program #2.

Posted on 2016-02-25 at 14:51:08.


Topic: Star Trek: the Edge of Duty Recruitment
Subject: yeah, no
---
I will not be playing in this round of Star Trek. Avanti, Bob and Tier are sitting this one out. As much as I love to write for the three of them, I do not have the time. I am currently working on a gladiatorial combat game designed to play as an online PBP but with a Board game feel.

Posted on 2016-02-25 at 11:35:11.


Topic: Star Trek: the Edge of Duty Recruitment
Subject: nice
---
I do have to say that the Trek tool is one of my favour Olan creations. Very neat and stylish.

Posted on 2016-02-25 at 08:14:54.


Topic: A big thank you to Tann
Subject: Yay!!!
---
Yes, thank you Albert. I have accepted 15 people into the Friends of Red Dragon Inn facebook page in the last 3 days.

Great Job.

Posted on 2016-02-23 at 13:06:48.


Topic: CWWLLO QnA
Subject: No
---
The tomb was cleared 75 years ago. Re-read the original posts

Posted on 2016-02-20 at 04:31:52.


Topic: CWWLLO QnA
Subject: Let me sum up
---
Galen, the guy who you are here to rescue along with three Elven women, was part of the group that cleared the tomb and destroyed the Demi-lich. Now he has been abducted and the trail lead back to the tomb of horror.

You were lead to believe that a black cauldron holding three witches of powerful evil were responsible and hoping to use the bodies of the elf maids to live again outside the spiritual prison of the cauldron. However, the cauldron in the room and the mention of the Demi-lich's name has called all this into question.

Posted on 2016-02-18 at 19:37:04.


Topic: Weird War II Q n A
Subject: No gunfire
---
There was no gunfire and Star did not throw the holy water. The wax figurine dissolved like it had been hit by machine gun fire but no sound was heard

Posted on 2016-02-18 at 19:18:26.


Topic: CWWLLO QnA
Subject: Yes you have heard it before
---
Name of the guy whose tomb you are in.

Posted on 2016-02-18 at 19:09:24.


Topic: Weird War II
Subject: get down
---
The wax priestess seems to either be confused by Star's words or mulling them over – hard to say with a molded face. But suddenly her eyes and hands glow intensely blue and she makes a grabbing gesture in the air and cries out, " Hamon-rye im yaeud syd maebad bldy!"

All the men in the room feel incredible pain at the same time – like a vice was suddenly clamped around their heart. Unable to do anything due to the searing agony within their chests – they all fall to the ground.

Then holes begin to appear in the wax figure. A bunch of holes tear open across her chest like someone strafed her with a machine gun. Then more holes perforate her body in the torso and head until the wax figure crumbles to pieces. As she does, the blue light disappears and the men are no longer suffering.

The remains of the wax lie on the floor and do not reform or move in anyway.


Posted on 2016-02-18 at 10:10:53.


Topic: CWWLLO QnA
Subject: maps
---
Note, the map of this room included a lot of secret doors and traps I took out so do not let the map fool you into believing the floor is not solid. There are grooves in the floor where sliding walls once were.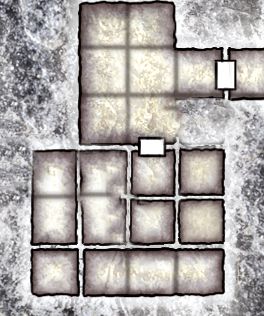 Posted on 2016-02-18 at 09:22:03.

Topic: Continuing Where We Last Left Off Again
Subject: back
---
The stone stairs are created and the party moves up to the doorway. It is a simple door made of oak, bound with iron and Maximus does not locate any traps hidden on the doorway. Opening it and moving in, there is a brief moment of disorientation as the gravity shifts back to where it was when you first entered the tomb. Luckily, you are within a few feet of the floor when this happens so there is no far to fall. Once you have righted yourselves, you look around this room.

This large room (30x40) looks like it is or was in the process of renovations. There are sections of walls removed and torn down. Stone dust and plaster bits cover the floor. Other than the door you came in through, there are no other exits apparently.

In the centre of the room, illuminated by a single bean of light from the ceiling, is a woman, chained to a stone chair and with a black cauldron placed on her head, covering her face and shoulders. She is wearing a simple white dress than is dirty and bloodstained in places. Her figure is definitely feminine. She is however alive as she calls out as you enter the room, "Acererak? Acererak? Is that you? What foul tortures do you have prepared for me this time? You have not broken me yet and never shall!"


Posted on 2016-02-18 at 09:13:42.


Topic: The Death of the Inn?
Subject: so
---
not so much dead as extremely sleepy.

Posted on 2016-02-17 at 13:05:52.


Topic: The Death of the Inn?
Subject: so what you ate saying
---
I will admit to being confused but what I think you are saying is it is pretty dead here at the inn but NOT that the inn is going to die by you pulling the plug? A re-vamp or reset of the inn is not on the schedule for the foreseeable future but you are still keeping the lights on and paying the cleaning staff.

Am I correct?



Posted on 2016-02-17 at 12:28:32.


Topic: Fortune's Favoured Q&A
Subject: news from the Grugg
---
Grugg figures that he has a month of rehab left and then will be back on his feet again. He asks your patience for his return.

Posted on 2016-02-17 at 12:23:19.


Topic: The Death of the Inn?
Subject: Sigh
---
This is no real surprise to me. Olan is right, the activity on the Inn has been fading over time and players are not staying here. The inn has run for 20+ years and that is pretty good for the internet. When it started there was no facebook, no twitter, no instagram and your phones weren't the main way to access the web. But now they are all here and the inn really has not changed to fit the new world. To try an make it modern would require a lot of time and effort that I don't have and I do not think Olan or anyone else does.

I do not see the point of keeping it here as an archive. An archive can be put into a pdf form and placed in Google docs or Dropbox for any who want a copy really. Why pay the expense of maintaining the site?

Thank you all for the good run. I enjoyed the games we played and the time that was spent here.




Posted on 2016-02-17 at 08:40:11.


Topic: CWWLLO QnA
Subject: well
---
you are definitely overthinking this

The terragoyles can not pull you through the wall but they can make you wish they could.

As we have been at this for awhile and everyone might need a refreshed, I will post a status of where you are on spells and mana. When I have some time.





Posted on 2016-01-30 at 09:45:57.


Topic: Tann's NFL U Pick em Game 2016-17
Subject: so
---
It was fun while it lasted. Thanks for organizing the game Tann.

Posted on 2016-01-25 at 08:33:32.


Topic: Continuing Where We Last Left Off Again
Subject: Jarenion the Slayer
---
Kadrin moved to face the gargoyles with shield and warhammer ready. The old general had faced flying foe before and knew that positioning was everything. He moved away from the party to prevent them being able to attack en mass and made his move to attack first. His hammer struck the gargoyle hard in the face as it dove downwards, the sound of hammer against stone rang across the room. The charge of the gargoyle was ended and it crashed and rolled to across the ground, but still came back up to move towards the general.

Maximus attacked with his swords as a strong creature attacked him from above. The magic of his weapons was strong enough to pierce the rocky hide of the creature several times but he was unsure whether he got a good attack in or not. Lucky, is speed and armour was enough to turn the claws and fangs of the gargoyles away.

Using Scalpel and Suction together, Sparrow engaged the gargoyle in close. The two sprawl across the stone floor, striking at each other in earnest. In the end, Sparrow kicked the monster off of her and slashed it several placed. The gargoyle scored wounds against Sparrow but the magic of suction drew energy from the creature and healed the wounds as quickly as they were made.

The Ody-Bear attacked with axe and fervour against the gargoyle. His axe bit deep into its side and it howled in pain. The monster managed to bite Ody, but in his bear-form, the gargoyle was unable to hurt him.

Jarenion rarely stood toe to toe with monster sin combat, but he did so against these beasts. As the one moved to rake claws across the mage, he struck with staff and muttered a quick incantation. There was a bright flash, a sound like bacon frying in a hot pan and the gargoyle was no more than dust in the floor of the room.

The gargoyles fly back away from your party and regroup. They are clearly rattled by the mage's staff and the death of one of their comrades. The three that are left then dive into the stone floor like passing through water. You look around at each other and keep up your guard, but another attack does not come.

Posted on 2016-01-24 at 09:37:42.


Topic: CWWLLO QnA
Subject: Sorry
---
Have some issues with William and his sleeping habits recently. I'm still here - just sleepy

Posted on 2016-01-19 at 10:23:27.


Topic: Tann's NFL U Pick em Game 2016-17
Subject: hmmm
---
New England
Arizona

Posted on 2016-01-19 at 10:19:40.


Topic: Weird War II Q n A
Subject: Sure
---
A SEAL Green Beret Special Forces Texas Ranger type I am sure.
Posted on 2016-01-13 at 10:48:27.

Topic: Weird War II Q n A
Subject: Rex lives
---
Tann will be taking the role of Rex in the game. Since we have not heard from Rex in awhile and his role was sorta a duplicate - we will be editing his character a bit and making him more of the scout/point man from the team.





Posted on 2016-01-13 at 09:46:35.