Topic: Gladiator QnA
Subject: please read rules
---
The choices of weapons are outlined in the rules. Trident would be long and based on the picture the armour is light. Nets are not an option in the game.

Posted on 2016-03-03 at 16:22:35.


Topic: Gladiator QnA
Subject: umm
---
You are not in Rome Spartacus. This. is. ALACRITYVILLE!


Posted on 2016-03-03 at 14:58:23.


Topic: Gladiator QnA
Subject: Geez!
---
You got a drone watching me from Texas Tann? That was rather fast!

Okay Olan, Robert and Lance, you are up.

Posted on 2016-03-03 at 14:42:54.


Topic: Gladiator QnA
Subject: The Glad in Gladiator
---
What follows is a set of rules for a game I have been working on for awhile now. Time to play test it. The first game will have four players but I have three volunteers already so if you want the fourth, speak quickly.

Welcome to Alacrityville - the capital of the great and wondrous Alacrity Empire. Stretching from Sea to Sea, the Alacrity Empire has grown and prospered over the last 500 years and will continue to do so until the end of time. But unfortunately, there has been a sad passing in the Empire and the Grand and Wise Emperor Decimus Binkley succumbed to a childhood illness at the age of 75. His imperial Majesty did not have a son but mercifully decided to avoid a civil war through adoption of his favourite cat - Bill.

To celebrate his Imperial Majesty Bill the Cat's coronation, 100 days of celebration have been declared with free food and gladiatorial games. There will be fun and frivolity for all with free bread and beer plus every Thorsday is pastry night!

In this game you are a newly recruited (enslaved) gladiator for the games celebrating the crowning of the new emperor. The people of Alacrity (called Al's) are famous for their love of blood sports and gladiatorial combat. Being a gladiator is a better life than most slaves in Alacrity, in that you can at least die to escape your life, but in the end you are a slave and your life is not yours to command anymore. You have a patron who bought you and will use you to make money.

There are four ways out of the arena. You can die - that's the easy one and trust me - many of you will die (don't get too attached, you can always create a new one at 0 level). You can earn coin to buy your freedom. You can win games and advance in training to become a valued asset of your patron with all the perks. Finally you can woo and awe the mob to build prestige, become a celebrity of the games and a professional showman.

This is a simple set of rules I developed in an attempt to simplify the online game process. Combat is very easy for the GM to resolve and determined within a few die rolls and there is an objective of winning the game. It is meant to have a board game feel to it but that does not mean there is no room for roleplaying. You can write long posts about your character and their struggles to survive or you can simply play the game to enjoy the combat and try to win. The other aspect of this game is that if RL gets in your way of posting, you can simply put your character in with a basic strategy and I can run with it for awhile.

There are four classic races in Alacrity (Human, Dwarf, Elf and Half-orc) but the Al's are predominately human. Al's are very non-biases when it comes to race or genders in all aspects of life and entertainment so there are both female and male gladiators.

All warriors have 4 stats:
Strength - Physical strength
Stamina - Ability to keep moving and fight
Presence - How you look and project yourself to the mob
Agility - How quick you move and react
All abilities start at 0, Max score in any one skill is +2. Max total for all skills combined is +3. Lowest total score -3.

Every player picks one weapon, armour, and a race. None of these can be changed later, once you choose to be a Dwarven heavy axe wielder in medium armour - that is what you are stuck with for the game (unless you die). Al's like consistency and training is costly. Give yourself a "fighting" name to be called by the heralds and as much of a background as you choose to make up. Three pages of discourse or "was farmer, got captured" are equally acceptable.

Weapons
Light: Advantage: 2 attack every other round, better chance to hit, Disadvantage: Lower damage, parry not very effective
Long: Adv: Reach allows attack one square away Dis: Middle of road for attack and defense
Heavy: Adv: Great damage Dis: lower chance to hit

Armour
Light: Adv: full movement, split moves Dis: Armour has little Soak
Medium: No real adv/dis. some Soak, -1 step penalty
Heavy: Adv: Great Soak. Dis: -2 step penalty and lower dodge

Race and Stats
Special abilities are usable once per battle and are in lieu of an attack
Human +1PRE, -1STA
Special Ability: 2nd wind - regain 5 hp
Dwarf +1STA, -1AGL
Special: Steadfast - Increase Soak by 5 hp
Elf +1AGL, -1STR
Special: Blur - +5 to defense rolls in a round
Half Orc +1STR, -1PRE
Special: Berserk - Add +5 to damage for one round

Combat: based on a d12
Initiative rolled with AGL bonus
Light armour gets +1 on initiative and heavy armour gets -1.
Whoever gets highest total goes first and declares who they are attacking and then picks an attack. Defender picks a defence.

Attacker rolls their attack and defender rolls defence. Defence roll give a certain amount of protection (amount subtracted) from the damage if hit is successful. If attack hits and damage is done, then SOAK of the armour is rolled to see how much is taken from the damage (STA bonus applies to SOAK). Armour gives a SOAK chance based on light, Medium or Heavy and it is rolled as well. Damage ranges from d3 to 2d6 plus bonuses.

The arena is setup like a checkerboard and movement is based on the squares. Movement rate is 5 squares per round but armour slows this down. You can move and attack once per round (or attack and move). Only Light armour wearer can split their movement rate to move attack and move again.

Three kinds of attack: (STR)
Basic (better chance to hit, less damage)
Finesse (middle chance to hit with middle damage)
Hard (Least chance to hit but big damage)

Two kinds of defence: (AGL)
Dodge (best chance, least effect)
Parry/Block (low chance and greater effect)


Special Attacks - open to all races, (usable only one per battle, no combos)
Precise (+1 to attack and damage)
Fast (roll twice for attack, take best)
Charge (roll twice for damage)

All warriors start with 20 hit points. Additional HP can be earned if you follow the training Path.

Movement - As stated before, Movement rate is 5 squares per round but armour slows this down. You can move and attack once per round (or attack and move). Only Light armour wearers can split their movement rate to move attack and move again. If you are wounded pass half of your hit points, you also suffer a -1 penalty to your movement. Note you can nly attack an opponent in a square adjacent to you unless you are using a long weapon, then you may attack from one square away.
Fumbles/Critical - If you roll a 1 on an attack, no matter what bonuses you have, you fumble. This means you lose all attacks that round if you have not attacked already and you automatically fail on all defence rolls. Critical is if you roll 12, modified or not and it means you do the maximum damage of the weapon.
Flanking attack - Toe to toe fighting, you cannot flank an opponent, however if dealing with multiple opponents and you are not engaged with an enemy during your turn, then you can choose to flank attack an enemy fighting a team mate. When you do, then you get a bonus of +1 on your attack. Note this applies to enemy teams as well.
Riling and pleasing the Mob - The mob's cheering, booing or screaming in anger can effect what happens in the arena. If you are following the Prestige path, then for every 3 levels you have (so once a 3rd, two times per battle at 6th etc), you can choose to work the crowd before an attack. You can choose to give yourself a bonus of +1 on your attack (cheers) or a -1 penalty on your opponent (booing). Repeating attacks - The crowd gets bored with gladiators who attack the same way, every round. If you attack the same way for more than three rounds in a row, you have a 50% chance of the crowd booing you for a -1 penalty. The chance increases but 10% and additional -1 per round.

Advancement and Levels
There are three paths to success in the arena and any one can lead to winning the game. The three paths are Training, Prestige and Money. After each battle you will receive advancement points (AP). You get 1 point if you are alive at the end (yay!). You get 1 point for any opponent you killed (final blow only). You also get to add any presence bonus here or if you have a penalty - it comes off. You can follow all three paths if you choose but only one reaching 70 AP or 10th level is enough to win.

Training is the path of working hard, being a good gladiator, doing what you are told so that in the end your owner will elevate you to the status of a trainer or a member of his personal staff. To achieve this you must reach 10th level through your AP on the Training chart below.

Prestige is the path of glory and celebrity through the love of the mob and playing to their whims. If you reach 10th level in prestige, you become so popular that you can leave the games, go on tours, entertain senators and rich people and be paid for just being there.

Money is simply that - cash. You trade your AP for silver pieces and you need 70 silver pieces to become a free man.
Training/ Prestige/Money Chart (everyone starts out as 0 level, money does not have levels)

Level AP needed
0 0
1 3
2 6
3 10
4 15
5 21
6 28
7 36
8 45
9 55
10 70

Training gives you 2 hp for every level of advancement you attain. Prestige gives you the ability to "rile" the crowd and cause penalties to your opponent's attack. Money does not serve you in the arena and there are no levels.

The random events in the game give you or take way money, prestige and training. Or it may do absolutely nothing. You may exchange two points of any path to "buy" one point of another. So if you got a windfall of 4 coins in an event and you were following the Training path - you buy training for 2 to 1. Note, once you reach a level threshold, you cannot spend the points to lower your level. So if you spent 15 to be 4th in Training and decided you wanted to get prestige instead, you can only spend the points you have above 15 and 21 which is the next level. So if a Prestige follower had 19 AP and decided to switch to the money path - he could only spend 4 of his points (19-15=4). The longer you go, the hardest it is to switch paths. The exception to this is money which you can spend as much as you have at any point.

Game Play
Your character will start in the arena, given your starting positions and be told what or who you will be fighting. It could be animals or humanoids or other gladiators. Very rarely are monsters are used because they tend to attack the crowd and the mob gets upset about that and the senate has to actually do work, so it is very rare. You will be on a team usually, with the other slaves owned by the same master, but that can change in the later games. Al's like theatrics so sometimes you will fight a bunch of elves that have black pitch poured on them and called Drow - whatever gets the crowd going wild. Don't even ask what they do during Minotaur night....

Combat is fought in a series of rounds until one team or opponents are slain or dispatched. You are then taken away to your master's villa where you receive healing and care. Remember you are a valuable commodity so they need you healthy, but emphases on the commodity as long as you are valuable. After the battle is over, you receive your advancement points which you can allocate to whichever advancement path you choose. (See Advancement Levels)

At this point the GM rolls on a 100 item list of random events that occur to each player before or during their next battle. Of the 100, 20 are Prestige, 20 are for Training, and 20 are for Money (of these 20, 10 are positive and 10 are negative). Of the final 40 events, 20 are neutral and will not have an effect on the player, 18 directly impact their person) and ability to fight (9 good and 9 bad) and finally 2 instantly kill your character (you may create a new one at 0 level). A random event is rolled for each player and applied to the character for the next battle.

Roleplaying - Optional Rule
Roleplaying in the game can be fun if the players want to play a "role" in the arena such as the noble hero, the dastardly villain or the desperately seeking escape fugitive. Good roleplaying is rewarded in the form of Fortune Points. Players get 1 point whenever the GM feels the player has done an exception job of roleplaying a scene. The FP can be used by the player to ask for "do-over" rolls on defence rolls and events only. So your random event has left you dead on the streets? - use 1 FP to get a new roll. Did not get the defence roll on the potentially deadly hit - use an FP to re-roll the defense. Only 1 FP point is allowed per battle or event - no rolling until you are clear.


Posted on 2016-03-03 at 14:25:23.
Edited on 2016-03-03 at 14:28:55 by Alacrity


Topic: Fortune's Favoured Q&A
Subject: News from the Grugg
---
Officially discharged from hospital and heading home. Basically need to return to hospital every day and have limited legs and arm function so probably won't be out or about for a few weeks but this is progress! Can't really do anything but looking forward to fresh air and my own bed. Woo.

Posted on 2016-03-02 at 16:04:53.


Topic: Grugg
Subject: News from the Grugg
---
Officially discharged from hospital and heading home. Basically need to return to hospital every day and have limited legs and arm function so probably won't be out or about for a few weeks but this is progress! Can't really do anything but looking forward to fresh air and my own bed. Woo.

Posted on 2016-03-02 at 16:04:07.


Topic: The Death of the Inn?
Subject: all very good points Schnozzle
---
I am working on a brand new game system designed strictly for the inn and on line playing. It will be a Gladiator style game.

I have been thinking about the guide to games and RDI article. It is a good idea, probably necessary but I am a bit pressed for time.

Suggest away anytime you want. We love to her input.

Posted on 2016-02-26 at 07:20:31.


Topic: Star Trek: the Edge of Duty Recruitment
Subject: Actually
---
You are both right. I was thinking the Deadpool cameo of Stan Lee mixed with a bit of Guinan added in. See there was this technician who programmed a sentient virus that would infect and take over a ships computer. But the science officer discovered it, yet could not debug it as it was too complex and self aware. So he dumped into into a holodeck program where it took on a life as a DJ in the Electric G-string. The virus



Whoa!!!! Hey. I am not joining this game. No time. Gladiators. Got to write gladiators.

Posted on 2016-02-25 at 19:20:54.


Topic: Star Trek: the Edge of Duty Recruitment
Subject: ok
---
I'll be the wise and knowledge Disc Jockey in the 1980's stripclub holo-deck program #2.

Posted on 2016-02-25 at 14:51:08.


Topic: Star Trek: the Edge of Duty Recruitment
Subject: yeah, no
---
I will not be playing in this round of Star Trek. Avanti, Bob and Tier are sitting this one out. As much as I love to write for the three of them, I do not have the time. I am currently working on a gladiatorial combat game designed to play as an online PBP but with a Board game feel.

Posted on 2016-02-25 at 11:35:11.


Topic: Star Trek: the Edge of Duty Recruitment
Subject: nice
---
I do have to say that the Trek tool is one of my favour Olan creations. Very neat and stylish.

Posted on 2016-02-25 at 08:14:54.


Topic: A big thank you to Tann
Subject: Yay!!!
---
Yes, thank you Albert. I have accepted 15 people into the Friends of Red Dragon Inn facebook page in the last 3 days.

Great Job.

Posted on 2016-02-23 at 13:06:48.


Topic: CWWLLO QnA
Subject: No
---
The tomb was cleared 75 years ago. Re-read the original posts

Posted on 2016-02-20 at 04:31:52.


Topic: CWWLLO QnA
Subject: Let me sum up
---
Galen, the guy who you are here to rescue along with three Elven women, was part of the group that cleared the tomb and destroyed the Demi-lich. Now he has been abducted and the trail lead back to the tomb of horror.

You were lead to believe that a black cauldron holding three witches of powerful evil were responsible and hoping to use the bodies of the elf maids to live again outside the spiritual prison of the cauldron. However, the cauldron in the room and the mention of the Demi-lich's name has called all this into question.

Posted on 2016-02-18 at 19:37:04.


Topic: Weird War II Q n A
Subject: No gunfire
---
There was no gunfire and Star did not throw the holy water. The wax figurine dissolved like it had been hit by machine gun fire but no sound was heard

Posted on 2016-02-18 at 19:18:26.


Topic: CWWLLO QnA
Subject: Yes you have heard it before
---
Name of the guy whose tomb you are in.

Posted on 2016-02-18 at 19:09:24.


Topic: Weird War II
Subject: get down
---
The wax priestess seems to either be confused by Star's words or mulling them over - hard to say with a molded face. But suddenly her eyes and hands glow intensely blue and she makes a grabbing gesture in the air and cries out, " Hamon-rye im yaeud syd maebad bldy!"

All the men in the room feel incredible pain at the same time - like a vice was suddenly clamped around their heart. Unable to do anything due to the searing agony within their chests - they all fall to the ground.

Then holes begin to appear in the wax figure. A bunch of holes tear open across her chest like someone strafed her with a machine gun. Then more holes perforate her body in the torso and head until the wax figure crumbles to pieces. As she does, the blue light disappears and the men are no longer suffering.

The remains of the wax lie on the floor and do not reform or move in anyway.


Posted on 2016-02-18 at 10:10:53.


Topic: CWWLLO QnA
Subject: maps
---
Note, the map of this room included a lot of secret doors and traps I took out so do not let the map fool you into believing the floor is not solid. There are grooves in the floor where sliding walls once were.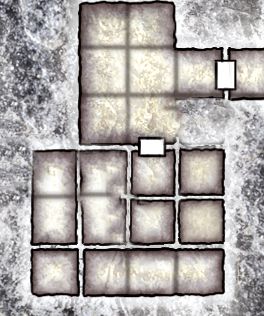 Posted on 2016-02-18 at 09:22:03.

Topic: Continuing Where We Last Left Off Again
Subject: back
---
The stone stairs are created and the party moves up to the doorway. It is a simple door made of oak, bound with iron and Maximus does not locate any traps hidden on the doorway. Opening it and moving in, there is a brief moment of disorientation as the gravity shifts back to where it was when you first entered the tomb. Luckily, you are within a few feet of the floor when this happens so there is no far to fall. Once you have righted yourselves, you look around this room.

This large room (30x40) looks like it is or was in the process of renovations. There are sections of walls removed and torn down. Stone dust and plaster bits cover the floor. Other than the door you came in through, there are no other exits apparently.

In the centre of the room, illuminated by a single bean of light from the ceiling, is a woman, chained to a stone chair and with a black cauldron placed on her head, covering her face and shoulders. She is wearing a simple white dress than is dirty and bloodstained in places. Her figure is definitely feminine. She is however alive as she calls out as you enter the room, "Acererak? Acererak? Is that you? What foul tortures do you have prepared for me this time? You have not broken me yet and never shall!"


Posted on 2016-02-18 at 09:13:42.


Topic: The Death of the Inn?
Subject: so
---
not so much dead as extremely sleepy.

Posted on 2016-02-17 at 13:05:52.


Topic: The Death of the Inn?
Subject: so what you ate saying
---
I will admit to being confused but what I think you are saying is it is pretty dead here at the inn but NOT that the inn is going to die by you pulling the plug? A re-vamp or reset of the inn is not on the schedule for the foreseeable future but you are still keeping the lights on and paying the cleaning staff.

Am I correct?



Posted on 2016-02-17 at 12:28:32.


Topic: Fortune's Favoured Q&A
Subject: news from the Grugg
---
Grugg figures that he has a month of rehab left and then will be back on his feet again. He asks your patience for his return.

Posted on 2016-02-17 at 12:23:19.


Topic: The Death of the Inn?
Subject: Sigh
---
This is no real surprise to me. Olan is right, the activity on the Inn has been fading over time and players are not staying here. The inn has run for 20+ years and that is pretty good for the internet. When it started there was no facebook, no twitter, no instagram and your phones weren't the main way to access the web. But now they are all here and the inn really has not changed to fit the new world. To try an make it modern would require a lot of time and effort that I don't have and I do not think Olan or anyone else does.

I do not see the point of keeping it here as an archive. An archive can be put into a pdf form and placed in Google docs or Dropbox for any who want a copy really. Why pay the expense of maintaining the site?

Thank you all for the good run. I enjoyed the games we played and the time that was spent here.




Posted on 2016-02-17 at 08:40:11.


Topic: CWWLLO QnA
Subject: well
---
you are definitely overthinking this

The terragoyles can not pull you through the wall but they can make you wish they could.

As we have been at this for awhile and everyone might need a refreshed, I will post a status of where you are on spells and mana. When I have some time.





Posted on 2016-01-30 at 09:45:57.


Topic: Tann's NFL U Pick em Game 2016-17
Subject: so
---
It was fun while it lasted. Thanks for organizing the game Tann.

Posted on 2016-01-25 at 08:33:32.