You are here: Home --> Forum Home --> Recent posts by Alacrity


Topic: Voyages of the Rocinante - Firefly RPG QnA
Subject: NP

---
Not a Problem Ody. I have a post from you and I am pretty sure I know what Ma intends to do.

Posted on 2014-04-22 at 15:01:07.


Topic: Voyages of the Rocinante - Firefly RPG QnA
Subject: Posting soon
---
I will be posting soon and LOTS will be happening so please read carefully. Hopefully get the post up before the end of the week.

This is going to wind up soon. A couple of posts, maybe three or four.

Posted on 2014-04-22 at 12:49:21.


Topic: Pilot on Destiny
Subject: sigh
---
At this point I am going to turn the actions and reaction side of Tess over to Odyson and I will NPC her for the rest. See if we can get a new pilot later.



Posted on 2014-04-22 at 12:47:30.


Topic: Dwarf cleric needed
Subject: Sheet
---
There is a basic write up on the character thread. I will send you a char sheet Almerin. Thanks for coming aboard.

Posted on 2014-04-20 at 11:11:50.


Topic: Dwarf cleric needed
Subject: Hammer down
---
Hammer has many commitments right now so I need someone to run the cleric until the end of the campaign. Almerin, you would be a welcome addition always.

Posted on 2014-04-19 at 17:46:00.


Topic: Pilot on Destiny
Subject: writing Tess Out
---
The adventure they are currently could be Tess's last but it would have to play out. I am reluctant to kill her off and would prefer having her find something to draw her away.

I need someone interested in playing with a commitment to once a week posting.

Posted on 2014-04-19 at 17:42:42.


Topic: Pilot on Destiny
Subject: Anyone?
---
Must be some fans of Serenity out there?

Posted on 2014-04-18 at 18:53:29.


Topic: Dwarf cleric needed
Subject: hey over here
---
Just moving this up to the top five list.

Posted on 2014-04-18 at 18:52:59.


Topic: Dwarf cleric needed
Subject: Dwarf cleric needed
---
I am looking for someone to take over the character of Gamard the Grim in the Isle of Putnam game. he is a Dwarven (Khord) cleric of 2nd level (2e). If you are interested, please let me know.

Posted on 2014-04-16 at 17:46:16.


Topic: Pilot on Destiny
Subject: Pilot on Destiny
---
I am looking for a player to take over a character in Destiny's flight. It is a Serenity RPG game abroad a ship called Destiny and the cheater is Tess, the pilot.

If you prefer to get your own character in, that can be done if you can just play Tess until she can be written out of the campaign.

Let me know.

Posted on 2014-04-16 at 17:43:56.


Topic: The Gobber King- QnA
Subject: okay.
---
As you wish.

*pulls out Alacrity's extra long table of Wandering monsters*




Actually considering you swam to the island, searched all day for a water source, found the door, you have been going for some time.

Posted on 2014-04-14 at 19:20:53.
Edited on 2014-04-14 at 19:22:46 by Alacrity


Topic: The Gobber King- QnA
Subject: really?
---
Your first big fight and you want to rest?

Posted on 2014-04-14 at 17:26:36.


Topic: Destiny Flight - QnA
Subject: EVA on Destiny
---
Before someone asks, and this came up in the Rocinante game, I feel I should address where the EVA hatches are on the ship. Not that I am planning anything. Well, I am, but that is not the point.

Starting from the lower deck. There is a drop door in the floor of the cargo bay. There is a two man lifepod under the Engineer's cabin, but it has no external access, only interior (not even visible from exterior). The main airlock is a self sealing one for connecting to ships. The external controls for the door have a 108 pin password that changes every 10 minutes based on a Grace algorithm, but only when the ship is in flight or someone actives the security protocols.

Middle Deck: EVA hatch in corridor #14, near stairs.#13, the Hovermule storage has a hatch as well. There is a trap door in the galley #7 that leads to the cargobay #18 (only crew know of this)

Upper deck: There is a shuttle on the top of the ship so there is a EVA Hatch to it. The shuttle has a 108 pin password on both doors that changes every 10 minutes based on a algorithm that Grace does in her head. This is only for external access, not internal. As well there is a Hatch in the ceiling above the circular stair case outside 5-6. That hatch has no external access either, only from within (not even visible from exterior).

Note the shuttle for Destiny is a bit bigger than Rocinante's and it has a drop floor opening as well as to side doors. I should finds someone to draw the ship up for me one day.

Posted on 2014-04-12 at 18:40:53.


Topic: Voyages of the Rocinante - Firefly RPG QnA
Subject: In addition
---
Albert - I almost forgot. There is also a drop door on the cargo bay of course. It has two doors to keep the pressure from escaping and it is what you drop decoy missiles from. Jayne used it in the Train job and in the Movie.



Posted on 2014-04-12 at 17:20:21.


Topic: The Gobber King
Subject: battle over
---
The big bugbear come towards Alôndas with anger in his eyes and rage on its face. But that proves to be his undoing as he swings wildly, missing the Syl mage completely. The spell that Alôndas chose was a fast one, and with a quick incantation, he flashed bright scintillating colours into the creatures face. It reels backwards, stumbles and then falls unconscious to the ground at the Syl's feet.

Loading another stone to his hoopak, Wembley took aim at the bugbear who had fallen as it was moving qand attempting to bring a potion out of its pouch. He fired at the creature while prattling on with the masseuse. "What of massages do you do? Could you massage my friends and I after we finish with these big guys out here? I think my neck is feeling a little tight. Do you ever have a tight neck? I would imagine giving massages all day would leave you really wound up. I think these big guys out here are really wound up! Oh! Hey! Maybe you could go out there and give them a massage. Oh! I bet they would really like you. Maybe it would help calm them down some, you know? My uncle always says..."

The Masseuse only repeats her usual response that he heard when he entered. The first stone that Wembley shoots is fired just as the Bugbear brings the flask to its lips. The stone shatters the ceramic container and the blue liquid splashes on the floor. He does not wait and quickly fires another that hits the monster in the forehead and the bugbear collapses as still as his leader beside him.

On the other side, the swimming bugbear leaps up out of the water in surprise and roars with displease. He slogs a charge through the water towards Mal and Crow but the two warriors are on him before he can clear the pool. Between the two of them, they deflect his blows and end its life.

The battle is over but Crow is wounded and one of your clerics lies still, face down, in the pool that is turning red now from the blood.

OOC: Two are dead (Mal, Dudley and Crow side) and the other warrior is near dead while the leader is only unconscious.

Posted on 2014-04-11 at 17:50:45.


Topic: Voyages of the Rocinante - Firefly RPG QnA
Subject: Okay
---
Mistakes happen, especially with my maps. So we have three FB that you are now holding in reserve?

Now, to make things worse, the exit plan did not consider men on the roof so they may come in the EVA hatch as well. Depends on how many are coming and how many Asher can hit before the missile destroys shuttle#2.

So you may need to reconsider your options. There more EVA doors that do not lead to roof. There is one in the corridor between cockpit and the Galley, there is one in the corridor between the galley and engineering and there is one in the corridor near the infirmary. I have included a pic below but it is not very big.


Posted on 2014-04-11 at 12:43:05.

Topic: Voyages of the Rocinante - Firefly RPG QnA
Subject: interior
---
Albert, when dealing with combat, I like to players to give me as specific as possible to position so I am asking you where is Wolf in the ship specifically. Otherwise I have to assume and I dislike doing so.

Wolf slowly made his way towards the upper EVA hatch placing flash bangs along his way. The first of the six he placed at the doorway between the catwalk platform and the door into the common area and Infirmary. The second and third he placed at the top of the stairs leading from the common area to dining area and the hallway to the engine room. The last three flash bangs he set up as to further delay pursuit giving him and the two body guards hopefully enough time to escape out of the top EVA hatch. With all six flash bangs positioned he only set the third to fire. The other five he would wire to blow as they passed.

The first three you are very specific about but the last three you are not. The last three flash bangs he set up as to further delay pursuit giving him and the two body guards hopefully enough time to escape out of the top EVA hatch does not tell me where they are set.

The FB grenades blew due to shockwave - Specifically they were the ones at the doorway between the catwalk platform and the door into the common area and Infirmary, the top of the stairs leading from the common area to dining area and the hallway to the engine room.

Now you posted Now I am at whichever of the farthest flashbangs that did not go off to give me a way to fight and retreat.

Farthest from what? Where are they?

Here is the route as I see it on the map.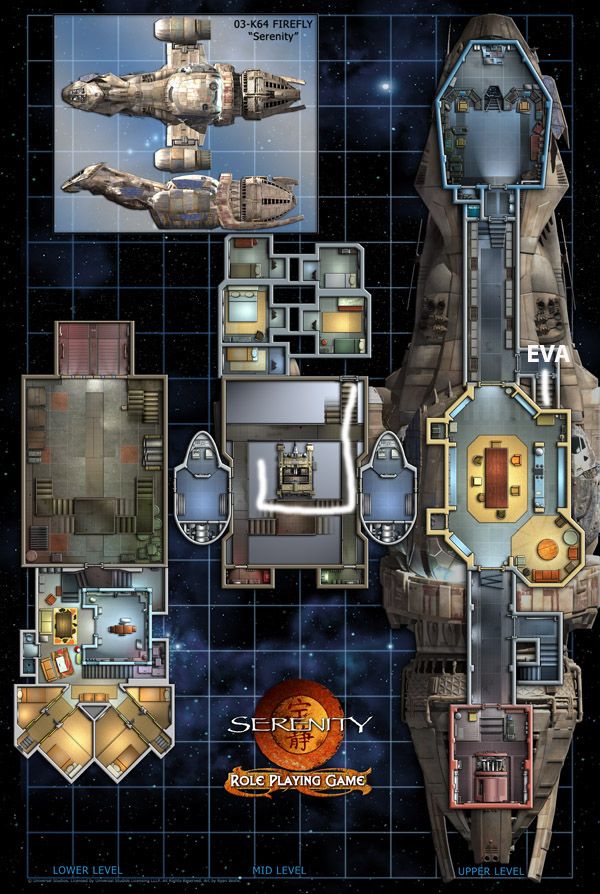 I suggested the top of the stairs before the gangway to the two shuttles because then you could deal with both doors being open without cutting of the two bodyguards and john who is in the infirmary below. Now if you are on the catwalk heading towards the stairs to the upper EVA, then if the Merc team comes through the doors for the shuttle, you'll be effectively cut off from everyone else.

So this is why I ask for clarification.

Posted on 2014-04-09 at 18:24:24.
Edited on 2014-04-09 at 18:25:19 by Alacrity


Topic: Voyages of the Rocinante - Firefly RPG QnA
Subject: Whoa
---
The nerve gas has been consumed by the flames. No one is in danger from the gas


Posted on 2014-04-08 at 17:16:22.


Topic: Voyages of the Rocinante - Firefly RPG QnA
Subject: I posted
---
Hope you like. It is getting fun.

Guy with the Cannon gun - Bruce Willis as Hartigan(Sin City)

Big Guy - Mickey Roarke as Marv (Sin City)

Nancy - Jessica Alba



Posted on 2014-04-08 at 02:34:24.


Topic: Voyages of Rocinante - Serenity/Firefly RPG
Subject: Battle time
---
LV-426The Battle, 12:50 pm PT
"We got t' use their cover 'gainst them, Havelock." Wyatt pointed to the dust cloud that the ASREV had kicked up and the corvette's pass over it. "Them mercs are highly trained, so it won't surprise me if they're doing a fast-rope insertion."

"Right!" Havelock said and pushed the mule towards the group of men on the ground. "Been on the receiving end of more than a few of those in my time."

The radio next to Wyatt crackled with life as the ASREV and Shuttle crashed landed.

"HONEY!!! HONEY CREAM! Respond Honey!" There was emotion to that voice. Raw emotion, anger, pain and loss. "Wilson! Respond!"

Before the mule there was a team of ten soldiers and a huge man in a black trench coat. They were carrying sonic rifles which they brought to bear on the incoming mule.

"Dwight! Drop your team now! I want a squad over there to extract survivors." the radio called out.

Suddenly, as if waiting for that exact moment, there was a small explosion from the ASREV, Then a small pop and a huge fireball reaching high into the sky. The fire burned green for a moment or two before the flames engulfed themselves and it turned the normal orange and red. The heat passes over the field like a wave, not enough to make anything burn but like a summer's wind.

LV-426, In the Caves, 12:50 pm PT
"Mrs. Amber-sama. So pleased to hear from such a great distance that you remembered you have a daughter. She is fine, no thanks to your maternal concern. You must have run everyone's income statement here in the cave and have decided to move on? Hopefully we can accommodate you soon enough."

Willow turned abruptly back to face Sifu, her dismissal of Portia evident in every line of her body. "Sifu, you were supposed to take it easy...please tell me what needs doing and I'll make sure it gets done. I want you sitting down and resting."

"I must admit that I am finding it very wearying to continue. Lord Hood and I have tried to get everyone doing something to keep them busy. We have power now, and there is water and food." The monk says and grasps Willow hands firmly. He smiles but his eyes look at her seriously. " I need to show you around."

Willow is surprised to find that the monk has passed a piece of paper in her hand. As he moved across the cave area to a corridor, Willow has the time and privacy to look at the note.

"The Violin is in the case and hidden behind the lower panel of the communication centre. I felt it was best out of sight. Only you and I know of this so best destroy this paper."

As they approached a section of the cave that was dedicated to the communications array, the ground shook. People cried out in terror as dust and dirt fell from the ceiling and a muffles boom could be heard.

Sheldon remarked out loud to his friend, "Oh good. It worked."

Leonard looked at his friend, "What worked Sheldon?"

"Did you know you can make explosives from household items like coffee and cooking oil. And High Fructose corn Syrup is almost a hydrocarbon?"

Howard looked scared, "oh no Sheldon. What did you do?"

"They wanted a missile. I made a missile!"

There was more faint sound and more explosions after that. Willow tried not to worry about what was happening out there.

The Battle, Asher and Ma in Shuttle 2 LV-426, 12:45 pm PT
Asher looked at Trish, "We gotta go..now!" Ma nodded to the body on the window. Ash just said, "He's coming with us." Trish wasted no time on the launch sequence, she hit the releases and leapt the little shuttle into the air. The kid synched and secured his straps, anchored to the tether rod across the shuttle so he could swing from door to door.. As they lifted Trish rolled a bit to expose the shuttles starboard side ( starboard refers to the right side of the ship, port refers to the left side. right?). The kid popped open the doors and as they swung out he opened fire with the Uzi on the men now trudging across Rocinate's hull. Firing from a moving ship on a tether towards moving men was not as easy as it looked and his first set of rounds are way off the mark. He may have caught a few but their jackets took the brunt of the attack.

Ma may not have been as good a pilot as Tess but with the lives of her crew on the line she flew like a women possessed. Arms signaling to Ash she was going down as she righted her little bumble bee and Trish buzzed over the Mercs that had hit the ground. Asher somehow understood and started pulling grenades from his vest, pulling pins and dropping them out the open bay door. The kid was able to dropped four flashbangs. Being closer and getting used to the movement of the shuttle, the kid managed to get two of the FBs close enough to bring the some soldiers down, covering their heads just in time to see the mule heading toward the group troops.

Shouting up Trish, "Ma can you swing in from behind the group on the boat? Them boots might make it hard for um ta turn and shoot us. Bank up and around and that should let me open fire on um. …. I'll try to get that fella in the trench coat……We gotta hit run and keep us as small a target as possible." The kid readied the Uzi as Ma brought'er in hot.

Havelock drove like a man on a mission but talked like he was on a Sunday drive "Fought alongside this one chap named Jacobs. He could drive anything that was on wheels or the ground. Good fella. Died in my arms in Serenity valley, "Havelock said as he whipped the wheel around and opened fire on a merc while slamming the side of the mule into him. The mercenary took three to the chest before the mule's "kick" which sent him flying and bouncing across the gravel. "Like to say that was for Jacob but it was really just for me."

The Mercenaries fired their rifles at the mule but the sonic blasts were made to disrupt people and not machines so the cover of the mule made their rifles useless. They would soon be moving to sidearms.

Wyatt saw the flashbangs from the shuttle had taken down three of the enemy but they were still moving and would recover quickly. It was the leader that interested Wyatt and he aimed and fired at him. The colt opened fire and he put three bullets into the chest of the big man. He jolted with each hit but did not fall.

"Ahh! Allow me." said Havelock and he spun the wheel again "Take out the leader first and all that. Right!" He swung the mule at the big man who did not open fire but sheathed his weapons and ran towards the mule.

He leapt into the air, ove the side of the mule and into the seats where Wyatt and Havelock were sitting. He threw himself on Wyatt with his full mass and body focused on his hand holding the colt. The colt came loose from Wyatt's grip and landed in the bottom of the mule. Up close, this merc was a mass of scar tissue and muscle - this fight just got personal.

Ma brought the shuttle up and toward Rocinante. Asher swing across on his tether to the other side and brought out his Uzi. In the distance, he saw another team dropping from the corvette just beyond the ship. Asher slammed a new magazine into the uzis and opened fire. One, two Three Mercs went down in a hail of bullets though how much was fatal or not was unknown.

Suddenly, the was a small explosion from the ASREV. Asher strained himself about to see the Shuttle and ASREV consumed by a green Fire that changed to red. Asher knew what that meant too. Nerve gas. The Mercenaries were gonna use nerve gas on them.

Just as unexpected, there was a cannon shot from below. The leader was opening up with his big gun and Ma was taking defensive maneuver. Three times the gun fired and after the second shot, the fuel alarm warning sounded. The third shot torn through the hull like paper and Asher heard a distinct rip as his tether strap was torn near the bar.

If that wasn't enough, the shuttle alarm warning of a weapon system lock sounded as well.

LV-426 inside Rocinante, 12:50 pm PT
Having heard the echo of such himself Johns warning was already useless as Wolf had begun to move before hand at the first sound of the boots.

"Wolf… Wolf…Tess got the Cargo Lifter but she went down too… She knocked into ASREV as she fell. They both crash landed…..You got a couple hand full of Mercs on the hull and couple hand full more on the ground outside… we'll do what we can" Though he already assumed that he was still great full for the warning.

"Hack, Slash hold the cargo area I'll try to hold the rest of the ship" Moving fast, as fast as the mechanic could, Wolf moved quickly back to his first still in act flash bang and connected it. Taking a position out of sight he waited for the company from the roof.

There was explosions outside the ship and the sound of machine gun firing. So far, no one had breached the ship. Hack and Slash had their guns ready and were calming watching the doorway. Wolf watched the shuttle doors for signs of an entry attempt.

Something loud and deadly sounding fired three times on the rooftop.

Hack asked, "What was that ? One of them's carrying a cannon?"

Slash laughed, "Always one in every crowd. big gun, no skill, no finesse."

The Battle, Nancy and Tess in Shuttle 1 and Asrev LV-426, 12:45 pm PT
Tess struggled to remain conscious. She couldn't very well because there was something in her eyes. Something wet and sticky and coming from the pain in her head. She had to get out of the shuttle.

Suddenly, Grace was there. The girl engineer from Destiny was hauling Tess out of the chair, "C'mon lady! I don't have time for this!"

"You here to rescue me again Grace?" Tess asked.

"Grace? Oh great. Listen lady. You gorram rutted up my plan but with a bit of luck we can still live and mess us Bart badly. So come with me if you want to live." Grace shouted. She really didn't sound like her usual self.

"Where's Destiny?"

Grace held her with two hands on her face. "Head injury. Hallucinations. Gorran Go sa on a cracker. yes! Destiny. It is here! You gotta come with me."

They ran through wreckage and through the doorway to another ship. It didn't look like Destiny to Tess. "Did you remodel Grace?"

"Yeah. Whatever." Tess was lead to a escape pod and was pushed inside roughly. "My name is Nancy Callahan. Special Agent Callahan of the federal Marshalls. Now if I can figure this out I'm can blow the ship, destroy the nerve gas and we can escape without anyone seeing us."

Tess laughed, "Oh yeah! Becha ya gonna rewire the propulsion of this pod and time it to launch the same time as you blow up the gas."

"No I am ... Wait a minute, That a gorram good idea."

"Yeah, you always think of them Grace. Oh! And change that side thrust units angle so we arc away from the crash, right Grace?"

Nancy looked at her passenger with new respect, "I don't know who Grace is but right now I love her ideas."

After a few moments and Grace/Nancy running around, she came back, closed and locked the escape pod door. She held a detonator in one hand and the other hand over the launch button. "Here we go."

She pushed both buttons.


Posted on 2014-04-08 at 02:31:16.
Edited on 2014-04-08 at 02:32:05 by Alacrity


Topic: Destiny Flight - QnA
Subject: yeah yeah
---
Get your breeches on captain and go do Captainy things. Theses boats don't fly themselves.

Posted on 2014-04-07 at 20:03:22.


Topic: Destiny's Flight - A Serenity RPG
Subject: getting feisty
---
"Well, Captain, I hate to break it to you, but last time, we got paid to deliver some wine and not to ask questions. And you remember how that ended. Personally speaking, I don't really care about that girl, but ignorance isn't bliss. I think we should try and learn as much as we can so we can be prepared for when trouble hits. I'd rather know what to expect then wait for them tell us when they think it's convenient for them. As the saying goes: knowledge is power." Grace said

Jon whirled on Grace," Don't you EVER think I've forgot what happened.. …I lost two good people..my ship. ….above all I'd thought I'd lost you…… We weren't ignorant…..you'd check that cask …We all knew that we were taking a risk……The only thing we could have done was take it back. Is that what you want?..We take the Princess back to Badger?…That will keep you all safe…and we can safely deliver cow dung from then on…..Don't you think I've haven't already thought of doing just that? "I also know you ain't here to be safe, but there ain't no job or cargo worth more to me than you'all….So if you want to turn around I'll do it….I ain't saying we stop listening and watching but we ain't ever go'na know everything. So we just keep doing the job we were hired to do and cover each other's backs."

Grace did not flinch from the heat of the Captain's retort. She never did. She stared back at the captain with a face plain as protein paste and said, "I was talking about gathering Intel, I wasn't talking about going back like a Tou xiang Huai dan."

Tess stepped in quickly, "Whoa. Okay. That's enough both of you. The wound is pretty fresh but we gonna pick at it over and over it ain't never gonna to heal. Captain's right though, we took this job and we need to see our way to the end. I'd like nothing more than to ruffle Mr. Steele's feathers but we need to keep flying and keep eating. I'm rather fond of doing both. Yet, Grace has the right idea too. Forewarned is forearmed as they used to say and i think we need as much forearming as we can muster."

(assuming some responses)

"So Miss Princess has glommed onto Catie here so why don't we use that? We are in the Black together for five days so I bet Catie can get the Princess alone for a spell. JC? Maybe you can chat up this her Seth and see what he likes, maybe keep him distracted for a bit. He looks like the type that works out." She then smiled a mischievous grin, "Then Jon here can pump the Wedding planner for information."

(assuming some protest from Jon and Stephanie shaking her head firmly)

"I'm kidding. Jon can make some inquiries and try playing sly with her to see if she wants more than his body. C'mon. It is late or early as you may want to call it and we all need sleep. See what tomorrow brings us with some luck."

(some closing comments from crew if any)

The meeting was over and everyone filed out of the room to their quarters or their station. Stephanie stayed behind with Jon, closing the door behind them.

"Well Jon." She said, "What shall we do now?" she said as she lowered the lighting in the room. "I believe I owe you an apology or two?"

Destiny Day Two of Journey. 9:00 am ST

The brothers were the first to stir in the morning although the other three were not far behind. The passengers were not well rested, as is often the case with the first night on a ship. The brothers still looked rather grim and Rick was wondering about eating arrangements and the galley.

"We serve ourselves or do you do sit down meals here?" Rick asked as he started to go through the cupboards. AJ sat down and waved at his brother to stop what he was doing. Rick shrugged and sat down beside his brother.

Lilianna and Seth came down in a bit of a state – in fact, they were arguing.

"I will not stay in that room for five days Seth! No! Forget it!"

"Miss Fairchild, it is a secure room and your safety is ...."

"I don't care. I will not stay there. I can't take a walk off this ship last I heard so I WILL walk around. I WILL talk to other people and I will not be your prisoner!"

Seth face turns red and her words act like a slap to his face. "I am sorry Lil... Miss Fairchild. I was not attempting to make you my prisoner. I apologize if my zeal for your protection made you feel that way."

Lilianna sighed heavily, "I know you are Seth but please, no one knows I am here except the people on this ship and my step-father. I think I am safe. And stop with the Miss Fairchild stuff. You called me Lilianna before."

The two of them sat down at the table beside the Simon brothers. Lilianna said hello to the boys pleasantly. Soon after that the Asante came to the galley as well, dressed in another power business suit that hid the soldering hotness that Jon knew lay underneath. She smiled and said hello to everyone and asked if there was coffee.

Posted on 2014-04-07 at 18:08:37.
Edited on 2014-04-07 at 18:08:54 by Alacrity


Topic: Voyages of the Rocinante - Firefly RPG QnA
Subject: well
---
I actually have a big finish planned for Asher ... if he survives.

Posted on 2014-04-07 at 16:58:04.


Topic: Voyages of the Rocinante - Firefly RPG QnA
Subject: hurm
---
I will take it into consideration. I still have to find a way to get some lady to shoot you in the back.



Posted on 2014-04-07 at 16:43:24.


Topic: Voyages of the Rocinante - Firefly RPG QnA
Subject: one more thing
---
With the combat coming I wanted to put out there some rules that I will be applying

Sonic Rifles: They do d8 stun damage and the Basic damage from them is all Stun. Now if you have a Ballistic Vest or armour, according to the rules they are half effective. I am not sure what they meant by that but since the rifle is ineffective against inanimate objects, I will be ruling that wear a vest will give you half damage from a sonic rifle. (For the record, I am assuming that Tess, Wyatt, Wolf, Ash and John are wearing vests even if you did not say so. Ma has her armour. Havelock has the vest and duster.

If you hit 0 Stun points, you get and endurance roll to stay conscious.

If you take more stun than you have points, you are stunned of course but you do get a Resistance roll every round to "shake off the effects"

You may use a plot point at any time to "revive" or "resist" stun effect. Everyone has 6 plot points going into the battle.

Ballistic Vests: Used much like the bulletproof vests of Earth-That-Was, ballistic mesh is a finely woven cloth of metal and plastic over polymer sheeting. Ballistic mesh is meant to stop bullets and that's about it. The mesh absorbs 1 Wound point from any attack on an area covered by the suit (torso, arms and legs, usually – I roll a d6 and if I get a 1, you got hit in the flesh), but it doesn't do much more than that to protect against knives, bombs and so on. Against normal bullets, however, the mesh converts all Wound damage to Stun damage. This effect doesn't apply to arrows, bolts, specialty bullets or explosives. The Mercs are wearing a form of this vest as a jacket with helmets. They are not wearing re-breather helms (probably due to the restrictions they cause on movement and agility).


Posted on 2014-04-07 at 15:37:27.
Edited on 2014-04-07 at 15:37:42 by Alacrity





View/Edit Your Profile | Staff List | Contact Us


Use of the RDINN forums or chatrooms constitutes agreement with our

Terms of Service

.

You must enable cookies and javascript to use all features of this site.