Topic: Voyages of the Rocinante - Firefly RPG QnA
Subject: oh no
---
This is Serenity - all women are model level beauties. I'm thinking that Megan Fox, Monica Bellucci or even Bree Olson could use the work.

Posted on 2011-04-20 at 00:16:01.


Topic: Destiny Flight - QnA
Subject: ack
---
No one let Grugg drive!


Posted on 2011-04-20 at 00:11:53.


Topic: Destiny Flight - QnA
Subject: New Ship
---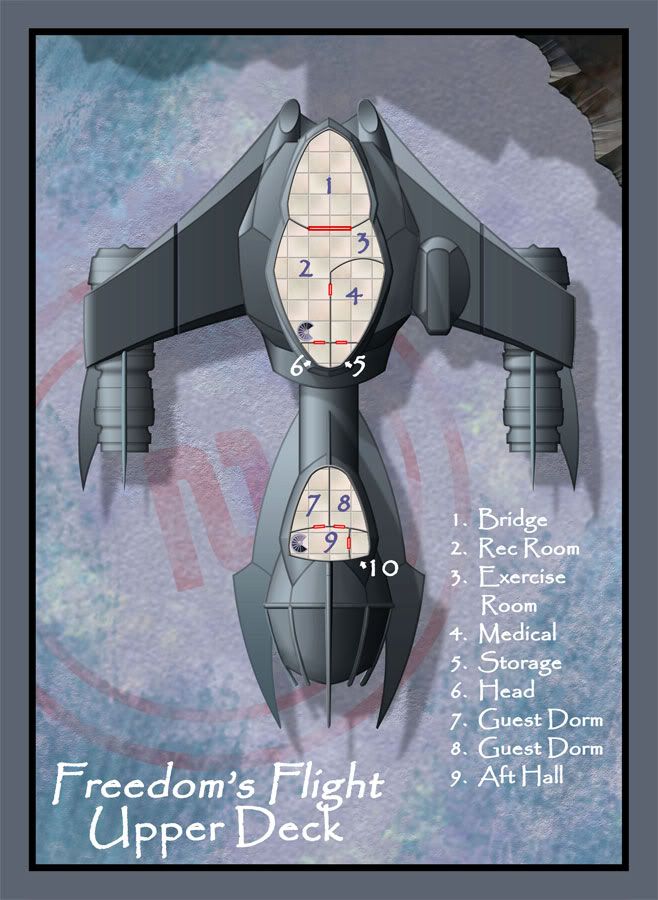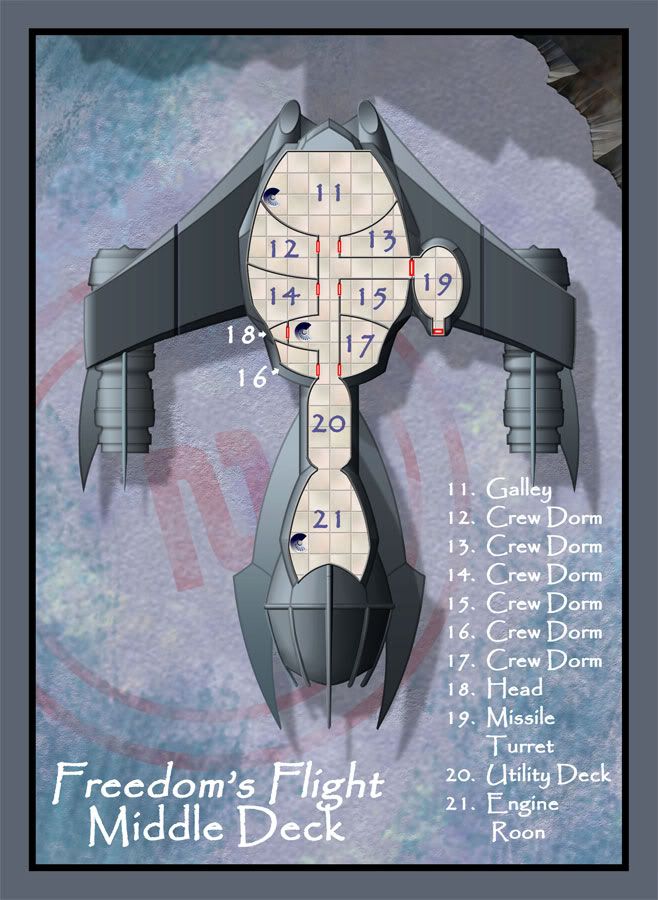 It would have a shuttle on the top, like this similar ship.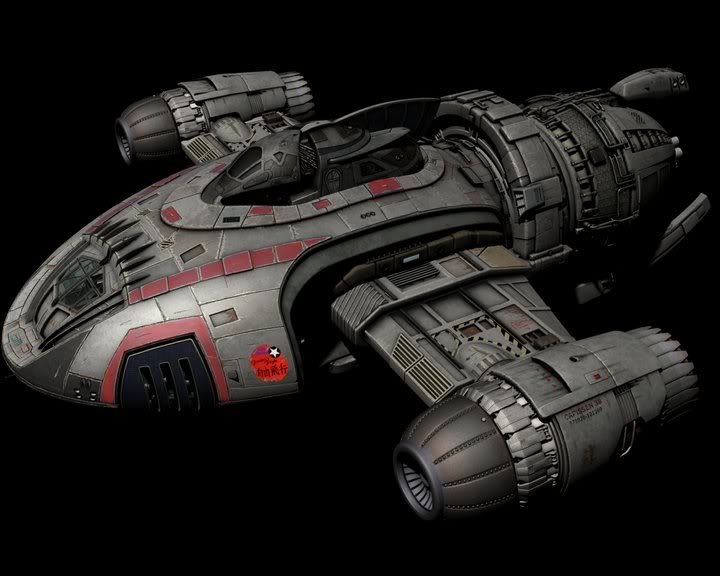 Details to come. I will probably play with the floorplan (You don't need a brig and you don't want the guns)


This is an idea of how the wings would be (but reversed angle):


Posted on 2011-04-19 at 20:00:23.
Edited on 2011-04-19 at 20:07:58 by Alacrity

Topic: Destiny Flight - QnA
Subject: Okay - need input
---
So far we have

Celeste - A "Gunbunny" pilot (I love that term - makes me think Anime)

Darren - A non-combatant Medic with pilot skills

Mysterion - A solid PR Hired gunslinger

MMV - A knife wielding Mechanic/Tech with black market contacts

DragonBlood - still considering but has expressed a concern with being captain.

So, Grugg has asked to join and we have wanted to game together for awhile so I am inclined to let him in. I will change to a bigger ship. grugg has offered to be captain as well, letting DB off the hook. Even wit ha captain, there is no need to always expect him to tell everyone what to do. you know your jobs on the ship so don't get bogged down in rank.

So any objections to a six man crew?

Posted on 2011-04-19 at 17:47:46.


Topic: Voyages of the Rocinante - Firefly RPG QnA
Subject: Damn it!!!!!!!!!!
---
I forgot to put that in the post. Sorry Ash. The doctor is pretty sure it was Winnie Mustard because she is a sure shot from a distance which matched the cluster you got hit with. I will add that into the the post.

Posted on 2011-04-19 at 16:48:10.


Topic: Voyages of the Rocinante - Firefly RPG QnA
Subject: Land Lock
---
For the record. Your ship has to land and be stationary for the port authority to land lock your ship. They can not do it while you are flying, unless they use an EMP and then you'd crash and the point would be moot at best.

A LL is a transmission from the PA tower that basically overrides all your engine functions and prevents you from taking off. Can you prevent it from happening? Sure but it will be an INCREDIBLE complex action so you'd have to have Andrew on the ship to constantly adjust the coding.

However - when Rocinante entered the atmosphere, you didn't even get a ping from the PA - which means even the auto functions are off right now. They can not lock you down if the tower is disabled or shut down.

I had a PM asking about this, so I thought I would share.



Posted on 2011-04-19 at 16:24:19.


Topic: Destiny Flight - QnA
Subject: no
---
Nothing wrong with your equipment list Mysterion. Don't worry about it.

I don't think you need a companion on board. Especially considering that MMV is my daughter........

Posted on 2011-04-19 at 13:54:04.


Topic: Happy Birthday Eol!!!
Subject: Happy Birthday dude!
---
Facelicks all a round

Posted on 2011-04-19 at 12:12:45.


Topic: Destiny Flight - QnA
Subject: Equipment
---
Now that you have some sources, the money you have to spend should be considered as 100 credits. If you need to go slightly over budget for that one item, I'm not a stickler but keep around 100 for presonal items. Don't buy for the ship yet (communicators, gun cases, flight suits etc)

Posted on 2011-04-19 at 12:10:43.


Topic: Voyages of the Rocinante - Firefly RPG QnA
Subject: Property Damage: Auto
---
just a reminder that there are a lot of people in town that have never shot at you or even wished you harm. Might want to think about that before using Asher's well stocked arsenal to leave a crater where Frisco once was......


Posted on 2011-04-19 at 12:03:30.


Topic: Destiny Flight - QnA
Subject: no.
---
but let me see how the crew looks at the end and maybe we can squeeze you in. Maybe go with a bigger boat.....

Didn't think I would get much of a response.

Posted on 2011-04-19 at 02:35:08.


Topic: Voyages of the Rocinante - Firefly RPG QnA
Subject: ummmm
---
You are going to check out the town, not lay siege to it!

Posted on 2011-04-19 at 01:14:00.


Topic: Voyages of the Rocinante - Firefly RPG QnA
Subject: hot drop
---
Drop a hovermule out of a Firefly as it hovers.....

That will be a fun roll! Things are getting exciting!


Posted on 2011-04-18 at 16:53:11.


Topic: Destiny Flight - QnA
Subject: Spots? I bet you see spots
---
The ship is full at the moment Grugg, sorry. I wanted four and took five. One day you and I will game together if I have to come out east and set up in a pub (i know at least two others out there who'd join us)

Right now the Crew is:

Dragonblood - Captain and Mouthpiece(?)
Mysterion - PR Man*
Darren - Medic and Pilot*
MMV - Mechanic/Comp&tech/Blackmarket contact*
Celeste - Pilot
* - I have received a character.

Posted on 2011-04-18 at 12:00:50.
Edited on 2011-04-18 at 12:01:10 by Alacrity


Topic: Destiny Flight - QnA
Subject: six shooter and Spaceships
---
The six shooters and space ship book has a load more stuff in it as well.

Serenity_-_Six-Shooters_&_Spaceships.pdf



But please don't read the adventures book or you will find the game very disappointing.

Posted on 2011-04-18 at 01:59:54.


Topic: Destiny Flight - QnA
Subject: Well that works.
---
And since the license to sell it has expired, I don;t think it matters if you post it.

Posted on 2011-04-18 at 01:54:12.


Topic: Destiny Flight - QnA
Subject: list
---
If you found such a list, send it my way as I am still searching for my old one. Or Post it here for the others.

Posted on 2011-04-18 at 01:22:12.


Topic: Destiny Flight - QnA
Subject: actually
---
Ody - you'll get a chance to resupply and use some advancement points soon. So feel free to pursue the periodical.

Posted on 2011-04-17 at 21:10:21.


Topic: Continuing Where We Last Left Off
Subject: At last the DM gets off his butt!
---
Adrian casts a detect magic and is relieved to see this room has no threads dangling everywhere. The room is magical, that is sure. There is a spell woven into the very walls and doorway that Adrian recognises as divine in nature although he knows not of the prayer specific. There is also a underlying trace of magic in the room, but not strong enough to say what it is – almost as if something powerful passed through and left traces in the air it did.

The book is a journal, kept by the record keeper of the temple. The journal has opened to around six months ago. Looking over the entries, there is a more personal nature to the entries at this point.

Found another reference in the tomes of a "fallen one" or great power. The more I find these the more I think the legend is true. Spoke to the Lord Abbott about my theory but he dismissed it saying there is no way Zephur could have trapped a divine being, and even if he did, he wouldn't have the power to contain it or siphon power from it.

(few days later) Against the Abbott's wishes, I went down the shaft today. So many stairs! Need to see the caverns myself. Found nothing for my troubles except a woman's comb that was at the bottom of the shaft and a number of broken pieces of pottery. The Abbott was furious with me, and forbid me to go down there again. He even took all the pottery and the comb from me.

(week later) The Abbott has had a change of heart and told me to continue with my exploration. Things I may be on to something and we must do all in our power to reverse Zephur's evil.

(week later) Was down in the shaft today, and still it seems to be deserted. I am trying to be meticulous in my search but there is so much to explore. I reported to the Abbott about the lack of finding and he was encouraging though. Strange though, he seems to be growing hair again.

(week later) I heard a noise in the in the shaft today – sounded like tapping or rock hitting rock. Not sure where it was coming from though, as sound is tricky down there.

(week later) I have been so engrossed in my studies that I did not see the change in the Abbott. He has grown long black hair and is become ... I do not know how to say except thinner and almost feminine. He says he feels fine and won't stand any questioning.

(many weeks later) There is definitely something in the shaft – I hear voices speaking, almost elven in sound but not an elven I have heard before. I stayed in the caverns for a number of nights trying to locate the sounds. I am back for supplies only. Father Jacob has left me many notes that he wishes to speak to me about the abbott but it will have to wait.

(weeks later) I don't know where to start. Thsi woman came to me as I explored the caverns. She was so beautiful, beguiling so and we ... I couldn't... Together ... I can not write of it in this book. I fear there is a great evil afoot here and a great power for good held prison against its will. I will ....

There are no more entries after that which was about two weeks ago. There are many books and scrolls in the room, so much that it would take years to search them all. Adrian sees no tome or scroll that reveals magic to his spell.



Posted on 2011-04-17 at 16:44:56.
Edited on 2011-04-17 at 16:46:14 by Alacrity


Topic: Destiny Flight - QnA
Subject: equipment
---
I have added to a unofficial sourcebook to my 4shared account. There is a lot of stuff in there but there are weapons and equipment to get you started until I can write them out. No lasers or high tech allowed - let's keep it real.


Posted on 2011-04-17 at 16:03:59.
Edited on 2011-04-18 at 11:52:58 by Alacrity

Topic: Castle Rautenberg Q n A
Subject: well
---
If you plan to bluff again, drive up.

If you think they don't post guards here because they had them up the road, drive up.

If you want to be sneaky and find out what is going on, do the reconn - go on foot.

Or pull up to the gates and say "Hi! We are here for the audtions!" and start breakdancing.


Posted on 2011-04-17 at 01:31:24.


Topic: Voyages of Rocinante - Serenity/Firefly RPG
Subject: Cat's work ate me too
---
Regina, Frisco, Outside Lawrence Saloon, Day Nine 10:00 pm Planet Time

Doc rode into the deserted town. Been this way since the shooting the other night, people all hiding out now, afraid to leave their own homes. That\s what you get when you bring in trouble to help you with trouble. Just more trouble

"Doc? What are you doing in town?"

The doctor turned around slowly to look upon Douglas Mustard. Not a tall man, although taller than his other brothers, Douglas has a silver star on his shirt , hung upside down but he didn't seem to notice. Douglas had a big old gun in his hand and was looking pleased with himself. Doc cleared his throat, "When did I have to tell you the whats and wherefores of my business son?"

"I'm the law now Doc." Douglas said like it explained everything.

"So you are," Doc replied, "And I am sure your momma would be no end of pleased to be looking down upon you now and see that you have a vocation that you are so deserving. But I was there the night you were born, pulled you screaming from your dear mommas womb and gave you your first bath after I cut the cord. But you wouldn't remember that, of course."

Douglas looked a bit squismish, "What that's got to ..."

"I was also there to set your brother's arm when he broke it. You would remember that. You were no end of scared of what your Pa was gonna do. You remember what I told him?"

"Ummm...You told him..."

"Boys will be boys. Grant probably fell and you brought him to me, lick-a-de-split. Isn't that right?"

"Ummm...yeah,"

"So you were asking me something son?"

Douglas looked down, suddenly interested in the dirt. "No. Sorry Doc."

"I thought so." the doctor walked on pass the deputy toward the saloon but then stopped, "Douglas. You know all the killing in the world won't bring Grant back."

"Who said we planning on killing?" Douglas looked around like someone was about to jump out and scream surprise.

The doc sighed heavily, "No one Douglas. My mistake son. Definitely my mistake." he said as he continued on his way.


Regina, Frisco, Doc McGuire's House, Day Nine 10:00 pm Planet Time

The doctor came in with a bundle under his arm. " It's just m. I got your stuff." he said to Ash. "Here is the communicator and the ....stuff. If you link that think you to my aerial for the cortex, you will get a better distance. Tell them to expect a peck of trouble too. I think someone is expected them. Here you go, I'll step out so I won't be telling no tales about not knowing nothing."


Regina, Frisco, Entering Atmo, Day Nine 10:10 pm Planet Time

As the Rocinante enters the range of the satellites, the radio signal in the cockpit lights up. Wyatt, standing beside Sam at the moment, jumps to the mike.

*crackle*"Sam, you there…… Sam, it's Asher are you there? Sam, you gotta tell Capt'n Wyatt things are bad down here, real bad. Sam, are you there?"*crackle*

Wyatt immediately transmits back, "Ash! Kid! This is Wyatt."(add as you see fit)

"Captain, Luke's started trouble with Tong, he's got himself some goons for deputies and they're just killing Tong and burn'n their places. Tell Miss Willow the temple been burned down."

"Miss Bridget seems to be fixing up with the Sheriff and they're both missing right now. "

" There was some trouble last night. Luke shot some Tong outside the Saloon. Mr. Blake, JW and some others came out to see what was going on and then there was an ambush in the street. John Blake is dead , JW is wounded and Bailey's missing. The whole town is hide'n, nowhere seems safe. "

"Oh and Captain……. We both owe Doc McGuire big. I'm keep'n your bed warm…. Doc pulled three slugs out my back from last night."

"Captain Wyatt……..tell Ma I'm sorry I left" …… as Ash's voice cracks …"tell her I love her."

(add more conversation here)

Sure enough as the ship cuts through the cloud cover and the town comes in visual range, the black smoke of fire can be seen coming from the town. no signal or ping from the Port Authority which is highly unusual. It is like a ghost town down there.

OOC: Yay! You are in sync now. Time to get this wagon train a moving. Make a final plan and let me know who is doing what.


Posted on 2011-04-17 at 01:22:32.
Edited on 2011-04-17 at 01:22:57 by Alacrity


Topic: Voyages of the Rocinante - Firefly RPG QnA
Subject: Okay! back in action
---
So I am ready to post but I have some unanswered questions as No one has posted a reply to Ash's radio tran and that might be because you were wondering if you heard it.

So ....

I will do a post moving you forward to breaking atmo and about to land. You may backpost the conversation with Ash and any plans you make at that point. I am of the concpet that you are not doing the shuttle sneak but going in all at once. if that changes, it is fine, we will edit but I do want to move the game forward.

Tann - I will be PM'ing you some inside information you would know from being on planet. Use as you see fit but if you are busy with RL, let me know and I will add it in.

Posted on 2011-04-16 at 18:18:43.


Topic: Castle Rautenberg Q n A
Subject: visual aids
---
The castle




The Torch or Flashlight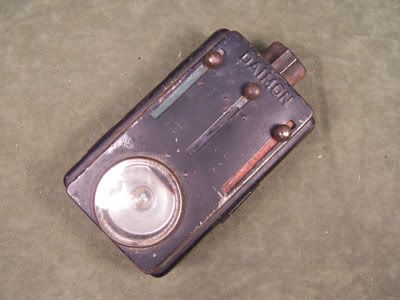 Inside (you would have a battery)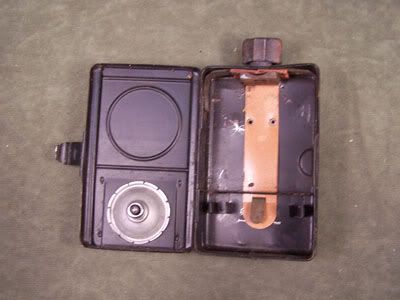 The Bayonets (I actually have one of these)

Posted on 2011-04-16 at 17:57:43.
Edited on 2011-04-16 at 18:12:38 by Alacrity

Topic: Escape From Castle Rautenberg
Subject: I'm back
---
July 14th 1943, 4:30 - 5:00 am, Day Two of Mission


The dead soldier are disposed of over the bridge as the team gather up any belongs that may be of value.

Three G41 rifles with six 10 rounds clips, two of the clips have 6 rounds left
A Schmeisser with two 32 rd mags (one missing three)
2 packs of swiss made cigarettes (two were ruined by blood and mud)
Three bayonets with metal belt holsters

In the guardhouse, you find:
One pot of coffee (very Strong)
A metal box with half a loaf of bread, a small knife, and a half wheel of very stinky cheese
A tool kit with various tools (Hammer, pliers, screwdrivers, hacksaw)
Two bottles of booze labeled "weinbrand", one full and one half gone
Three "Torches" (heavy flashlights - all working)
A logbook of shifts and observation, written in german

Luke works on the car while the others do what they have to do. He pops up the hood and checks the damage. The radiator is not as bad as he expected, one bullet hole and a connector hose. He fixed the hose easily by cutting it off at the hole and reconnecting, luckily it had enough slack. The bullet hole would prove harder to fix though and even if he could, it wouldn't last long.

Romo was tended to by the doc and once he was bandaged with medication taking effect, he feel much better. The doc was pretty good and the field dressing was good and tight with restricting. (down to -2 W)

Greta keeps watch and ponders her life as a resistance fighter in her own country. She knew that she would be called upon to make hard decisions and it looked like the time was now.

Someone (Corbin perhaps) brings the tools to the captain as he goes to work on the engine. The torches help him work and eventual he manages to bend and twist enough of the metal to stop the loss of fluid and make the car functional.

Romo looks at the logbook (I assume). It is a whole lot of nothing much except supply trucks but something does jump out at the Sarge - this crew was two hours overdue to their relief and they had radioed the castle and received no response.

The captain closed the hood and pronounced it fit to go. The team gathers up their stuff and gets ready to continue the mission.

(In order to move the game along, I will keep going and let you backpost the division of equipment and any discussion. If offered, Greta will take a rifle as she has experience with them.)

The car starts and continues along although with a distinct rattle. brutal takes you around the winding roads and twisting turns with ease and after awhile you can see the castle in the distance before you. Two twin guardhouse of turreted stone, broken from years of use and exposure stand about 200 feet away. Beyond those a bridge spans a 50 foot wide chasm across the cliffs to the walls of Castle Rautenberg. There are three towers of various heights surround by a huge wall all around it. There are no lights in the gatehouses, no signs of guards. The castle itself is illuminated by lights inside the walls, and there are lights in some of the few windows.

OOC: Drive up to the gate or approach on foot? You are about 200-300 feet away and about to turn a corner that will reveal you if there are any guards in the dark gatehouses. There are visual aids in the Q&A. Daylight will break in about an hour.

Posted on 2011-04-16 at 17:51:53.
Edited on 2011-04-16 at 18:00:02 by Alacrity